Reigning over the tennis board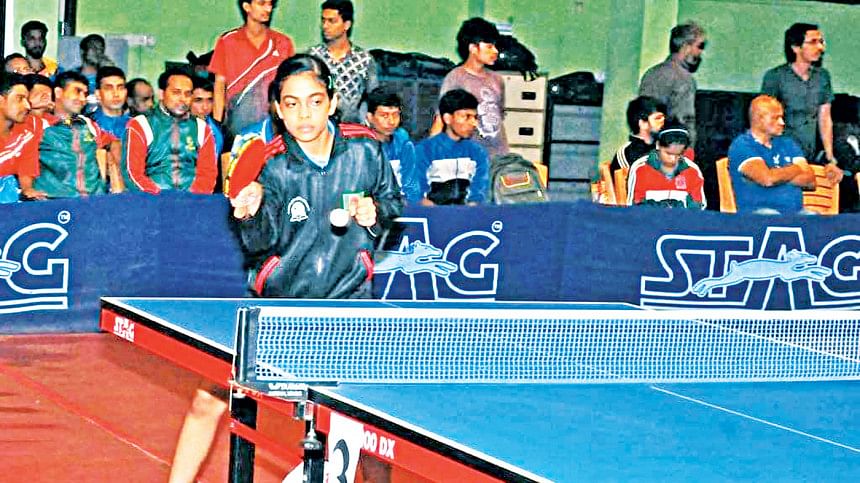 Sadia Rahman Mou won three gold medals in singles, doubles, and team table tennis matches in the 9th Bangabandhu Bangladesh Games. She was also rewarded with bronze medals in 2016 and 2019 during the South Asian Games.
Moreover, she was the champion in women's doubles and team games in the National Table Tennis competition back in 2017.
"I just got out of a practice session", exclaimed Mou, during a phone conversation with Star Youth, The Daily Star. Due to the Covid-19 pandemic, training camps have not been operating in full swing, but Mou still managed to take the prize with no more than a week's practice for this year's Bangabandhu Bangladesh Games.
In the final rounds of the last two tournaments she won, Mou played against her cousin, a five-time national table tennis champion.
"Even though I won, I still learned so much from her during the matches. Her expertise, pressure, and control are so much more advanced than mine," said Mou, who was the singles, doubles and team champion in the Youth Games in 2018.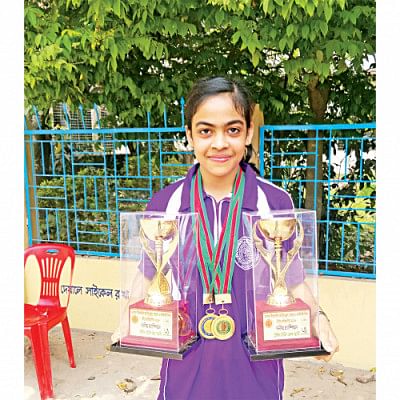 It seems like table tennis was Mou's calling in life as she has been participating in tournaments from a very young age, in Narail. "I just considered table tennis as one of the many things I was interested in, along with dance, music and recitation. When I started to perform well in tournaments, people took notice. Soon, I got a call from the national camp. I never imagined playing the sport on a national level," shared the table tennis prodigy.
Mou now has her own centre in Green Road, where she coaches other young table tennis players.
With her mother as her biggest supporter, Mou balances her academic pursuits and athletic goals seamlessly.
However, she considers table tennis to be an unsung sport in Bangladesh, and wants to be a doctor by profession.
"I wish table tennis was as widely recognised in Bangladesh as cricket. If parents encouraged their children to continue their table tennis dreams beyond leisure hours, we could have foreign coaches training us, and more players could take this sport to international platforms for the country," she said.
Mou is currently in Dhaka, gearing up for the Asian Table Tennis Championships which will be held in Qatar this year.