'I intend to build a better future for women in bodybuilding'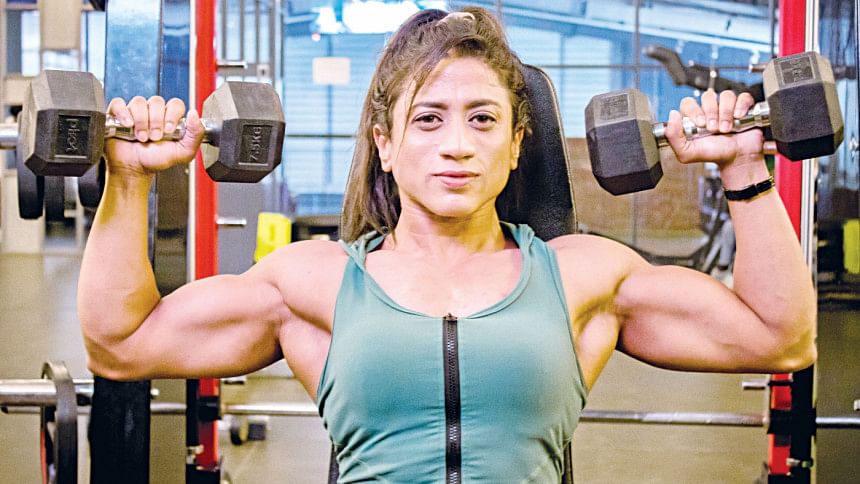 The IHFF Olympia Amateur Bodybuilding Championship held in Mumbai, India, welcomed 30 contenders this year. At the event, Maksuda Akhter Mou made history as Bangladesh's first female bodybuilder to win an international medal. She bagged the bronze medal in the category, 'Women's Physique'.
"The competitors were actually surprised to see a woman bodybuilder from Bangladesh. All of them have been training for 16 to 17 years, whereas, I have only trained for approximately three years. So, this is a huge achievement for me," shared Mou.
Previously, she conquered the Bangladesh Bodybuilding Federation's Bangabandhu National Championship for two consecutive years.
Coming from a humble background, she climbed the ladder of success with grit and tenacity. After studying at Bangladesh Navy School & College in Chattogram, she went to India to pursue Textile Design at Chandigarh University.
Initially, her family and friends were not supportive of her ambition of becoming a bodybuilder.
Back in Mou's hometown, Chattogram, people were skeptical about a woman training men in the gym. There were not any good training centres for women to shape themselves as bodybuilders, but when she went abroad, she found those options available.
"I had to forge my own path because no other woman in our country entered this field before. I hope that the women who come after me don't have to face the barriers that I struggled with. I have already broken taboos, and will continue to do so. I intend to build a better future for women in bodybuilding," said Mou.
"I have my own trainer who helps me prepare before any competition. Before IHFF, I had to drop almost 18 kilos within two and a half months so I could build muscle strength and my body could be conditioned to a certain endurance level. It was also very difficult to juggle both my job and training."
According to Mou, men should encourage the women in their lives to pursue their dreams, instead of conforming to gender roles. Besides, there are many good male bodybuilders in Bangladesh, who can help out women who are just starting out, and promote the notion of women taking part in such sports.
"Even though we do not get similar support or sponsorships as cricket, we're still trying to rise above all the challenges," she shared.  Mou is inspired by Arnold Schwarzenegger. Her dream is to participate in the Arnold Sports Festival one day.
The author is a student of BRAC University, and a freelance journalist. Email: [email protected].