NURTURING DREAMS
Curbing loneliness through a robotic dog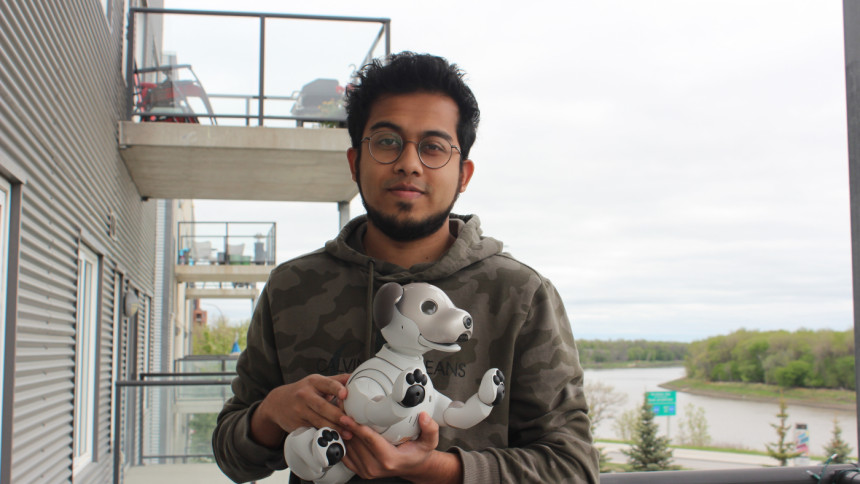 After completing his graduation in Computer Science and Engineering from BRAC University, Rahatul Amin Anonto pursued his master's at the University of Manitoba, Canada at the Human-Computer Interaction Lab (HCI-Lab). He is currently working with the Human-Robotics Interaction group at the HCI-lab.
His ongoing research intends to investigate whether a social robot can alleviate loneliness of people. Anonto has been fascinated by robotics from a young age, and actively participated in various national and international competitions as an undergraduate student. He, along with his team, built an underwater rover, BRACU Duburi, for the Singapore Autonomous Underwater Vehicle Competition 2018, where they ranked 7th among 47 teams from 13 other countries.
"All these experiences built my enthusiasm towards robotics. I wanted to explore other sub-fields such as social robotics, robot ethics and human-robot collaboration," he shared. The social robot used in his research is designed to accompany people to make them feel good, improve their mood and provide emotional support. "We are giving people a robot dog for eight weeks. During this study, we will be collecting questionnaire data and interviewing them to understand how they are interacting with it and whether it is helping them to improve their mood," Anonto explained.
The robot, AIBO, is developed by Sony, Japan. Anonto is investigating whether a commercially available robot can help resolve people's mental health issues. Presently, AIBO can understand English and Japanese and its developers are working on several other languages. It can follow users around their house, run, bark, pose for a photo and do a happy little dance. The robot is currently available in the US and Japan for $ 3,000. "We are not programming the robot to do fancy things, instead, we are just trying to understand how people accept the robot and if they face any challenges while trying to adopt this robot in their own lives," Anonto added. AIBO can also charge itself. 
"Many people are allergic to dogs and have hygiene concerns. But robotic dogs do not have such issues," Anonto shared.
His team has started recruiting people from Winnipeg, Manitoba, and the responses they have received so far were overwhelming. "Initially I was worried that we might not get interested participants. While we are glad to receive so many responses, it is alarming to discover that so many people identify themselves as lonely. The pandemic has further impacted people's mental health due to the constant social isolation," he said.
Anonto recently received the University of Manitoba Graduate Fellowship Award to continue this study with even more participants. Currently, they only have 1 robot and they intend to get 50 more to transform this into a huge project. His future plan includes becoming an experimental roboticist and research on human-robotics interaction. He also wishes to establish a robotics-based start-up to bring these technologies to Bangladesh. "There are exciting possibilities with robotics in Bangladeshi professions and HRI is a very new concept for our country. I want to pioneer this cause with the help of other Bangladeshi students," he concluded.
The author is a freelance journalist who likes reading, planning, and scribbling. Email: mislammonamee@gmail.com.