An affordable solution to combat COVID-19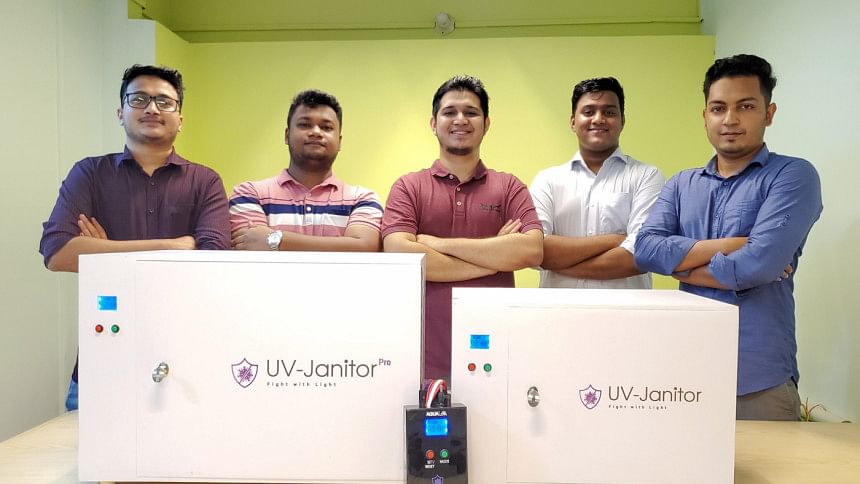 Young researcher Mohsinul Bari Shakir has built an ultraviolet (UV) janitor to combat COVID-19 in Bangladesh. He is also the shareholder and Chief Operating Officer at the IT-based company, Aqualink BD. Born in Dhaka, Shakir's hometown is in Sylhet. He completed his BSc in Computer Science from BRAC University in 2018. As his father is a government official, Shakir had to travel a lot and attend different schools at different points of his life. He has three internationally published researches, and is currently working on two more journals.
Ever since the coronavirus outbreak in Wuhan, China, Shakir was concerned about the spread of the virus. For precautions, he thought of using the ultraviolet type C light that has been used for many years for sterilisations in developed countries. "In China, they used UVC lights to germicide. It was quite effective," Shakir says, "with that idea, I thought of making such a product from a sense of responsibility towards my country." Sterilising with UV light is one of the most effective methods of disinfection. It is also approved by the Center for Disease Control and Prevention, USA.
Shakir, along with four others, formed a research and development team. The other members are Syed Mohammad Kamruzzaman (Quality Assurance Engineer), Shahriar Sakib (Senior Embedded System Engineer), Sazzatuz Zumma Ismam (Production Engineer) and Tanvir Ahmed (Embedded System Engineer). "We developed some prototypes based on UV light to slow down the spread of COVID-19," shares Shakir. It took them three months to complete the project.
"Usually, such devices are very expensive. However, we have used local technologies to minimise the cost and keep it affordable," explains Shakir. "Developing the UV janitor at an affordable price was amongst the biggest challenges, as was importing materials amidst all the travel restrictions." Shakir is grateful to his father, for his guidance in the process. The Bangladesh Army and most government offices are currently using the machine. "Ours is the first UV janitor to be available for all kinds of consumers in Bangladesh," adds Shakir. "It comes in a compact box, in which cellphones, wallets, sunglasses, masks, keys rings, helmets, files, food packages, wrist watches, bags and most importantly, cash, can be disinfected in just a few minutes." The machine has two versions, the UV Janitor and UV Janitor Pro. They differ in size and intensity of light, with different UVC light-based solutions for homes, offices, hospitals, airports, hotels, resorts and restaurants. The researchers have also developed disinfecting machines, using the same UVC light, for factories. They have tried their best to maintain international standards, with this project.
The team struggled to find the UVC light with the wavelength of 253.7 nanometer, which is effective in destroying the SARS and MARS group viruses and is being used to combat COVID-19 now. Their UVC light has CE certification. "The light is harmful for the human eye and body. Keeping that in mind, our product has a smart safety system – whenever its door is opened, the light automatically turns off," concludes Shakir.