LEADER ENLIGHTENING LEARNERS
Cofee with Mentor; Session 4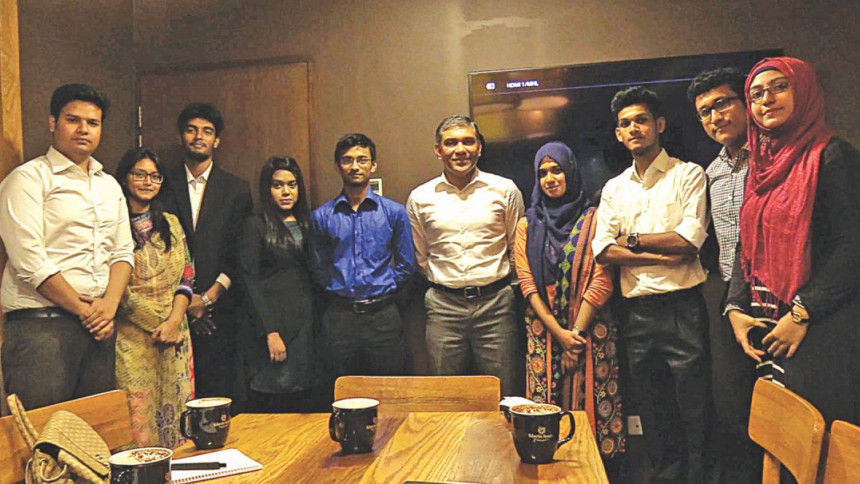 Gone are the times when children roamed freely in fields situated right outside their homes or in the heart of their school campus. It is quite alarming to find the youth of today busy with either updating their status on Facebook or ensuring that their five page long homework is done in the last minute. This raises the question, since when did children, especially those of ripe and growing age, prioritise education and technology over good, simple fun activities? Do children truly gain any productive entertainment out of this excessive obsession over textbook studies and staring at their phones all day long?
Such queries were discussed at the fourth session of Coffee with Mentor, an initiative of Gloria Jean's Coffees and Star Youth, The Daily Star, which took place on April 30, 2018, at the Gloria Jean's Coffees café located in Gulshan 2. Quazi Mohammed Shahed, CHRO of Grameenphone, mentored the session, where students from different universities in Dhaka were present. 
In the discussion session, Quazi Mohammed Shahed shared his invaluable life lessons. He opened the discussion with the growing concern of childhood being ruined due to schools overloading the youth with studies only. He stated that the children are nowadays confined with studies and technology, when there are other priorities like learning life skills, participating in extracurricular activities, being involved with sports and overall, knowing how to manage time while handling a multitude of tasks in life.
"We had fun, made friends, fought with each other, we made up; all face to face," says the mentor.
He further stated that the conversion of knowledge into life skills is absolutely necessary to survive the competitive corporate world of today. He especially emphasised upon learning how to interact with people as communication is a vital skill.
The mentor explained to the youth participants that, in job fields, a fresh graduate is trained from the very basics. The idea behind this practice is to ensure that the individual does not suffer later into his or her professional career and that they gain the experience necessary to tackle common obstacles in the professional world. "Through this, the individual will gain the understanding to not judge, rather, consider multiple perspectives to make fact-based decisions."
Mentor Quazi Mohammed Shahed discouraged to stick to a job that does not allow one to enhance their skills or denies them the opportunity that brings about challenges to be conquered. Especially in the first few years of one's career, it is important to have an appetite for learning because to excel, any and all opportunities should be adequately explored.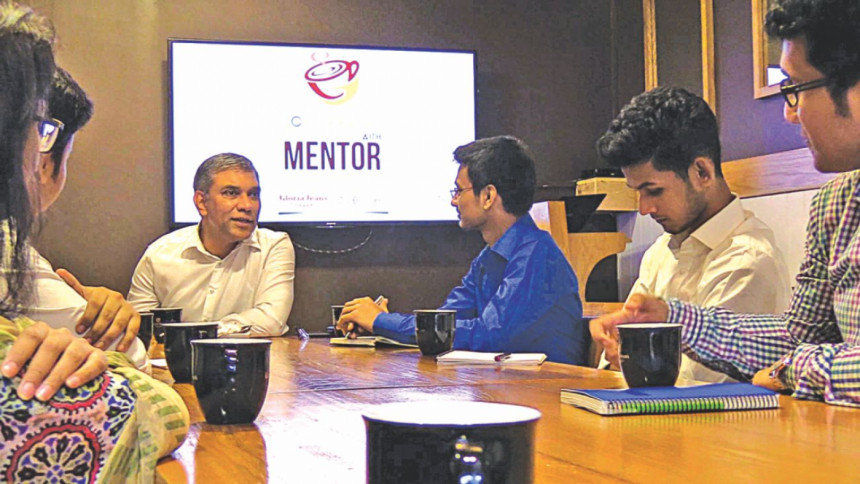 According to the mentor, the biggest mistake a student can make is to invest their time solely upon studies. Rather, he encouraged the youth to participate in volunteer work and get associated with social clubs. As a result, the individual will be able to earn a clear idea about which job sector he or she would fit in best.
The fourth session of Coffee with Mentor was truly an eye opener for all the enthusiastic participants present. Towards the end of the evening, the main point that came across was that, a life dedicated to just work or studies will result in anything but a productive future. Mentor Quazi Mohammed Shahed aided these young minds into realising that, when it comes to professional career they will always have a choice; it is imperative to learn how to make the right one.