A non-touristy tourist destination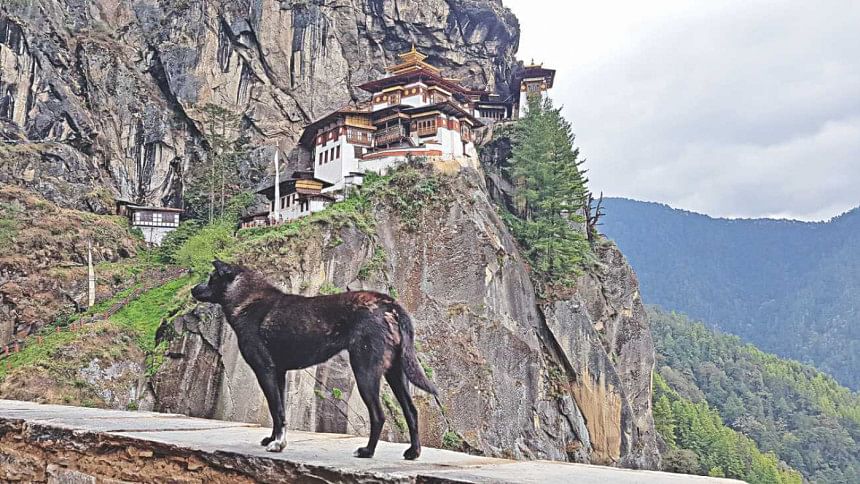 With the Eid holidays knocking at the door, it's hard to suppress that urge to step out of the capital in search of some fresh air. But selecting a holiday destination can often be a cumbersome process.
As a traveler you often want to visit places that aren't exactly on the radar of every travel website you come across, but at the same time you want your location to have at least the basic ingredients that would encourage a foreign visitor to explore the region. Bhutan, to a certain extent, comes close to giving you that perfect balance between not being too mainstream or touristy while at the same time being easily accessible to tourists.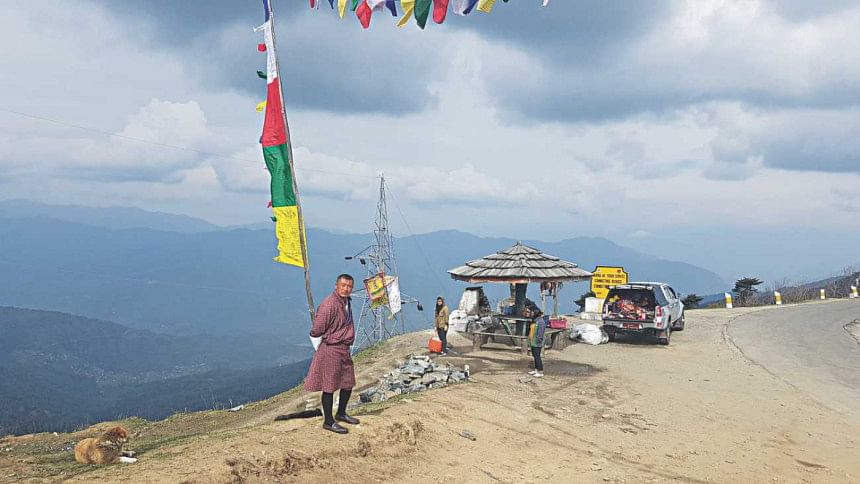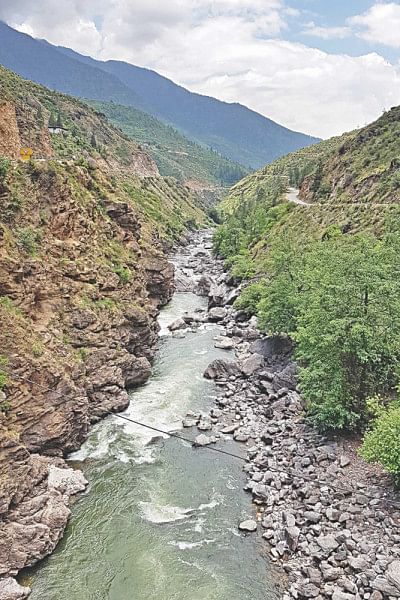 One of the special aspects about Bhutan is the way they have maintained their tourism industry—they don't overdo it. It's unlikely for you to find people buzzing at the Chelela Pass or any of the other more sought after areas of the country. As a result, you tend to enjoy the beautiful, scenic views a lot more. 
It's something that the Bhutanese government seems to have done on purpose. People visiting the nation from outside India, Bangladesh and the Maldives actually have to contact a tour operator before they can even apply for their visa. 
As per the requirements of the tour operators, tourists from these countries often have to pay around 200 USD per day during their trip. This is a rule that Nepal and some other more touristy countries don't have and it tends to control the arrival of tourists in a big way. 
For Bangladeshis though there's no such restriction and the trip, obviously, turns out a lot cheaper. You can get your visa on arrival, book accommodations and transportation on your own and thoroughly enjoy one of the world's most beautiful nations, merely located a couple of hours away from Dhaka.
If you go by flight, the first thing that you will notice is the beautiful location of Paro International Airport. You might have seen videos on YouTube or read articles about how the landing at Paro is considered to be one of the most difficult ones in the world, thanks to the surrounding peaks which can be quite treacherous. However, when you're on the flight, all you can think about is how green and beautiful the mountains are. Sure enough, you might be a bit taken aback by the plane's tilts every now and then, but the scenic view eventually overpowers that feeling.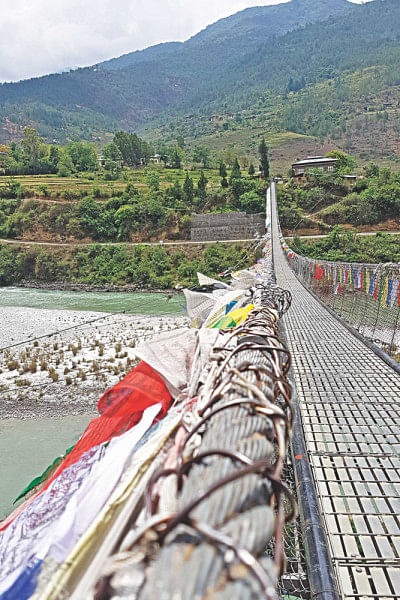 The first place that we visited in Paro was the Chelela pass. It's about an hour's drive from Paro city and is approximately 13,000 feet high. The pass provides a brilliant view of the valley and the rhododendron forests. 
We had gone there in the afternoon right after rush hour and were lucky to have been the only group there at that point. It was a perfect afternoon with the blue skies and the mountains complementing each other.  What made it better was the food, which our host had generously packed for us, so that we could have a picnic right at the top of the pass. We had beef momos and hot tea against a calendar-like backdrop, in slightly chilly conditions. It was a great start to the trip. 
From there we went to Paro city, which was, again, not buzzing with tourists, but had just the right amount of people. It's a small city, which does not take you more than a day to cover, with great cafes and plenty of dogs to give you relentless company.
The Tiger's Nest, which is also known as the Paro Taktsang, is the most visited site in Bhutan. In order to reach it, you need to hike for around two hours. 
It's essentially a temple complex and also a sacred Buddhist site—intricately built in the cliff of a valley. The view that you get from the valley and the beautiful temple complex make the two-hour hike up the mountain completely worth it. 
According to legend, Guru Padmasambhava, who is believed to have introduced Buddhism in Bhutan, was taken to the cave on the back of a tigress and hence the monastery is called Taktsang, which essentially means Tiger's Nest. 
The hike all the way to the top isn't too difficult, but it can be tiring because of how steep it is. So essentially, unless and until you're a marathon runner, you will have to take breaks after every 15 to 20 minutes because of the vertical walk.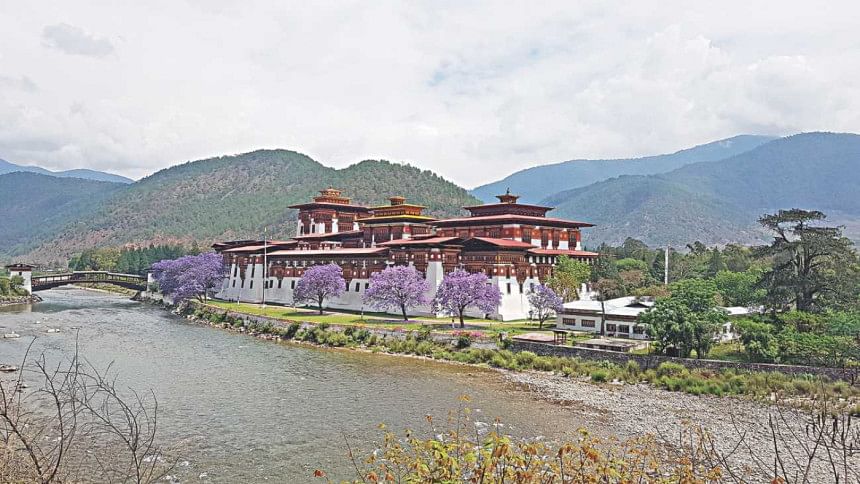 Once you reach the top, you will have to climb down a flight of stairs at the cliff of the mountain and the climb up again to finally enter the temple complex, a place where they don't allow you to enter with your phones or cameras. There is a locker room to keep your valuables at the temple. However, it can be a bit risky since they don't provide you with locks, and you need to remember to take your own. 
After spending another day in Paro, our group decided to visit Thimpu. It takes around an hour to go from Paro to Thimpu. It, however, took us twice as much time since we frequently took breaks to take photos of the breathtaking views that that path provides. 
Upon entering Thimpu, the first thing that you notice is a gigantic Buddha Dordenma statue right at one of the highest points of the city. It looks beautiful from afar and it makes you feel as though Buddha is looking over the tiny city of Thimpu.  
Now, Thimpu is a bit more crowded compared to Paro. There are a lot more buildings, construction work etc. After visiting a few temples and sites in Thimpu, we made our way to Punakha, which is around two and a half hours away from Thimpu. In order to go there, you first need to get special permission from the immigration center at Thimpu. 
Punakha is a place that is more known for its beautiful temples or Dzongs as the locals call them. Even if you aren't a temple enthusiast, you are most likely to be fascinated by the Dzongs in Punakha. From the gigantic trees with violet leaves to the monks, dressed in red, walking and sometimes running around, going about their daily routines, there was a sense of calmness in the Dzongs that actually helped us beat the heat last month and gave us a glimpse of what inner peace felt like. 
With close to 70 percent of Bhutan covered by forests, the wildlife in this country is extremely rich. You get to know more about it in museums in Thimpu and other cities and get a brilliant picture of how well Bhutan has maintained itself. 
Our four-day trip came to an end with us traveling back to Paro at midnight and catching the morning flight to Dhaka the very next day. Although it was a weekend well spent, it was clear to us that we had missed out on a number of other interesting places to visit. Bumthang valley, considered the most beautiful valley of Bhutan was one such area, which we failed to visit due to time constraints. 
As far as Bangladeshis are concerned, one could say that a travel to Bhutan ticks all the boxes. You get an on arrival visa; the people are friendly; it's just two hours away from Dhaka and there won't be a blaze of tourists to spoil your trip. Financially speaking, it's a bit more expensive than Nepal. It would cost you around BDT 40,000 for a six-day trip. Considering the amazing show that the country orchestrates, it's definitely worth it.