In Retrospect
The Tumultuous Days Of 1971 With Tajuddin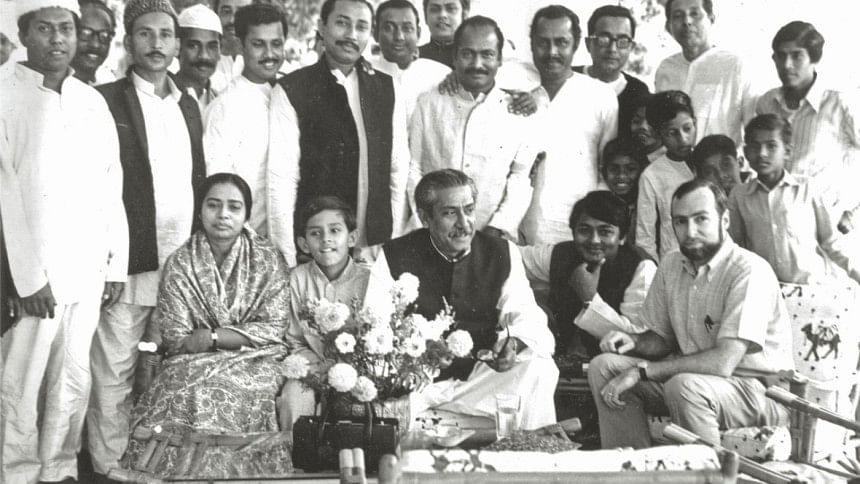 He looked at the people on the boat—he didn't know any of them, but could see from their appearances that most of them were from the Hindu community, fleeing for their lives. It was as if that sad tale—of being forced to leave the land where they were born and brought up—was evident in their expressions. As the boat passed through Maniknagar area of Brahmanbaria, Shahabuddin Ahmed set his eyes upon the next approaching village; he told himself he was no different from them—life had put them all on a similar uncertain journey. Many questions, like "When will we be free again? Can the country at all be freed from the Pakistani occupation forces? Will we be able to return to our own country, our families?" popped into his restless, moorless mind.
No certainty. He assumed none of his fellow passengers on the boat had answers to any of these questions. But he was certain about at least one thing: he would join his people who had joined the war to drive out the invading Pakistani army. Amid all the uncertainty, this was one matter about which he did not harbour any doubt. He made up his mind after the night of March 25, when the occupation forces launched a massacre against his people.
Shahabuddin, the then office secretary of Dhaka city Awami League, was on his way from the party office at Purana Paltan to his house in Shahjahanpur when he had heard the first gunshot that night. As the sound of firing intensified, he decided to move to a relative's house at Goran along with his family—his wife, three children, parents and siblings. Shahajahanpur was very close to the Rajarbagh Police Lines which came under attack that night.
There was curfew in Dhaka the next day—March 26. When the curfew was withdrawn, Shahabuddin left Goran, alone, considering the area was unsafe for him as everyone there knew about his involvement in politics. He went to the house of Khilgaon unit secretary of Mohila Awami League in Pubail.
A few days later, he went to Degreer Char in Narayanganj to meet a party fellow and one of his bosom friends who was staying at his in-law's house there. "He offered me to stay with him and work for the freedom fighters as the area was pretty safe then, and I said yes," Shahabuddin recounts.
He was contented to some extent that he was working for the freedom fighters, but not having training to operate firearms and not being able to join the war was making him impatient. "I was always searching for a scope to move to India."
By then, party leader Sheikh Mujibur Rahman had already been arrested and Tajuddin Ahmed had formed the government in exile with Bangabandhu as the president and himself as prime minister.
After the cabinet formally took oath at Mujibnagar, Shahabuddin returned to Dhaka to say goodbye to his family; by that time, he had made up his mind to go to India. "I didn't know where my wife and kids were. I decided to go to my in-laws' house at Moghbazar first to take advice from my father-in-law, who was an Iman of Moghbazar mosque. But, luckily, I found my wife and children there," he recalls.  
His wife didn't hold him back. "She encouraged me instead, saying that she would manage everything there."
His friends living in Munshiganj found a Hindu man to arrange his journey to India. He took Shahabuddin from Kathpotti of Munshiganj to Maniknagar of Brahmanbaria by launch and they stayed the night there. ''Next morning, the man introduced me to another person with whom I started the journey by boat along with other strangers. The boat reached Bitgarh bazar at afternoon and we had our lunch there. Then we resumed our journey towards Chargachha, but this time it was on foot.''   
***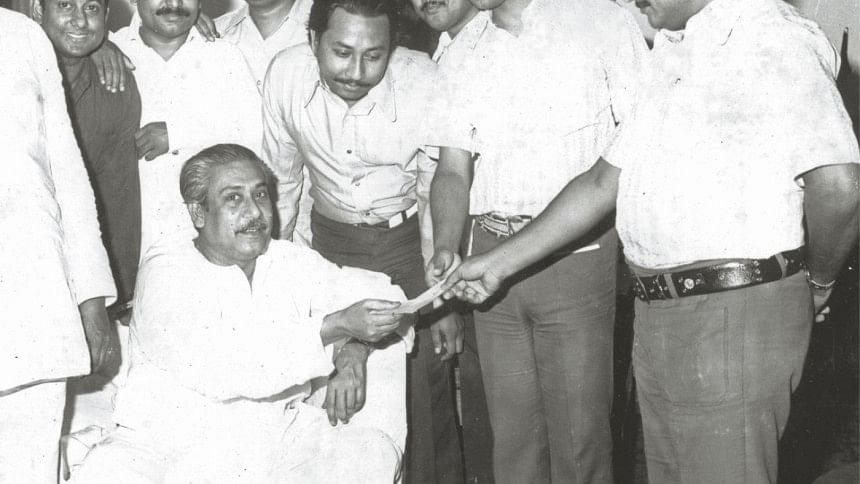 When they reached Chargachha, they took shelter at the house of a local union council member for a few hours, before departing at around 1:00 am the next morning. After walking for two hours, they crossed C&B Road, close to Brahmanbaria district border with India.
Wearing a white shirt and a lungi, Shahabuddin had two trousers and two shirts in a small bag. "At one point, the man who was leading the group asked me to take my shirt off as it was visible even in the dark."
All the fatigue of the journey vanished when Shahabuddin reached Debinagar in the Indian state of Tripura the next morning. But he missed the bus that would have taken him to Agartala, where the Joy Bangla office was situated.
"I was lucky—a truck driver helped me reach Agartala." He took a rickshaw later to reach the Joy Bangla office on Colonel Chowmuhani Road.
Shahabuddin was overjoyed to meet Gazi Golam Mostafa, president of Dhaka city unit of Awami League, there. It was Mostafa who arranged his lodging and meal. Eager and impatient to go to the war field, Shahabuddin started to entreat Mostafa to send him there for training.
"But he took me to a camp at Beltoli instead and asked me to give motivational speeches in front of the Bangladeshi freedom fighters every morning."
One day, he suddenly met Mostafa Kamal, an AL worker from Munshiganj, at the AL office. Kamal told him that the Mujibnagar government PM, who was then in Kolkata, was eagerly asking for him. "I was nervous about moving to Kolkata as I did not have enough money with me. But Kamal convinced me. We bought plane tickets in order to reach Kolkata as quickly as possible," says Shahabuddin.
"It was my bad luck; the flight was cancelled. We bought bus tickets to catch a train from Dharmanagar, 100 kilometres from Agartala, but our bus broke down midway and we missed the train." They spent the whole night at a tea stall and managed to get on a train to Kolkata the next night.
After a few days on the road, Shahabuddin and Kamal reached Howrah Station in Kolkata on April 29 at midnight.
"When I stepped into Kolkata I was super-excited as I was going to meet the then prime minister, who is a great politician." Shahabuddin and Kamal went to Bangladesh Krira Samiti office housed at Coca Cola building on Theatre Road first. The next day, they went to the Relief and Rehabilitation office of the Bangladesh government where they met AL Dhaka district unit president Shamsul Haque, who was later made minister. He took Shahabuddin to Tajuddin's office on No. 8 Theatre Road.
"When we entered Tajuddin Ahmed's office, he was sitting at a table, doing his office work. But as soon as he saw us, he walked towards me and shook hands with me very cordially."
The first thing Tajuddin told Shahabuddin was: "You came after so many days!"
"He made me feel very special. How can I forget that day!" an emotional Shahabuddin exclaims.
"You will stay here and work with me. Most of the staff here are paid. But I want you to take no salary from the office. Provide volunteer service. I will arrange your pocket money. You are a political worker—work as a political worker," Tajuddin told him.
Shahabuddin then started working as a special aide to the prime minister.
"My job was to organise files for Tajuddin, filing paper cuttings, and assisting Mohammadullah, who was in-charge of party finance then and was made president in 1974."
During his free time and when he was alone, Shahabuddin missed his family acutely. "I had no communication with my wife. I did not know how they were. During the long eight months I stayed away from them, I just managed to send one letter to my wife through one of my party fellows," he says.   
Indira Gandhi addressed a rally at Gorer Math in Kolkata on December 3, the day the Pakistan army started war with India on the western front. Before leaving Kolkata, Indira Gandhi sent a message to the PM and the acting president, Nazrul Islam, to meet with her in Delhi. Both of them left Kolkata at night.
"After December 6, when India recognised us formally as an independent country, we all knew that our country will be free soon," Shahabuddin recalls. They were getting news of victory from different parts of the battlefield every moment through the wireless, but a concrete sign of the war's end was not coming, which made them restless.
Finally, the moment came on December 16: the Pakistan army surrendered at Ramna Race Course ground. 
"Hearing the news, we cried in joy, hugged each other and greeted each other with flowers and sweets. Indian political leaders also came to greet us.
"On December 18, I along with some other Awami League leaders and workers reached Dhaka airport by a helicopter," Shahabuddin says.
When he was almost near his home, his neighbours and party men surrounded him. "They were hugging and shaking hands with me. But I became so emotional that I could not say a word."
It's at this point that he saw his children—two daughters and a son—running towards him. "They held me tight and I failed to hold back my tears."
Bangabandhu was a very open-minded person, as Shahabuddin remembers. "He would sit with us and hold political discussions or chat. Tajuddin Ahmed, on the other hand, was a little bit reserved. We would hesitate to go close to him. But while staying with him during these eight months, I felt the war change this person completely. He was a great leader.
"Bangabandhu was my first inspiration. But I became a big fan of Tajuddin as I came to know him better during those days."
Farhana Ahmed is the daughter of Shahabuddin Ahmed, and Deputy Web Editor, The Daily Star.