The government's got your tongue
Years of majoritarian Bangla education means that certain minority communities only speak their mother-tongue, and neither read nor write.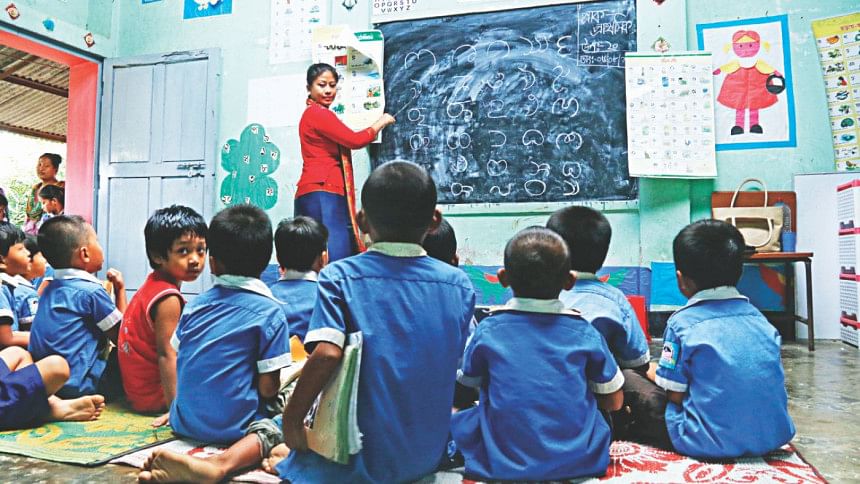 Nestled in the foothills of the Meghalaya district, just a short way from the Ranikor river that flows in from India and dries up in Bangladesh, is a place called Burungachhora, that is not on Google Maps.
A stone's throw away from the electric fence that separates the two countries, a two-roomed school made of corrugated tin sheets is doing something that many of its larger counterparts have not managed yet. 
The school, which is a part of a country-wide network called Aloghar, is providing education in indigenous language from pre-primary till second grade.
"We are located within walking distance of a Garo community so we have a mix of Garo and Bangla children in this school," says Nandan Chammugong, the head-teacher. He brings out a collection of books with the familiar Latin script spelling out words that the average Bangladeshi will hardly ever read in their life-time. "For our pre-primary children we supplement the reading with nursery rhymes and songs in the local Garo language," he says. They even go the extra mile to preserve the language by using toys like plastic zoo animal figurines as props to teach local names of objects not referenced in everyday-vernacular.  The tiny village school which does not even have desks also has a pre-kindergarten class targeting early-childhood education, so that mother-tongue education can start early. This goes on until third-grade when mainstreaming happens. By that time, the children have had five years of mother-tongue education under their belts. 
The school is NGO-run—by the well-known Catholic charity, Caritas Bangladesh—and is a far cry from the government primary schools that have only been able to provide mother-tongue education to kindergarteners. The project to introduce text-books in the mother-tongue was undertaken in 2013 in recognition of the rights of minorities—a laudable effort for sure—but it is yet to fully deliver. 
It took the government all of four years to simply get the pre-primary books out whereas schools like Chammugang's are already providing them until second-grade even though they only started one year ahead of the department of primary education. This means that the largest chunk of primary schools, 82.9 percent to be exact according to last year's census, are barely kickstarting education in mother-tongue.
"We are currently developing the books for the first-grade," says Dr Aung Kya Jai, the leader of the National Curriculum and Textbook Board team making the Marma books. Dr Jai's team aims to make a book a year, until third grade, for all primary schools. 
"The idea is to ease them into mainstream Bangla education. Pre-primary education will be completely in the mother-tongue. A quarter of the materials will be taught in Bangla in the first grade. In second grade, half of all materials will be taught in Bangla," says Dr Jai. By fifth grade, the student would be fully immersed in Bangla-medium education. 
At the moment though, the books given out are only in the languages of Chakma, Marma, Tripura and Garo—four out of numerous spoken by the different ethnic minorities.
"The Santals have not been catered to, as of yet, but the making of the books is in the works," says Dr Jai. According to indigenous education experts, the delay surrounding the Santhali books stems from the age-old conflict of which script should be used for the nation of Santhals who span over both India and Bangladesh. According to 'Santhali:  A Never-Ending Struggle for Existence' published in the 2016 issue of South Asian Journal for Multidisciplinary Studies, Santhali vernacular has been documented in Oriya, Bangla and English. The research says that colonial-age Bible societies and missionaries were the first to develop the Latin-based script that is also used by Tripura, Khashiya, Garo and others. Oriya and Bangla scripts originated from the respective communities of Santals in Odisha and Bengal. In order to decolonise the script, the Ol Chiki script was developed in 1925 by Pandit Raghunath Murmu, adding yet another option to choose from. 
On the flipside, the Aloghar Schools provide indigenous education in Kurukh, Sadri, Oraon, Santhali, Mro, Khariya, Munda and Khasia, in addition to Chakma, Marma, Garo, Tripura. "We have 18 Khasiya, 12 Gao and 5 Sadri schools providing indigenous education just in Sylhet," says Pius Nanuar, the person in charge of the schools in the Sylhet division. 
"We let the communities volunteer to make the books. They documented what they wanted their children to learn and also decided what scripts to use," says Nanuar. The Khasiya textbooks were developed by communities in Sylhet, while Sadri was developed in Dinajpur, he adds.
Perhaps the most important hurdle that the government will be dealing with is re-teaching indigenous teachers their own languages so that they can use the books that are being given out. Years of majoritarian Bangla education and the lack of a body of mainstream indigenous literature in many of the languages mean that certain minority communities only actively practice the vernacular. 
For example, Chammugong did not know how to read and write Garo, and had to relearn it himself before he could take classes. "Fortunately, Garo is written in Latin script and I know English, so the training was not hard," clarifies the head-teacher. Pius Nanuar too, belongs to the Sadri community but only knew the vernacular at first. Sadri too is written in Roman script.  The case is different however for Chakma and Marma languages which are written in their own scripts. 
"Marma has a script similar to Burmese," describes Dr Jai, "this means that people who can't read or write it have to learn a new alphabet." Marma stemmed from the Arakanese family of languages, which is different from both Chakma and Bangla. 
A 2013 research conducted by BRAC University on a small sample size of 30 Chakma-identifying people in Dhaka city found that only 23 percent were fluent in speaking and writing their own language. It is precisely because of reasons like these that weekend classes in indigenous languages are propping up over the city. "A lot of the adults never received education in their mother-tongue and wanted to learn it, so we started offering classes," says Mishuk Chakma, the coordinator of one such programme run by a school that calls itself JUVBDA academy. The acronym stands for Jumma Volunteer Blood Donors Association, and as Mishuk Chakma put it, they expanded from being just blood donors to language preservationists because of the immense interest from the public. "We do not teach advanced language though, only basic alphabet and vocabulary," says Chakma. 
"We are in the process of preparing training manuals for teachers," adds Dr Jai, when asked about the glaring gap of teacher illiteracy in their mother-tongues. It is then up to the government to organise such trainings, he says. How these teachers would be identified and recruited, however, is a question, given that the national census of 2016 conducted by the directorate of primary education failed to survey the ethnic background of teachers. The census contains no information about how many indigenous teachers there are, which communities they are from and where they are located. 
This means that the government currently does not have the information to find Lucy Manda, who is a Garo teacher of Mugaipar government primary school. "I can read and write in my language only a little, but am not fluent," says the teacher whose career spans 40 years in that school. Having said that, training may not even be an issue for her, seeing that she claims her school did not even get the pre-primary books despite having Garo students. "We have 29 Garo students up to class five," she adds. 
It is commendable that the non-governmental sector is rising up to the challenge of meeting the needs of indigenous children and preserving the languages but when can we expect the same from the state?