Separating morality from service
Learning about sexual rights from Uganda
"According to the constitution nobody has the right to take a person's life, and so abortion is illegal unless authorised by a physician under health grounds." Mondo Kyateka, Assistant Commissioner for Youth Affairs declares the official stance of the Ugandan government to a group of journalists sitting in a cramped board-room at the Gender, Labour and Social Development ministry in the capital city of Kampala. It is not an atypical stance in any way—unless required to save a mother's life, abortion is illegal in Bangladesh too, along with 52 other countries in the world. 
"We advocate that young adults delay engaging in sexual relations unless they can take care of a child," continues Kyateka. That too we can relate with. Stories of children married off as redemption for the 'sin' of dating are widely documented orally, not to mention the recent case of an eighth grader in Ashulia whose toenail was pulled out for allegedly talking to a girl.
And what services does the state of Uganda provide to these teenage mothers, since they are legally forced to carry a child to full-term? "If the mother gives birth, and decides to abandon the child, the government has shelters to take care of it," finishes the minister simply, mentally dooming a life to end with orphanhood. 
Unlike Bangladesh, however, some of the stereotypes surrounding sex and sexual rights seem to end in that boardroom. While the ministry of gender vilifies certain types of pregnancies, the health service sector strives to keep all lives safe. For example, Isabirye Joseph, a community health worker from the Iganga district, does not care that the one-year-old child in front of him was born out of wedlock. Tiny Walusamq Abubacar, who is hardly big enough to fit his grand name, lives with his grandmother while his mother finishes high school. Joseph brings out the baby's chart and starts noting down health vitals. 
"My daughter Zainah still has a year or so of high school left. She stayed with her baby for the first nine months after birth, and then I sent her to boarding school so that she can concentrate on her studies," says Nangobi Hamida, the grandmother. Hamida belongs to the Muslim minority which makes up 11.5 percent of the population. She covers her hair and wears a long robe like an abaya.
"I want my daughter to have a good job and take care of her son, because the father is missing," adds Hamida, whose family is classified as 'peasant' according to the baby's health chart. She lives in a row of one-roomed homes clustered around a courtyard. Were the neighbours abusive to Zainah? Does the mosque still accept them? "I still go to the mosque," Hamida claims. While she talks to the health worker about the baby, her neighbours and extended family gather around with their own. It is a chill, community affair.
"My job is to provide healthcare to the child," says Isabirye Joseph, "not judge how the child was born."  In fact, he adds, children born to teenage mothers need more help because they are often underweight. Baby Abubacr was underweight, pre-term and kept under surveillance by Joseph. 
Was he always so open-minded? "I used to think that having a child outside of a marriage is a sin, but then I was provided sensitisation training by health officials, and I learnt to separate religion from service," replies Joseph. This village health worker specifically uses the word 'sensitisation', in English.  Attitudes like his make a difference in a country where one in four teenage girls are mothers, according to 2015 statistics. 
"They receive training in HIV prevention, STDs, reproductive health, ante-natal care, nutrition and immunisation," states Dr Peter Ibembe, the national programme manager of Reproductive Health Uganda. "These trainings are only done by non-governmental organisations, not the state," he adds.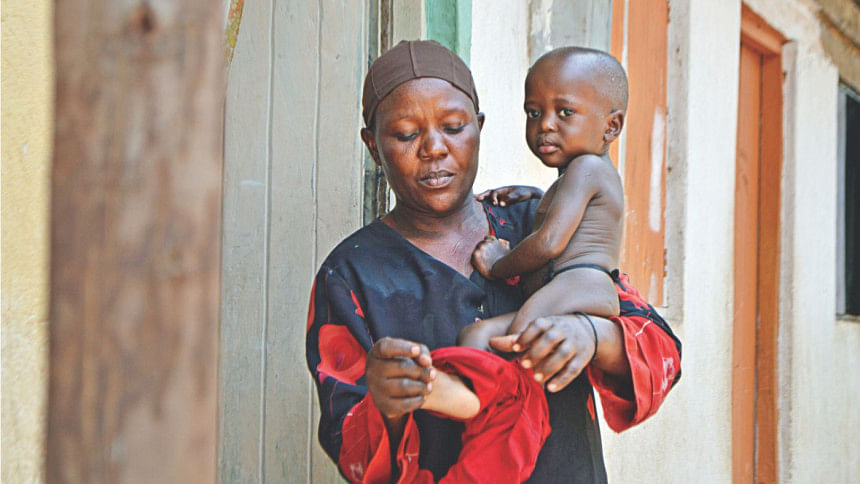 Uganda is not unlike Bangladesh when it comes to religion, but very different when compared to the stifling mix of stigma and psychological abuse that characterise sexual health services in our country. "We are deeply religious," confirms Allan Mugisha, an official with Uganda's Inter-religious Council. Every government meeting I had began with a prayer. I shared my flight with two large teams of white missionaries, who my driver later confirmed were a regular import category.   
A 2013 film called "God Loves Uganda" documents how American evangelicalism has long enjoyed popular ground in the country. Billboards advertising religious assemblies (often headed by a white preacher) were frequently spotted during the week of cross-country trips. Morally abetted by the clergy, a 2014 amendment proposed the death penalty for the "crime" of homosexuality, which thankfully never got passed. Almost as an effort to control damage by discriminatory laws, the ministry of health sent out a circular in 2014 directing all health service providers to treat people of all sexualities, races, ages, the religions impartially. 
Yet another faction of the religious clergy is directly involved in advocating good sexual health practices. The Inter-religious Council of Uganda has a network of 872 religious leaders of Christian, Jewish and Muslim faith who preach about sexually transmitted diseases and contraception to their communities, including adolescents. There are fallbacks, for sure. "For example, the Catholics do not advocate medical contraception so we ask them to promote natural methods [withdrawal]," says Allan Mugisha. 
The Uganda that discriminates also has a public hospital deep in a rural parish, which maintains a sex education counselling centre for youths. Dr Agabe Brian, the head of the hospital, leads me into the room, which is slightly secluded. It is furnished with posters containing information about contraceptives and HIV prevention, and even a wooden apparatus for teaching teenagers how to use condoms. "Anyone who wants information about safe sex can come in here, learn and ask questions," says Dr Brian. The hospital, located in a parish called Rwashmaire, is a rough, hilly ride away from the small town of Ntungamo. It consists of a couple of one-storey building blocks on a cliff that overlooks a deep, woodsy valley surrounding by cloud-topped mountains. 
For every sexually active woman in Bangladesh who still has to depend on a man to buy contraceptives, there is a woman in Rwashmaire who can steal up to the hospital in the evening, and grab free condoms left in a basket by the window. "People who need contraception may not want to be seen, because they may be unmarried or even, teenagers—but it is important to reach out to them," says Dr Brian. While urban gyneacologists in Bangladesh refuse to outfit women who have not yet had children with intrauterine devices (IUD), Dr Brian's rural hospital knows that it is more important to trust a woman's decision about her own body. "We are more than ready to give IUDs to unmarried women but many are scared of it because it's an invasive procedure," he laments. Without policy change however, good work done by people like Dr Brian is not enough to prevent the lives lost to unsafe abortion, which stands at 11 percent of all maternal deaths.  
The end is still a long way off, thinks Dr Peter Ibembe. As he leads me to his office, we pass a service centre decorated with the word 'sexuality' written in foot-long letters. "Uganda's willingness to talk about sex is linked to its history with AIDS," he says and the country has made clear progress. Yet sensitivity only exists in pockets, and in some places, stigma wins out, he adds.