Longform
Rickshaw restrictions: privilege for some, disaster for the puller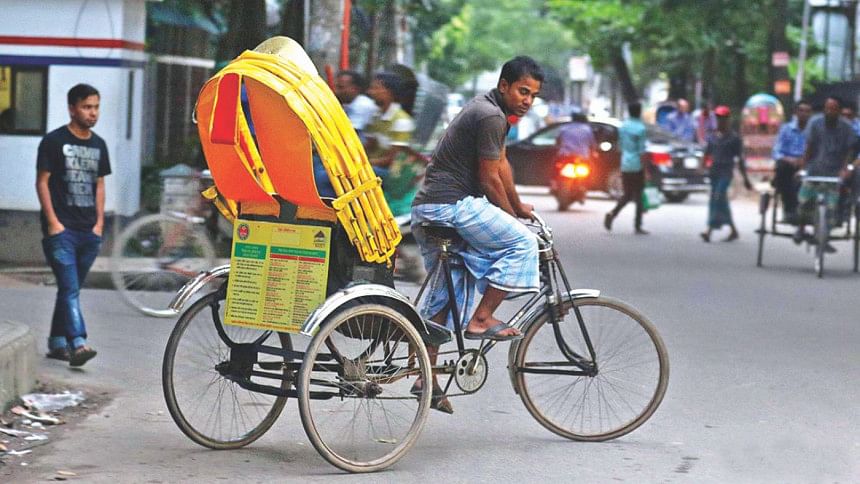 For the longest time my vocabulary in Bengali was limited to bame, dane and ekhane. Three little words that proved invaluable when navigating Dhaka traffic from the back of a rickshaw. "I don't speak Bangla", I used to joke, "I just speak rickshaw". It was on the rickshaw, with one knee tightly pressed against the driver's seat, that I came to know and love Dhaka: the congested golis of Old Dhaka, the green lanes of Dhaka University Campus, the neat residential blocks of Bashundara, and the broken, potholed roads of Rayerbazar.
It has been six years since my first rickshaw ride in Dhaka and a lot has changed in the meantime. Whereas in 2011 I could easily take a rickshaw from Bashundara to Banani, today this journey through the diplomatic area would be cut off, hindered and delayed by the numerous police checkpoints and "VIP roads" on the way. It would involve transferring between different vehicles and, possibly, between a regular rickshaw and one of the yellow-coloured community rickshaws that now ply the roads of Baridhara, Gulshan and Banani in very limited numbers. 
These restrictions seem to be part of a wider effort to isolate and, ultimately, "protect" the diplomatic zone from the rest of the city, hence, creating a "comfortable" zone of withdrawal for foreign visitors like myself. It is an understandable impulse perhaps, considering last year's terrorist attack at the Holey Artisan Bakery. Still, whenever I find myself crossing the border between Banani and Gulshan by foot these days, I cannot help but wonder: what do these restrictions actually achieve, other than putting up a pleasant illusion of order and controllability?
Security and privilege
As can be witnessed the world over, measures to hold off terrorism are seldom entirely rational or even sensible. All too often they function as an excuse for limiting civil liberties and scapegoating vulnerable communities. That security restrictions are by no means "colour blind" or class neutral, is something that I am personally reminded of whenever I visit the neighbourhood of Baridhara these days. Whereas Bangladeshi pedestrians are stopped, checked and sometimes even frisked at the entrance gate, I, as a (white) foreigner, can stride through without even attracting a second glance. While continuing my walk uninterrupted, I am typically left with the uncomfortable sensation that I have been at the receiving end of a form of favouritism that is firmly rooted in colonial history.
Considering the intimate link between security and privilege, it shouldn't come as a surprise that poor communities seem to be paying the price for many of the restrictions that were implemented after the Holey Artisan Bakery Attack. Take, for example, the changes that the local transportation system has undergone in the diplomatic zone. Dhaka Chaka now holds a monopoly over all bus transport in the area, forcing people from all classes to use AC buses whether they can afford to or not. Commuting in and out of Gulshan has become increasingly difficult for slum dwellers in particular, since all boat services from Korail slum have been banned. Garment workers, day-labourers and domestic workers now have to walk for up to an hour, only to arrive at a destination that they could have reached within five minutes by boat. 
To make matters worse, there has been a sharp decline in the number of rickshaws that are allowed to operate in the diplomatic zone. This imposed rickshaw ceiling has dealt some heavy, and arguably, unnecessary blows to the local rickshaw industry and the many families dependent on it.  
Introducing the "yellow rickshaw"
In August 2016, a month after the Holey Artisan Bakery attack, the housing associations of Gulshan, Baridhara, Banani and Niketan introduced a new rickshaw system in their respective neighbourhoods. The total number of rickshaws in the area was reduced from an estimated 10,000 to a mere 1,230 and all vehicles were registered and licensed. These so-called "community rickshaws" have been painted bright yellow and are operated by rickshaw pullers in orange uniforms, with a photo ID card around their neck. A list of fixed fares is attached to the back of the rickshaw indicating, for example, that a journey from Banani Market to United Hospital should cost no more than BDT 40.
I myself was first confronted with the "community rickshaw" when I arrived back in Dhaka this July. Surprised by this sudden trend towards yellow uniformity, I casually started asking rickshaw pullers about the new system and why it was implemented. "It is for 'your' safety," explained the first rickshaw puller I spoke to with a hint of pride. Not all drivers, however, shared his polite enthusiasm and I soon discovered that "my safety" came at a certain cost. 
The rickshaw driver that facilitated my next ride on a community rickshaw was quick to express his frustration over the new system, lamenting that the daily rickshaw rent had quadrupled. He now had to pay BDT 400 for a full day, while the rent for a regular rickshaw varies between BDT 80 and 110. This amount indeed seemed exorbitant and almost impossible to collect when sticking to the conservative fare chart on the back.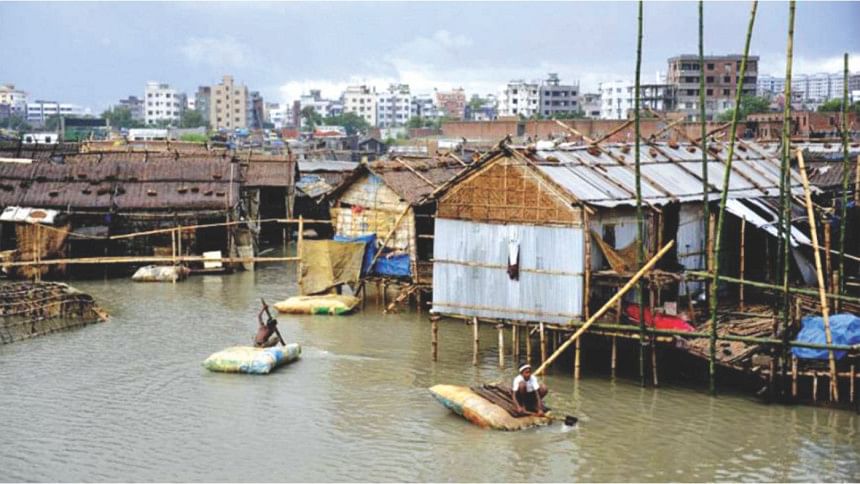 Debt, financial despair and struggling businesses
On paper the new rickshaw system looks sensible enough; orderly, planned and underpinned by just the right amount of bureaucracy. This neat pretence of administrative order, however, has done the rickshaw community no favours. Jobs in slum areas like Korail have decreased drastically and many rickshaw pullers had been forced to move back to the countryside. Those who stayed were almost unanimous in their negative opinion.
The lucky few who were able to operate a community rickshaw complained about the steep increase in rent. When asked whether their income had increased as well, most of them responded negatively, explaining that the sheer scarcity of rickshaws forced them to share one vehicle among two or three operators. As a result, their working hours had decreased and their daily income now fluctuated around BDT 700.
Those who have been unable to obtain a yellow rickshaw (i.e. the overwhelming majority) are notably worse off, as their daily earnings have dropped to a meagre amount of BDT 300 or 400. With most of the surrounding areas being off limits to regular rickshaws, the drivers now find themselves restricted to small pockets of Mohakhali and parts of Banani that can only be accessed after paying a bribe to the traffic police. Khalil, a rickshaw puller from Sherpur, explains that he constantly has to decline passengers because he is no longer allowed to enter Banani. He might have to leave this part of town at some point, as his income is now woefully inadequate for supporting his family. The words of other rickshaw pullers echo a similar kind of despair: "We cannot eat meat anymore", "We cannot manage our children's education costs anymore" and "Everyone has taken out loans".
On one of my own rickshaw rides through Banani I get to talk more extensively about the topic of debt with a rickshaw puller who introduces himself as Mohammad. He still drives a "regular" rickshaw and when I mention my research, he immediately slows down and starts to talk compellingly about the misfortune the new system has caused him. To prevent his three daughters from dropping out of school, he has recently taken out two loans of BDT 1 lakh. His meagre income makes it nearly impossible to pay back the weekly instalments of BDT 1,600. Tomorrow is another payday and his wife just called that she doesn't have enough money to manage food today.
However, it is not only rickshaw drivers that have fallen in economic trouble. Rickshaw owners have also been hit hard by the new system. Most of the rickshaw garages in Korail are full of regular rickshaws that are not being used. One of the owners I talked to, Mohamad Shahalom, seemed completely defeated by his dwindling business. He has 100 rickshaws in total, but the overwhelming majority is rusting away in his garage because he only managed to get five, very expensive licenses. For, as a result of the imposed rickshaw ceiling, there is now an emergent black market for licensed rickshaws, with owners paying up to one lakh to obtain one. 
Modernity at all cost?
So what could possibly justify this enormous human cost? Enhanced security for the rich? Although such a trade-off would be morally questionable in itself, it also does not seem to be grounded in truth. There is no clear evidential base for the assumed relation between rickshaw drivers and crime, let alone terrorism. So, if not security, what is it? Is it perhaps just that we want our neighbourhoods to look orderly, developed and modern and that the informal activities of poor people somehow challenge these ideals? 
Being a foreigner I sometimes have the feeling that I am part of the "problem", or at least part of the audience that these attempts to "look modern" seem to target. "They introduced this new rickshaw system for people like you," remarks a rickshaw owner by the name of Zaimul. He goes on to explain that Bangladesh is now gradually becoming developed and that the authorities want modernised transport, not the rickshaw. "They think it's shameful for people from foreign countries to see how one person is pulling forth another".
Dhaka is by no means the only city that seems keen to uphold appearances for a "foreign audience". Delhi launched a widespread beautification campaign prior to hosting the Commonwealth Games in 2010. The campaign coincided with slogans such as "Clean Delhi, Green Delhi" (sound familiar?) and aspired to transform the city into a world-class metropolis. Now, of course, there is nothing wrong with wanting a clean and beautiful city, but in the case of Delhi this came at a considerable cost. In his book "Rule by Aesthetics", D Asher Ghertner, Associate Professor of Geography at Rutgers University, shows that many slums in the capital were bulldozed and evicted on the mere grounds that they violated the aesthetic norm of "being world-class". In a similar vein, the traffic police tried to ban the rickshaw by arguing "that allowing cycle-rickshaws to ply on the arterial roads would certainly not contribute to the vision of making Delhi a world class city". 
So as we develop and modernise our beloved Dhaka, let us please remember that there is nothing world-class about poor and vulnerable communities not having jobs or being deprived of shelter. The anthropologist Jonathan Anjaria once remarked that there is nothing that "'clean' sidewalks hide better than poverty" and that is certainly something to bear in mind when we fret over whether or not our cities "look" developed enough. 
And as far as the rickshaw system in the diplomatic zone is concerned; luckily it is still up for review and evaluation. Let us hope that it will grow to be more inclusive and less rigid over time. I for one would gladly give up some of my alleged security, if that means that rickshaw pullers can continue to send their children to school.
---
Annemiek Prins is a Cultural Anthropologist and PhD Candidate with the University of Aberdeen. She currently lives in Dhaka where she is doing research on rickshaws, mobility and urban inclusivity.