Hello, what is your emergency?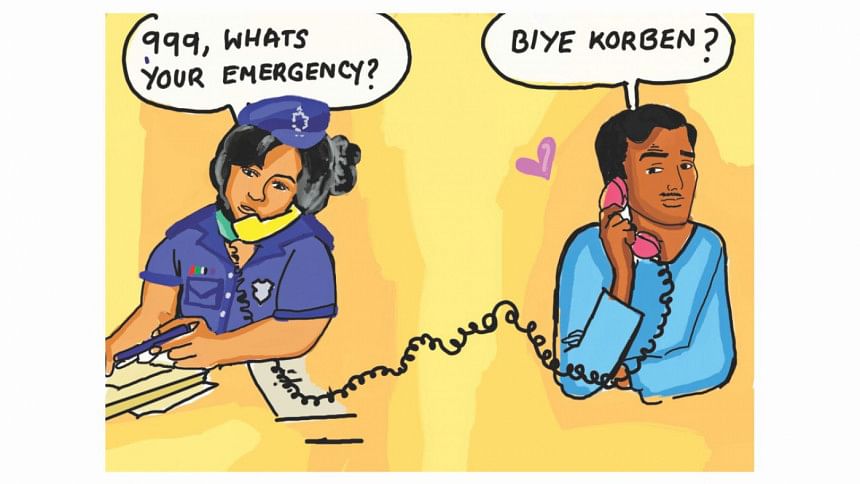 It was with a lot of pomp and flair that Bangladesh Police launched the official "999" helpline last December; but half a year down the line, data shows that only one percent of the calls could be truly served.
And it is through little apparent fault of the service providers. Rather, many callers have made it a platform for prank calls; yet others call thinking it's a one-stop solution to all their problems, from what to do when one cannot sleep to how one can get help from police, without filing a complaint.
The toll free national emergency helpline 999 was launched with the aim of providing three types of emergency services—reporting something to the police (crime/abduction/accident/disaster) or calling the fire services or an ambulance. Eight months on, it seems that an overwhelming majority of Bangladeshis are still unaware about the actual purpose of this helpline. As a result, those who seek urgent help find the line busy, and many complain that they can't access services in real-time from the call centre.
According to the latest data up until July 22, around 300 call operators have received a total of 41 lakh calls. Of these, 51 percent callers didn't even utter a single word.
"Our call operators receive the call, but there are people who stay on the line for 15 to 20 seconds. Our operators try their best to make them say 'Hello', but these kinds of callers don't usually talk. So, after two to three attempts, they end the call, so that others don't find the line engaged," says Md Saiful Islam, Assistant Superintendent of Police, at the Central Command and Control centre of the DMP. "These types of calls are categorised under blank call at our database."
Worse still, 17 percent were actually prank calls from people who simply call to harass or verbally abuse the female operators, especially during the night.
22-year-old operator Bobita Rani, who has been working at the helpline from the beginning, shares her experience of receiving such calls. "Yesterday, I got a call at midnight. I picked up the phone quickly, thinking someone might be in danger. But it was a young guy on the other end, saying it was 2 am and he could not sleep, so he needed someone with a 'sweet voice' like mine to talk to. He even asked me if I was interested in having an 'affair' with him. I tried to explain that this was a national emergency helpline, but the man didn't let me finish and asked me whether I would marry him," laughs Bobita.
"Since we are trained not to react in such situations, I politely told him that we do not provide such services," adds Bobita. "This is not something unusual. People even call us to talk dirty at night."
The operators inform that some callers think that this is a mobile operator call centre and report a wide range of problems—from how to buy a specific internet package to how to stop vibration on their phones.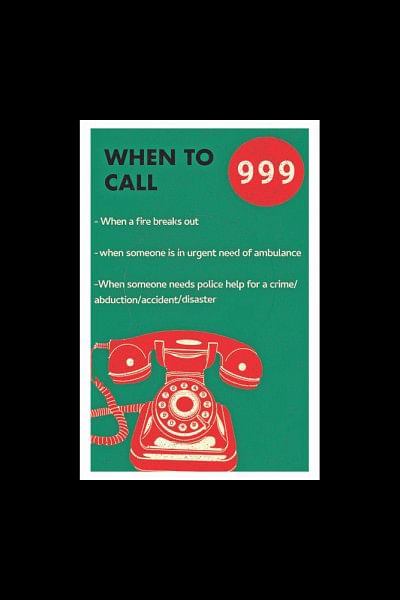 But when the callers are reporting something serious, how does this helpline work? According to Md Saiful Islam, the call operators create an event on their website, mentioning the details of the event, and send it to their dispatch team. The dispatch team then takes constant updates about the event from the local police and the complainant. They even note down every single update of the event; for example, if it's an accident, they take updates on whether the local police have started for the spot, whether they have reached the place, how many people were killed or injured, whether they have been taken to the hospital, whether the relatives of the victims have been informed, and so on. Once these actions are recorded, only then can the dispatch team close an event.
"For example, last week, a bus caught on fire at this place in Shibganj upazila, under Bogura district. We got a call from a local and the call operator sent a fire service unit of Sonatala fire service station to the spot. The unit managed to bring the fire under control and in spite of some loss, recovered goods worth approximately Tk 20 lakhs," says Saiful.
Star Weekend spoke to multiple people who claim that they didn't receive any help from 999 as the operators had transferred their calls to the local police station. However, upon exploring their claims further, we found that instead of any emergency service, most had called the helpline to report about load shedding or the explosion of an electric transformer in their area, while others had called with general enquiries such as how to file a police complaint, or what to do if the police takes money during verification.
But sometimes serious cases also come up, which don't necessarily fall under the purview of the Emergency Centre. In these cases, the centre provides them with information or connects them to the relevant authorities. These types of calls are categorised under inquiry calls and so far, 17 percent callers have been served according to their queries.
"For example, yesterday I received a call from a woman who reported that her husband beat her every now and then. She wants to protest but doesn't know what to do. So, I gave her the number of the local police station and suggested that she talk to the officer-in-charge, as there's no scope for me to do anything else," says a female call taker.  "Women usually report violence and abuse inside and outside home, and so far, we have received 7552 calls from them."  
Operators say that the general public often misunderstand the purpose of the 999 line, assuming that they can essentially avail all services from their home. "For example, we get calls from people seeking help for losing huge amounts of money to frauds. Although it doesn't fall under our purview, we try to help such victims through our cyber crime unit. But in that case we need a copy of a GD, so that the cyber crime officials can proceed with their work. But when we tell the victims to go to the local police station to lodge a complaint or transfer the call to explain the issue to the local police, they say, if I need to go to the police station for this, why would I call you?" laments Saiful.
Many also call with false information or to harass neighbours they don't like. The local police go to investigate the scene only to find everything in order. "This kind of incident mostly occurs in sound pollution related calls. For example, the local police station may have given permission to use loudspeakers for a certain public gathering, but people randomly call 999 urging us to take action. In such case, the police cannot help them," says an official of the dispatch team.
Given the common misconception about what the 999 helpline is for, questions arise as to whether enough is being done to explain to the public what the purpose of the Emergency Centre is. According to Assistant Inspector General of Police Saheli Ferdous, when they launched the helpline last December, Bangladesh Police broadcast a TVC at the commercial television channel, and there were numerous banners on its purpose. "Since we didn't continue with the TVC, right now, there is nothing to make them aware. But, when we speak on different talk shows, we try to highlight the three main categories under which they can seek help from the emergency helpline," she says. 
On the other hand, ASP Saiful informs that the police headquarters is working on making a documentary, through which a message will be passed on to the masses about the actual purpose of this call centre.
So, before receiving blank or prank calls every day, the emergency helpline service should take proper measures to explain the actual purpose of the helpline to the public. People who actually need emergency services may not be able to get proper services on time while the helpline is bogged down with nuisance calls.
Did you have a different experience with 999? Write to us at [email protected] and let us know!