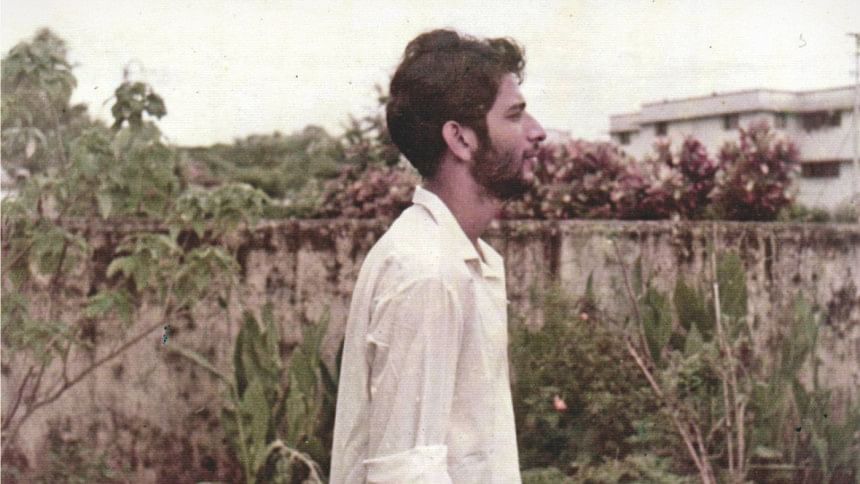 When we talk about guerilla soldiers, we are often at a loss to put a face to their names. The Liberation War of Bangladesh was the combined effort of guerrilla warriors and organised military forces. My brother went to fight the war and was killed en route by Bengali youths who doubted his Bengali identity. So can we call my brother a guerilla fighter? Snippets of what I heard from my mother, my cousin and his friends define him as one to me. In this month of victory, I would like to share my mother's memories of him and his guerilla adventures.
Chinku and his friends were placing barricades at various places during the months of January and February in 1971. They were angry and were staging protests against post-election politics. During the non-cooperation movement of 1969 and post-election months, Chinku would discuss politics and how to combat the high-handedness of West Pakistan with his father.
One day, I overheard Chinku talking to his father about how easy it would be to attack the soldier guarding the Adamjee House. The idea of guerrilla warfare filled the minds of the youth and their leaders. To me, the mere thought of killing a soldier on duty was shocking. But anger at the biased rulers of West Pakistan pulsed through the veins of the youth.
I heard from Shahudul, aka Gullu, about a hazardous adventure that Chinku and his friends had gotten involved in January of 1970. Four of them were in a red Toyota—Chinku, the one they called the Bodybuilder, the driver, and another friend. The plan was to disarm the guard in front of the Chief Justice's house. As Gullu described, "Everything went according to plan. The red Toyota was parked in front of the house. Chinku went and caught hold of the guard from behind, and waited for the Bodybuilder to come and snatch the gun away from him. But the Bodybuilder chickened out at the last minute and remained sitting in the red Toyota." Chinku saw another guard approaching him from the opposite direction. It was do or die. Chinku had no option but to lift the guard and carry him to the car. There, he dumped the guard, snatched his gun quickly and got into the car before it could speed off.
Chinku was adventurous and went out of his way to do things which put him in risky situations. The night of the 25th was simply unimaginable. Not even in my wildest dreams could I have imagined such a massacre. That night my husband, Chinku, and Pincho (my younger son) went up to the roof to see where the tracers were coming from and which places had been attacked. Thank God for the wall surrounding the roof!  They could duck their heads behind it to fend off any stray bullets headed for our house in Eskaton Garden.
On March 27, the curfew was lifted. Zaman Bhai (the Colonel Zaman who later led Sector 7 in the war) came over to our place. He advised that Chinku and Nadeem (Zaman Bhai's son who was five years younger than Chinku) should be sent away to cross the border and do as instructed by the authorities who were mobilising efforts there. My husband and I had a lot of faith in Zaman bhai. So Chinku and Nadeem set off that evening to cross Jinjira.
Chinku was 6'2 and fair. He had light eyes. Nadeem was very fair as well. Anybody could've mistaken them for West Pakistanis. They were held up by a group of Bengali youths. One kind man told these young men that he would make sure that Chinku and Nadeem would not flee, and he asked them to come back the next morning. The man tied Chinku and Nadeem to the mosquito net posts to show he meant what he said. When the young men left, he loosened the rope and asked them to return home.
The next morning Chinku was having water in front of the fridge. I asked him, "Why don't you join the freedom fighters when they are ready?" His answer was, "Who will be those freedom fighters?"
Chinku was like that. He was 20 years and six months at the time, but he was wise beyond his years.
Then on April 5, as I was walking towards Chinku and Pincho's room, I realised that Chinku's bed did not have the cover on it. Immediately I knew he had gone off again. Later, my husband told me that he had given Chinku his permission.
While we were trying to track him down, we found out that he had set off with his friend Khosru towards Chittagong. Khosru was a member of Kranti (a cultural organisation led by Kamal Lohani), and Chinku was involved in the Sanskriti Sangsad of Dhaka University.
We told our relatives and my colleagues from the school where I taught that Chinku had gone to Chittagong to visit his youngest aunt. It was not at all safe to say that one's son had crossed the border to fight a war.
We tried to find out the whereabouts of Chinku and Khosru. Their path to Chittagong/Agartala could be traced up to Chandpur, but after that, they seemed to disappear.
After nine months of war, our friends and family returned to Dhaka. None of those who had crossed the border could tell us about Chinku's whereabouts.
In early 1972, my husband headed to Chandpur, tracing Chinku's path to the village where people saw him last. It so happened that when Bengali youths caught hold of them, they did not believe that Chinku was Bengali. They showed them a "kula" and Chinku could not say what it was. They allowed Khosru to go but held Chinku back. Khosru decided to stay with Chinku, fearing Chinku would be killed otherwise. Later, we learned there were four of them going by foot through Chandpur when they were held up by the youths. The two other fellows—an office clerk in Khosru's business and a cook—were allowed to leave.
If the office clerk had reported the misfortune to Khosru's family in Chittagong, the lives of my son and his friend could have been saved. Why this man never reported that they were held up still remains a mystery.
I want to end with the following lines from a poem by my elder brother, the late Syed Ali Kabir, dedicated to his nephew Chinku and Khosru:
"In which unknown grave do you lie,
With your friend Khosru,
Who took part in your last rites?
Did the green grass grow on your grave?
Did the birds cry mournfully?
And did the women of the households around— 
Ask who the fair and handsome young boy was
And who could be the other one?
A true friend—
The pure symbol of a Bangalee youth."
(Translated by Alia Amin)
Sara Zaker is a theatre activist, media personality and Group Managing Director, Asiatic 360.