'Nawabi' Food at Dhanmondi!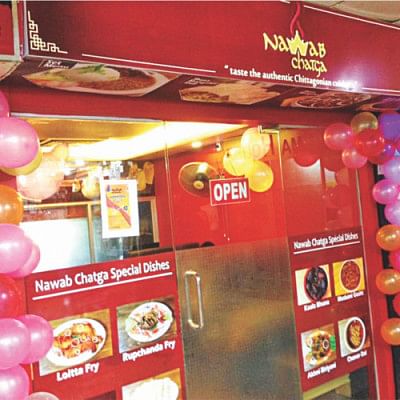 Dhanmondi dwellers are now getting the opportunity of tasting the delicious Chittagonian wising.  On November 7, the popular Chittagonian restaurant  Nawab Chatga launched its second branch at Anam Rangs Plaza of Dhanmondi. The day before the official launching, the Nawab Chatga team conducted a free of cost food tasting session with the people of Dhanmondi area, shop owners and staff members, and few friends and family members. 
"We are basically serving Mezbani Gosht, Kaala Bhuna, Chonar Daal, Loitta fry, Rupchanda fry and Akhnii Biriyani at the Dhanmondi branch," says Shahidul Islam, Managing Partner of Nawab Chatga. "Also, considering the massive student groups in the nearby areas, we are providing two popular smart menus—Jhura mangsher roll at 150 takas and mezbani gosht, chonar daal, salad and plain rice at only 180 takas",  he adds.
Within a very short period of time, the branch has successfully attracted the university students and working classes in around the area. For the people who want to experience the authentic taste of Chittagonian food at home, deliveries are also made through Foodpanda, Hungrynaki and the own delivery crew of Nawab Chatga. So, what are you waiting for? Go and grab a meal, or make an order online!