Buddha and His Teachings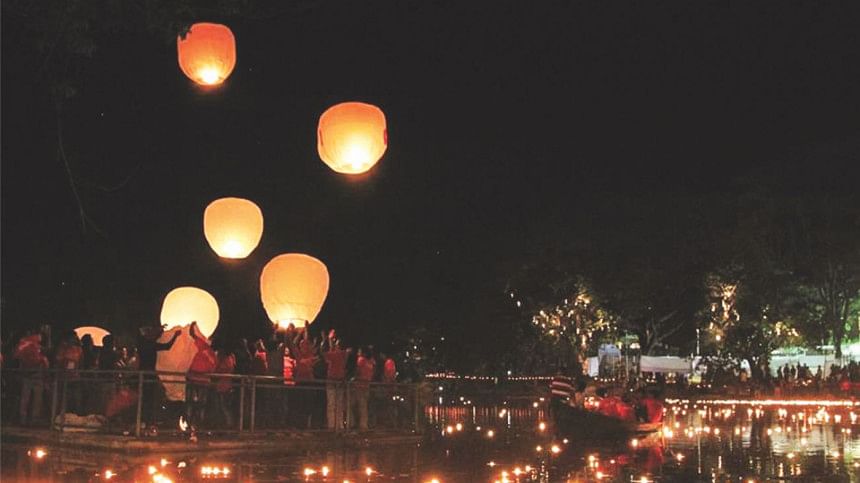 A little over 2,550 years ago, according to legend, Queen Maya Devi of the powerful Shakya dynasty was on a state journey to her maternal home where she was to give birth to her first child. She stopped to rest in the Lumbini garden and it was there, under a grove of Sal trees that her son Siddhartha Gautama was born. Siddhartha was born in 566 B.C., the son of the royal family; his mother, the Queen Maya Devi, had a dream foretelling his coming. In the dream, a white elephant with nine tusks came down from the heavens and absorbed into her body. This was interpreted by local wise men as a sign that she would bear a remarkable being. During her traditional journey home­ward, Prince Siddhartha was born, emerging from her right side as she raised her arm to rest on the branch of a big tree. He immediately took seven steps in the four directions, a lotus flower sprang up at each step where his foot touched the ground.
The day of Siddhartha's birth is known as Buddha Jayanti and is celebrated on the Full moon day, the Baisakhi Purnima according to the Nepali calen­dar. It is the day of triple blessing as it commemorates three major events in Buddha's life: his birth, his enlightenment and finally his passing away into the land of pureness.
Siddhartha lived a life of isolated royal splendor until one day when he ventured outside the castle walls. There he came across a beggar, a cripple, a corpse and a saint, the holy man. These encounters affected him deeply, awakening a deep desire to find the ultimate cause of suffering and thus alleviate it. He cast aside his princely garments, cut his long hair and began the life of a wandering ascetic.  For several years he fasted and mediated, trying to find a method to stop the suffering of sentient beings. On the night of the full moon in the north Indian town of Bodhgaya, Siddhartha had a direct realisation of the way things truly exist, and the foundation of modern Buddhist belief was formed. This enlightened state of mind transformed Siddhartha into the historical Buddha. The rest of his life was spent teaching and guiding thousands of the followers. He left this world at the age of 80, having exhausted his human form for the sake of all sentient beings.
The entire range of the Buddha's teaching was pragmatic, for he never indulged in anything that is not useful, he was an empiricist, but his empiricism was spiritual – the empi­ricism of a pioneer illuminating his path with his own inner light. He preached salvation – salvation here and now, a salvation through wisdom which is not merely knowledge; knowledge that is not merely intelligence; intelligence that is riot merely cleverness; cleverness that is not merely manipulation, and manipula­tion that is not merely material. This was the eternal torch of the Enlightened One, the flame of which could illuminate our dark corners.
Buddhism thus is a religion of the co­mmon man-a religion without elaborate ritualism and without even a priest in the conventional sense. In the real sense it is probably the only humanitarian and universal religion which was propagated without fighting bloody wars. As Arnold Toynbee has pointed out, its most distin­guishing feature is a code of altruistic ethics which teaches that every one must do good in the interest of the whole world and make over to others any merit he may acquire by his virtues. This spirit of self-sacrifice for the welfare of fellow human beings is in itself sufficient to keep Buddhism relevant not only for today but for ages to come.
Buddha was perhaps one of the great religious preachers of the world who realised that private property was the cause of most of the social evils--a reali­sation which was certainly of timeless nature. And to remove these economic imbalances he tried to strike at the root of the problem by doing away with private property, which prompted him to estab­lish the monastic communes. The problem still remains and probably his solution can still be applied with much profit.
The economic principle formulated by Buddha was somewhat akin to the modern motto: "He who works shall eat". He even prescribed the ideal of service for the monks and nuns and called those who did not conform to this ideal as "useless consumers of the nation's wealth" (mogham sa ratthapindam bhu­njati). He made provisions for a com­munal economic setup of the monks and nuns and thereby introduced the system of economic communism in the commu­nity of monks and nuns. All other things, apart from the eight items of personal use such as clothing, the begging bowl etc., were considered to be communal property.
It is true, Buddha was not very certain of the way in which he could completely root out the widespread social evils and agonies, but there is no doubt that he advocated compassion which can at least do a great deal to relieve it. He was thus one of the greatest huma­nists whose religion was the most sensi­tive of all paths leading to the lessening of human agony in general. Similar was his love for freedom and he stood for the highest form of liberty. No other individual in history had so loudly proc­laimed the dignity of man and had loved the common man as dearly as Buddha did. Buddhism has always encouraged equality of social opportunity without any cut-throat economic competition and it never encouraged ideas of dominance, exploitation and colonialism, its key-moral always being mutual co-operation.
Buddha's message of compassion and devotion to the service of humanity is more relevant today than at any other time in history. Peace, understanding and a vision that transcends purely national boundaries are imperatives of our insecure nuclear age. Sabbe Satta Sukhita Hontu - May all beings be happy. May peace prevail in the earth.
The writer is the Former Chairman, Department of Pali and Buddhist Studies University of Dhaka and   President, World Buddhist Federation-Bangladesh Chapter.