Star People
Excelling in New Media
A rising star in the field of art today, in the country, is the young Efat Razowane Reya. "Thank you! But if you don't mind, I'd rather be a rising star in the New Media genre in Bangladesh," smiles Reya. A young student with big, dreamy eyes, Reya depicts confidence, determination and one cannot miss the flicker of rebellion. 
In May 2015, a rarity occurred in the field of arts, when Reya was awarded with the Gaziul Haque Award, at the 21st National Awards in Bangladesh, for a unique installation work that she did – dondo praapto jonota. The installation portrayed innocent people and the regular working class becoming victims of political battles that have been occurring in the country for the last couple of years. "It was indeed a huge surprise because the installation was a New Media piece," explains Reya.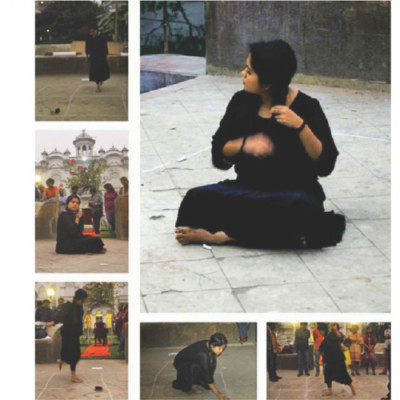 "Unfortunately, the tradional-ists, puritans and the established artists in Bangladesh have not accepted the New Media genre as yet. In fact, at the University of Arts, Fine Arts department, where I study, there is no department dedicated to New Media only. Which is why I am majoring in Print Making. However, my passion lies in new Media."
Yet another interesting work that she has done in the field of New Media is a protest against the closing down of Chobir Haat, a space for artists to express freely without fear. "I understand that the Government has different plans with the space," she says. "But closing it down has been a huge loss for artists, especially the ones studying in Dhaka University."
The next step in the field for any young artist is to go into residency, informs Reya. "A residency is a period of time when the young artist spends time with an established artist, learning practically," she says. "Very soon, I will be starting my residency as well." One of a four-artist group selected for a 3-month residency course, Reya will be traveling to Japan to do her course in November.
A rebel in nature, Reya plans to continue to depict the society, social achievements and flaws through her work. "That simply makes sense to me, that is all!" smiles Reya.