Match highlights: Brazil vs Switzerland
Minute-by-minute report and commentary as it happened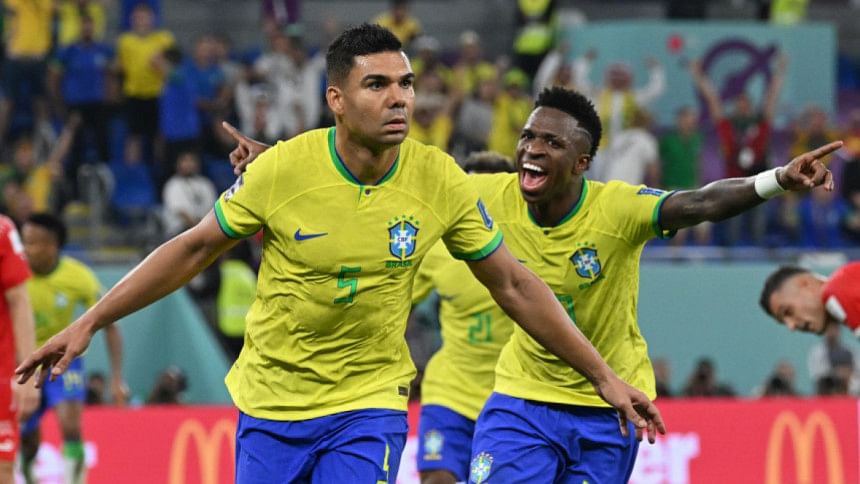 Joining France in the Round of 16, it's Brazil's sweeping yellow wave, with a 1-0 win over Switzerland. 
This is Brazil's best start to a World Cup campaign since 2002, qualifying with a game to spare. Here's how it happened today: 
90:00+ 6mins: Vinicius and Rodrygo go in on a two-on-one counter. Whenever Vini makes a run, the crowds gallops. Rodrygo finds yet another slight opening, blocked off in an instant by a Swiss defender. 
87:00 mins: Close one by Rodrygo! Brazil is charged with goals for a second goal. 
82:31 mins: GOAL! It's Casemiro. Vinicius comes inside and Casemiro takes a little touch with a fantastic, fantastic finish.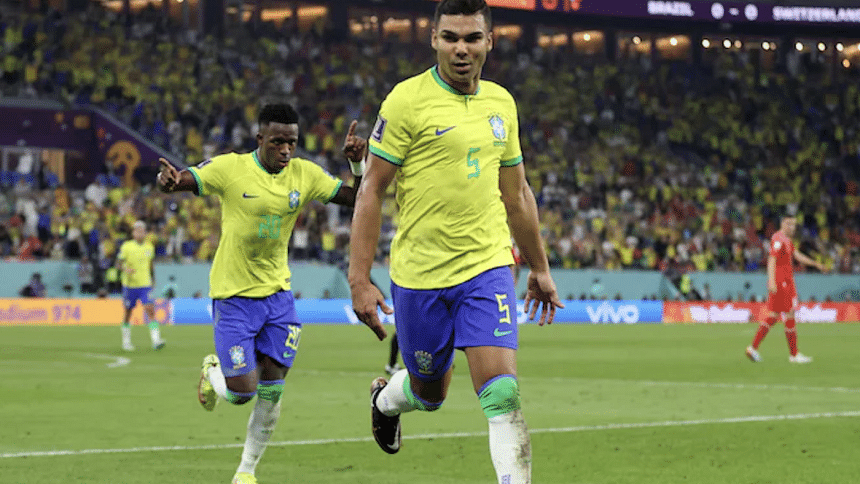 72: 53 mins: Fans hoping for a repeat of Richarlison's glamorous goal against Serbia — it's over. Brazil makes two changes. Richarlison and Raphinha to replace Gabriel Jesus and Antony. 
71:11 mins: Vinicius and Richarlison are huffing and puffing around the Swiss box to net a winning goal. 
68:00 mins: Vinicius makes a run. He's knocked down with a foul right outside the penalty box. It doesn't translate to another chance for Brazil but the pace is up. 
66:00 mins: Disallowed and we're back to 0-0. Richarlison was off-side prior to the goal. 
63:44 mins: GOAL!! A much-deserved goal from Vinicius tonight. Possible off-side though, fingers crossed. 
60:00 mins: Brazil replaced Fred with Bruno Guimaraes.  Switzerland brings Fernandes and Steffen in place of Rieder and Vargas.All of a sudden, The crowd rises up for Richarlison and quickly settles back down. The striker's yet to find his foothold in the game. Brazil's control is sliding pretty quickly. A draw, in line with history, does not look unlikely. 
53:00 mins: Brazil's grip is flickering. And Switzerland came in with a dangerously close chance. Widmer went down the right and slipped a nice cross to Rieder, but is blocked off. 
46:00 mins: Tite chooses to start the second-half with an attacking substitution: Lucas Paqueta with Rodrygo. The ball's with Brazil. 
Half-time: Switzerland's play looked similar to Serbia's. Not overshadowed but more on the defense than creating chances for themselves. Brazil's had a few good chances but is finding hard to create solid openings and attempts without their main tailsman. Brazil fans will hate us for what we're about to say...but it must be said. The Korea vs Ghana game was a lot more thrilling than this game — an average at best. 
42:00 mins: Raphinha takes a corner kick that leads to another corner. The lights go out for a weird second. Two big chances for Brazil, but messily missed. 
35:00 mins: A goal is coming for Brazil and Sommer knows it so he's on guard. An absolutely fantastic ball from Raphinha. Vinicius tried a sweep in at 27 mins. A missed chance!!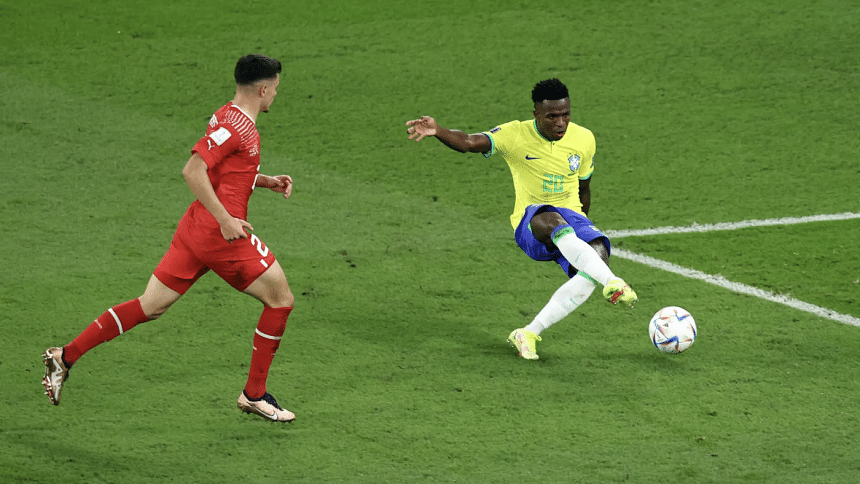 15:00 mins: Switzerland's first opening at shooting opportunity followed by Casemiro's foul in the center of midfield. Richarlison misses a touch that could've gone far. He seems frustrated. 
10:00 mins: The pressure is striking: Brazil has 46 percent possession so far; the Swiss 45; and nine to the enigmatic In Contest.  Vinicius Jr finds the ball and sprints away down the left. Richarlison's takes the ball from the center. 
0:00 mins: And we're off to a steady start. 
Both Brazil and Switzerland have three points. Each won their first matches in the tournament. Brazil buoyed a 2-0 against Serbia, while the Swiss team beat Cameroon 1-0. Eyes and expectations are on Richarlison tonight, after his stunning goal against Serbia — arguably the best of the tournament so far. 
Line-ups: 
Brazil: (4-3-3, right to left): Alisson (GK), Eder Militao, Marquinhos, Silva, Alex Sandro, Fred, Casemiro, Paqueta, Raphinha, Richarlison, Vinicius Jr. 
Switzerland: (4-2-3-1, right to left): Sommer (GK), Widmer, Akanji, Elvedi, Rodriguez, Freuler, Xhaka, Rieder, Sow, Vargas, Embolo.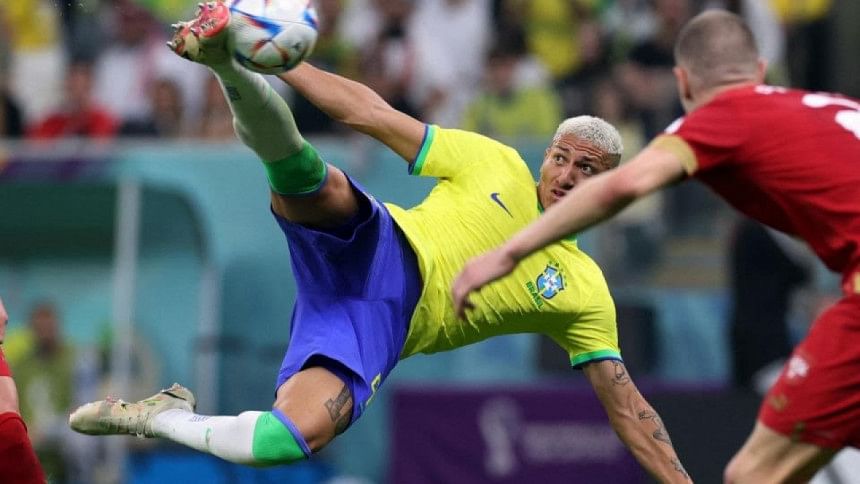 Pre-match talks: 
Brazil's coach Tite admitted he should have reacted quicker in his team's first World Cup match that has left him without his two key players today. "I hadn't figured out how much Neymar was hurt but I subbed him off after finding out," Tite said. "I should have replaced him and Danilo earlier."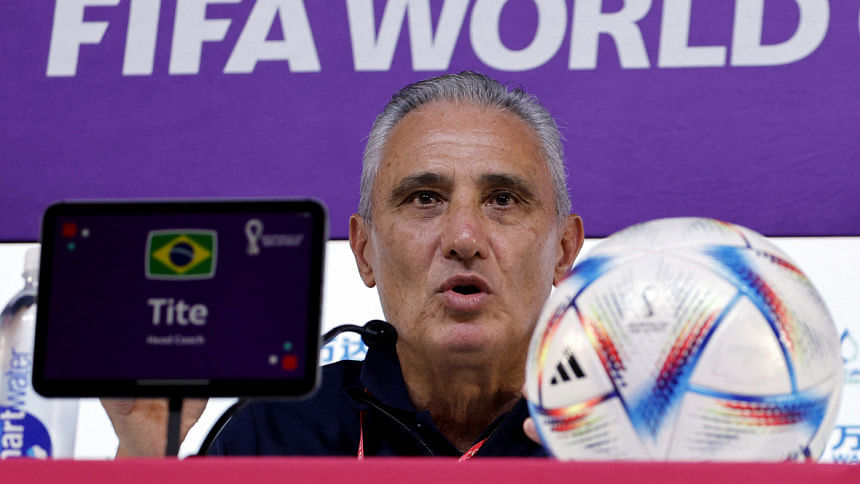 Key stats:
* Brazil, unbeaten in qualifying for Qatar, have won the World Cup five times and are favourites to win a record-extending sixth title.
* Switzerland have reached the knockout stage in three of their last four World Cups -- in 2006, 2014 and 2018 -- but crashed out at the group stage in 2010.
* Brazil have played in every World Cup since 1930 but have not reached the final since they last won the title in 2002.
* Switzerland were unbeaten through qualifying, topping a group that included European champions Italy.
History: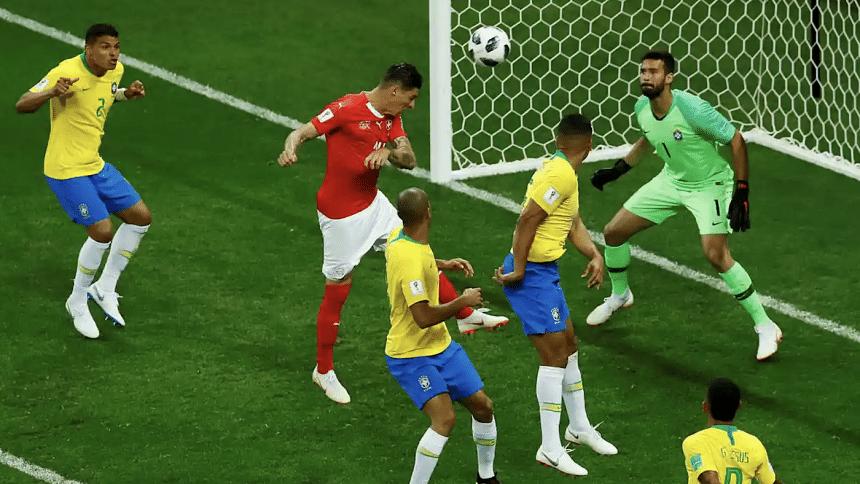 * Monday's match will be the third time Brazil will have played Switzerland at the World Cup.
* The teams last met in the group stage of the 2018 World Cup in Russia, where they drew 1-1. They also drew 2-2 at the 1950 World Cup.
* In nine matches against Switzerland, Brazil have recorded three wins, four draws and two losses.