Liton hasn't seen an innings like that before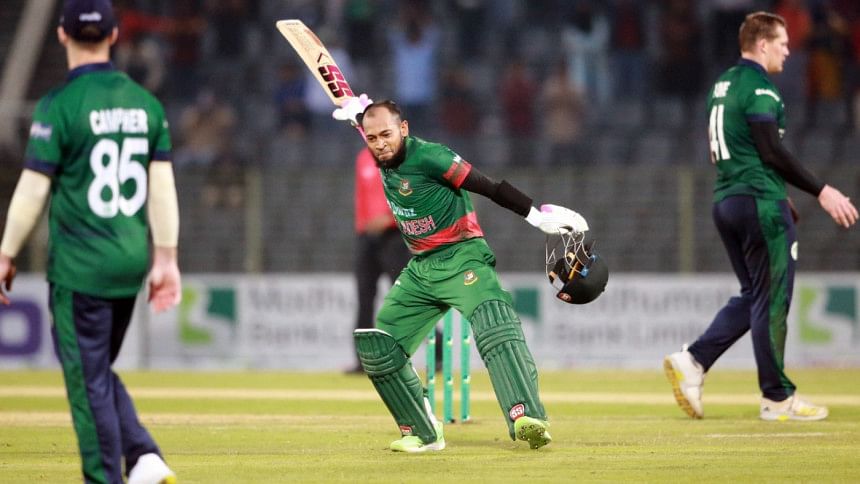 Mushfiqur Rahim's sleek carnage was a sight to behold for the plush crowd attending the game at Sylhet International Cricket Stadium today. The batter got 100 off 60 deliveries, the fastest ODI ton by a Bangladesh batter and it hooked Liton Das as well.
Liton was looking good for a hundred himself before a soft dismissal in the 26h over after a 71-ball 70. Najmul Hossain Shanto departed in the 34th over after a 77ball 73. Mushfiqur came at number six with some 16 overs left in the innings and it was not expected that he could in anyway reach a ton but that also puts the carnage he delivered into perspective.
He settled in traditionally but then employed a hitting ability delivered with the fluidity of liquid gold.
Liton has been in the side since 2015 and he felt the hundred had a different significance.
"From the time I had been playing, no player has scored a hundred after coming on so late like today. When someone from the team scores a hundred like this, it's a great sight to see. When a senior player scores that hundred, it feels even better," Liton said.
Having missed out on a ton, Liton said there were no big regrets.
"When a batter comes, especially top-order players, they aim to remain not out. If you can do that, you can get 100 to 150. In today's cricket 200s are becoming gettable. Yes you can have regrets not getting a ton but I feel it's just a stat. If I or Shanto had remained at the crease, it could have been 150 to 160, even 180 may have been possible because we were playing good cricket. It happens. My dismissal was soft while Shanto's was unlucky and when that happens, not much can be done. Mushfiqur bhai's innings was a treat to watch and I feel it was more beautiful than Shanto's or my innings."
He felt that Mushfiqur was continuing on the impact he had created in the first Ireland ODI.
"Not only today's innings, if you look at the last innings, I feel that was outstanding too. Even as it wasn't a big score, it was more a 40 plus score and that created the difference to score 300 plus. Today's innings from Mushfiqur bhai made it a different ball-game altogether," he opined.
Rain led to the match being called off without a ball being bowled during the Ireland innings, Liton said: "Obviously it would have felt better [to get a result] but it's not in our hands."