ICC CRICKET WORLD CUP 2015
Kiwis through to first final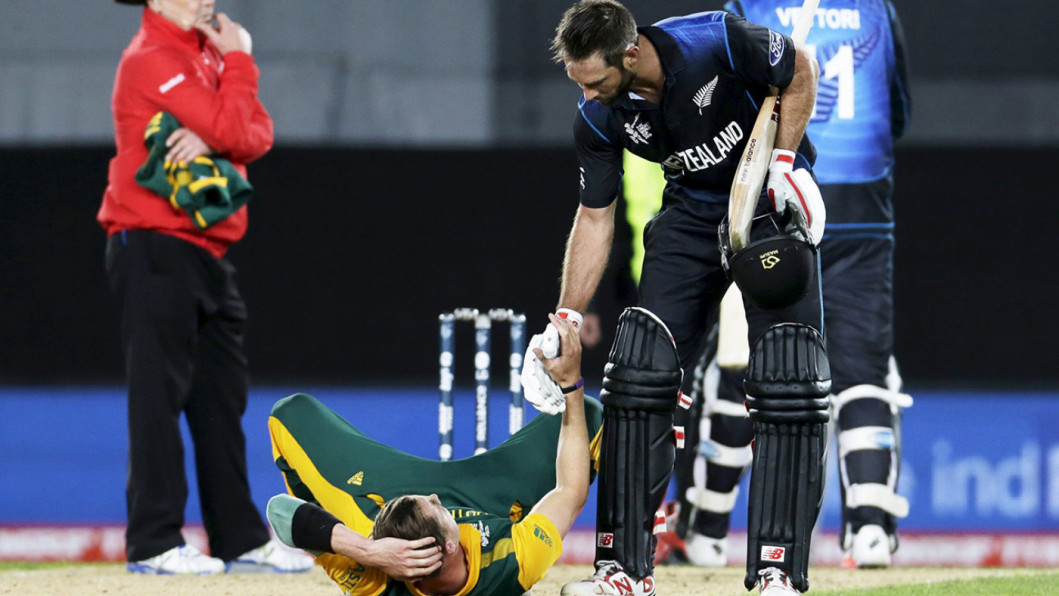 SEMIFINAL 1: NEW ZEALAND VS SOUTH AFRICA
South Africa 281/5 (43 Overs/ 43 Overs)                                Target 298/43 Overs (D/L method)
New Zealand 299/6 (42.5 Overs/ 43 Overs)             New Zealand won by 4 wickets (D/L method)
In a cracking semifinal of World Cup 2015 reduced by rain and dragged right down to the wire, New Zealand scraped past South Africa to qualify for the final at Eden Park today.
This is the first World Cup final for New Zealand while South Africa remained bitten by their jinx of not being able to break through into the pinnacle of the ace tournament.
Watch the highlights of today's match in PHOTOS, VIDEOS & MORE
Choosing to bat first, South Africa posted 281 after a jittery start – what was made 298 for target in 43 overs for New Zealand by Duckworth and Lewis method for rain delay.
Trent Boult, who is now the leading wicket taker of this tournament, continued his fiery form to this match and got rid of Proteas openers Hashim Amla and Quinton de Kock early.
The recovery was provided by a crucial 83-run partnership between du Plessis and Rilee Rossouw before the latter was removed by a top catch off Corey Anderson.
Faf du Plessis and AB de Villiers struck fifties with David Miller contributing a brief but effective cameo to heave South Africa to 281 in the final overs. 
| | | | |
| --- | --- | --- | --- |
| South Africa |   | Runs | Balls |
| HM Amla | b Boult | 10 | 14 |
| Q de Kock† | c Southee b Boult | 14 | 17 |
| F du Plessis | c †Ronchi b Anderson | 82 | 107 |
| RR Rossouw | c Guptill b Anderson | 39 | 53 |
| AB de Villiers* | not out | 65 | 45 |
| DA Miller | c †Ronchi b Anderson | 49 | 18 |
| JP Duminy | not out | 8 | 4 |
| Extras  14 | Total | 281 |   |
In to chase, New Zealand opener Brendon McCullum seemed determined to cut the match short basing South Africa bowlers all over the ground.
The Proteash breathed a sigh of relief with his dismissal in a Morne Morkel delivery after a tight over from Imran Tahir. Morkel struck again next over ridding Williamson.
The run flow was checked further in a disastrous run out of Martin Guptill before Corey Anderson and Grant Elliott kept the Kiwis' hopes alive with a 103-run partnership.
South Africa were outstanding in the field, but they would probably regret one dropped chance and two missed massive run out attempts at the depth when the game was on the wire.
Grant Elliott, who was adjudged player of the match, stayed in and guided New Zealand to the first World Cup final in history through a last over clincher. 
| | | | |
| --- | --- | --- | --- |
| New Zealand |   | Runs | Balls |
| MJ Guptill | run out (Amla/†de Kock) | 34 | 38 |
| BB McCullum* | c Steyn b Morkel | 59 | 26 |
| KS Williamson | b Morkel | 6 | 11 |
| LRPL Taylor | c †de Kock b Duminy | 30 | 39 |
| GD Elliott | not out | 84 | 73 |
| CJ Anderson | c du Plessis b Morkel | 58 | 57 |
| L Ronchi† | c Rossouw b Steyn | 8 | 7 |
| DL Vettori | not out | 7 | 6 |
| Extras  13 | Total | 299 |   |
New Zealand Team
BB McCullum (Capt), MJ Guptill, KS Williamson, LRPL Taylor, GD Elliott, CJ Anderson, L Ronchi (wk), DL Vettori, MJ Henry, TG Southee and TA Boult
South Africa Team
HM Amla, Q de Kock (wk), F du Plessis, AB de Villiers (Capt), RR Rossouw, DA Miller, JP Duminy, VD Philander, DW Steyn, M Morkel and Imran Tahir