Ronaldo downplays injury
Real Madrid striker Cristiano Ronaldo plays down the severity of the injury suffered during the game against Villareal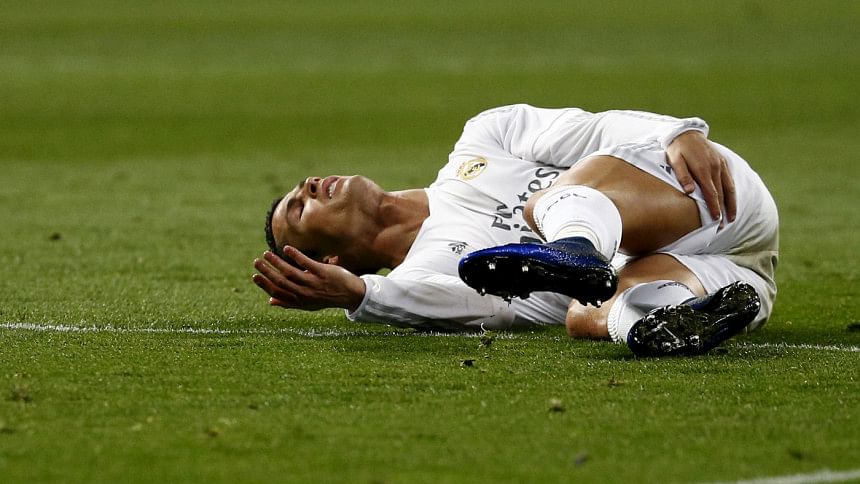 Cristiano Ronaldo downplayed an injury he sustained late in Real Madrid's win over Villarreal in the Spanish league, saying Thursday he was "all good."
The Portugal forward caused a scare when he left Wednesday's game before the final whistle limping with an apparent muscle injury in his right leg. He walked off the field by himself at the Santiago Bernabeu, leaving Madrid with 10 men and worrying fans.
"All good. Thanks for your support," Ronaldo wrote in an Instagram post.
Real Madrid said Wednesday that Ronaldo was expected to have medical tests as a precaution but the injury did not appear to be serious. The club has yet to disclose details of Thursday's tests.
Real Madrid's next game is Saturday at Rayo Vallecano in the Spanish league. Madrid is one point behind Barcelona and Atletico Madrid with four matches left.
The team is also in the Champions League semifinals. It will play the first leg against Manchester City on Tuesday.
Ronaldo, who has played every Spanish league game this season, is expected to be sidelined against Rayo Vallecano to be fully fit for the Champions League game in England.
Real Madrid coach Zinedine Zidane said he regretted not substituting for Ronaldo on Wednesday.
"Sometimes that is what's needed," the former France great said after the game. "The idea for a manager is that when you have a player like Cristiano it is sometimes necessary for him not to finish a game or not play at all. He is a player who always wants to play and be on the pitch. He wants to give what he has within him."
The injury appeared to happen when Ronaldo tried a volley inside the area near the end of the game. He fell awkward, and after getting up, put his hand on the back of his right leg.
Zidane said he was surprised to see Ronaldo walk off the field without even requesting medical attention.
"I think he was worried about what happened in case it he picked up something serious," Zidane said. "I'm more relaxed now than when he left the field. He left the pitch because he was worried."
Although Ronaldo is listed as doubtful, Zidane may be able to use Gareth Bale, who missed the game against Villarreal because of a muscle ailment.