ICC CRICKET WORLD CUP 2015
Plucky Bangladesh win back nation's trust
Coming off a wretched 2014, the team defied pre-tournament expectations and achieved the goals they set out to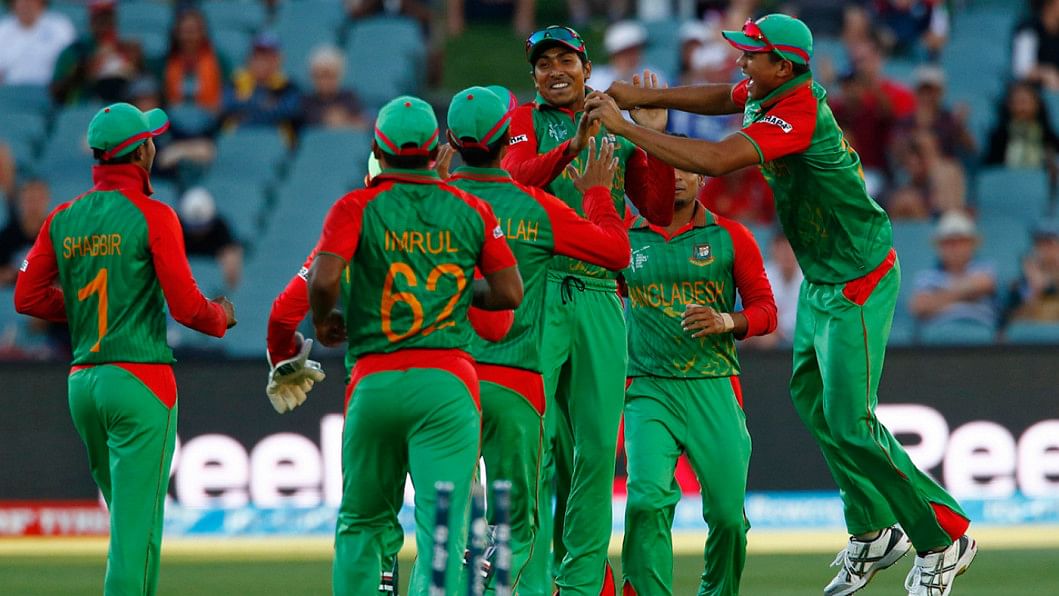 How their tournament panned out
Before Bangladesh left for Australia in January, the players and coaches routinely mentioned that the team's primary target was to reach the World Cup quarter-finals. It was often followed by a reminder of the reality that Bangladesh would be playing in two countries they had not toured since 2010. Having embraced the reality of different pitches for two months, Bangladesh will return home having reached the World Cup knockouts for the very first time.
Bangladesh's campaign underwent plenty of mood swings, but their form curve did not waver too much. They lost all four of their pre-tournament practice matches, but started the World Cup soundly beating Afghanistan in Canberra. They gained a point after their match against Australia was washed out. It was a lucky break and the mood was lifted, only to be dampened by Al-Amin Hossain's exit due to a discipline breach.
Three dropped catches, balls slipping between legs, and fielders not keyed into the on-field action ensured Bangladesh took only one wicket in 50 overs against Sri Lanka at the MCG and were comprehensively beaten. In the next game, Scotland's batsmen put up a formidable target, but Tamim Iqbal, Mahmudullah and Shakib Al Hasan fought through to complete a big chase.
While Bangladesh progressed to five points, England's struggle meant that the March 9 contest between the two teams was a virtual knockout game. It was one of the best matches of the tournament, which Bangladesh prevailed mainly on the back of Mahmudullah's maiden ODI hundred, and Rubel Hossain's late burt. The momentum from this big win gave Bangladesh enough firepower to attack New Zealand for long periods in their next match, but they finished the group stage just as they had hoped: beat both the Associates and upset one of the Full Members.
While the umpiring caused a lot of rage, Bangladesh will be disappointed at their meekness against India. Particularly, when they had some control over the ball and when Tamim had given them a rapid start to the chase. Regrets aside, this World Cup campaign rode a wave of emotions and ultimately can be deemed a success, especially for a team which expected only this much success in the first place.
The high point
The number of times Bangladesh fought back from difficult situations was admirable. They were 119 for 4 and going nowhere in their first match against Afghanistan when Mushfiqur Rahim and Shakib Al Hasan drove them out of that prickly spot. Mahmudullah and Soumya Sarkar did a similar job from poorer starts against England and New Zealand. All three fight-backs were counterattacks and not rearguard jobs. The pace bowlers' timely breakthroughs were a pleasant surprise, while the leadership of Mashrafe Mortaza was exemplary.
And the low
Bangladesh lost their quarter-final by 109 runs, but they would spend the next four years wondering what would have been had they contained Rohit Sharma and Suresh Raina in the batting Powerplay. They would also rue the directionless batting of Imrul Kayes, and whether the Shakib-Mushfiqur fifth-wicket partnership could have batted swifter. The fielding against Sri Lanka and some selection decisions should go through a review, but these issues could be drowned by the umpiring rage and the moderate success of the team.
Top of the class
If there was a team-specific Man-of-the-Tournament award, Bangladesh's one would go to Mahmudullah. After eight years of languishing in the lower-order, he justified his promotion to No. 4 with two back-to-back hundreds which came under pressure situations. The fifty against Scotland too can't be forgotten, too. Bangladesh's pace bowlers were also impressive, particularly Rubel who overcame personal trouble. Mushfiqur once again displayed consistency while Soumya Sarkar promises an exciting future.
What we learnt about Bangladesh
Bangladesh bounced back after a poor previous 2014, but to do so in a World Cup was to their credit. Within their overall progress, the performances of Mahmudullah and Rubel Hossain mean that Bangladesh are more than just about Shakib and Tamim. Soumya Sarkar and Taskin Ahmed are examples of young talent coming to the top of the Bangladesh cricket system, while the pace bowlers' regular involvement also showed how spin can sometimes take a backseat in the Bangladesh attack.
What they learnt from the World Cup
Bangladesh had a tendency of giving away small passages of play but in this World Cup, they made sure the smaller battles were won. Tamim and Imrul were forced into a corner by the New Zealand attack in Hamilton but they took the blows and survived until the swing and seam abated. When Jos Buttler and Chris Woakes were attacking towards the end of the England chase, Shakib's control diverted the big hits to the other bowlers who created wicket-taking opportunities.
The team also learned to better handle the pressure against both lower and higher-ranked sides. They have finally realised that playing against teams like Afghanistan and Scotland wouldn't necessarily mean they should crumble under expectations. Bangladesh also have some more knowledge about playing in the main Australian venues after only being restricted to Darwin and Cairns in 2003 and 2008. Though they will play most of their cricket at home, the World Cup has been a successful enough campaign for BCB to finally ponder pitches with a bit more pace and bounce in domestic cricket.