Dribbling past family and into the national team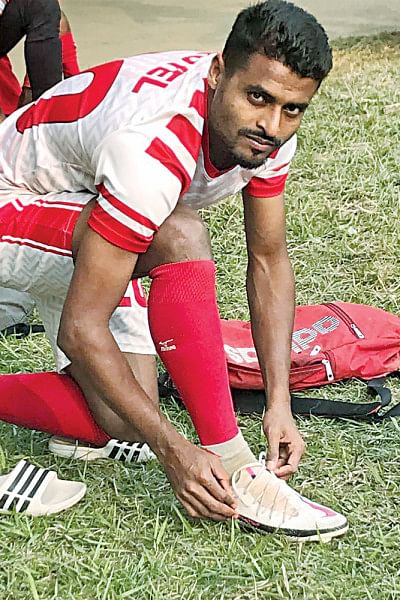 Mehedi Hasan Royal is a student of the law department of Kushtia Islamic University but his passion since childhood has been football.
That passion has finally been rewarded as the 25-year-old won a place in the national football team on Tuesday.
"I have always been asked by my parents and elder brother to prioritise studies but I have always preferred sports, keeping education as the second option," Muktijoddha Sangad KC forward Royal told The Daily Star yesterday.
Royal, who has grown up in Mohammadpur area of Magura, started playing top-flight football in 2014-15 season with Team BJMC. The forward has been with Muktijoddha SKC for the last three seasons and made it to the final squad of the national team.
"I did not talk to my elder brother -- Khaledur Rahman Titu -- for three or four years after he directed me to achieve A-plus results by giving up football," said Royal. "My parents also supported my elder brother but I continued playing football in secret, storing my boots and jerseys outside home."
Royal however started making his family members notice his presence in football by earning money from the game, and so they eventually allowed him to continue playing.
"I was often hired to play outside my upazila in return for Tk 1,500 to Tk 2,000 per match and I handed that money to my parents. At times, I earned Tk 60,000 to Tk 70,000 per season, so my guardians did not bar me from playing football," said the forward.
Royal trained for three months in Shamsul Huda Football Academy in Jashore before moving to Dhaka to play the Pioneer Football League in 2013.
He returned to Magura and continued training at the Asaduzzaman Football Academy before joining BJMC in the Bangladesh Premier League. He was then called up to the national U-19 squad to play the AFC U-19 Championship Qualifiers in Dhaka in 2016.
The lad from Magura had make to sacrifices in terms of his education to play the Bangladesh Premier League, as he could not attend classes regularly.
"I was supposed to be admitted in the master's programme in the law department at Kushtia University this year, but I have to sit again for the fourth-year exam because I could not do well in the honours final year because of playing football in Dhaka," said Royal.
Royal, five feet and 10 inches tall, struck only two goals in the first phase of the professional football league this year. He had scored three goals and assisted four to five goals in his debut season at Mukitjoddha Sangsad and netted only one goal in his second season.
"I never thought that I would be selected for the national team in such manner, although there was a slim hope," said Royal. "I don't know whether I played well but I tried my best and coach Jamie Day knows how I performed in the just concluded first phase of the Bangladesh Premier League."
Royal is now eager to cement a place in the national team by working hard in the training camp.