Nikli: The gift that keeps on giving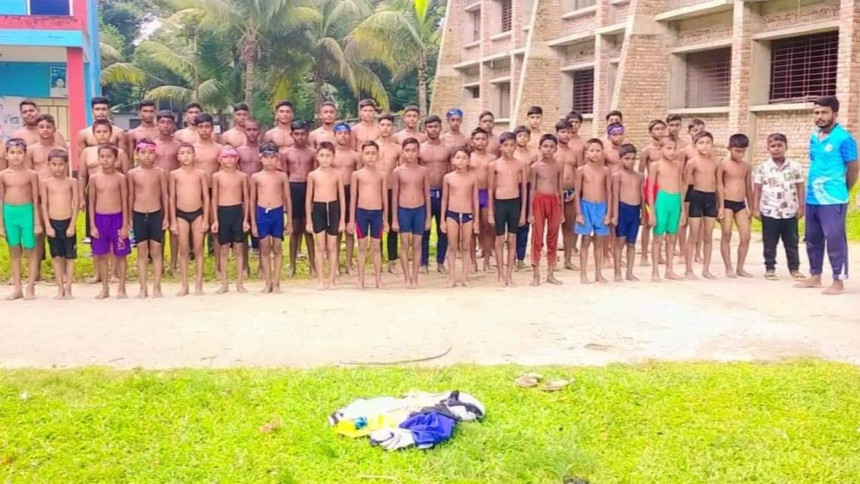 Anyone researching the swimming history of Bangladesh would certainly come across Nikli, an upazila in Kishoreganj, which is renowned for producing hundreds of swimming talents over three decades. Mohammad Abul Hashem -- a veteran amateur coach who went on to bag the country's best coach award, given by the Bangladesh Krira Lekhak Samity [BSPA] in 2006 -- was the one who initiated Nikli's amazing journey into swimming back in 1985.
With support from the Kishoreganj Zilla Krira Sangstha, Hashem kick-started proceedings with just five boys practising in Nikli Girls' School pond.
"After retiring as a professional swimmer in 1985, I thought of doing something for the haor (backswamp) children. Swimming was the perfect sport for them as they are used to swimming in their local water bodies," said Hashem, now 67 years old, who was also awarded the best organiser by Bangladesh Swimming Federation in 2019.
Since the initiation, many swimmers have earned plaudits at the national level. The first to do so was Harun ur-Rashid, who had set a new national record in 50-metre breaststroke category and won a gold medal at national level age-group swimming competition in 1987.
Harun's success made Nikli's presence felt in the country and consequently, the coaching spread in the adjacent localities and the number of aspiring swimmers boomed in 1990, the year when Nikli Swimming Club was established.
Three years down the line, the whole country noticed a product of the club in Karar Mizan ur-Rahman, who won a gold medal in 1993 Games and broke national records on the way to becoming one of Bangladesh's greatest swimmers.
Despite receiving very little support from outside, Nikli surfed on the tide of its initial success and, in time, had Bhati Bangla Swimming Club formed there in 2010. In the two swimming clubs at present, there are around 400 children aged between eight to sixteen years, including 50 girls, aspiring to be professional swimmers. 
"The swimming clubs have no financial support from any quarters," said Enamul Haque, one of the coaches in the eight-member staff there, while informing that the only notable donation they received was 30 sets of kit-boards given by the upazila administration in 1994.
Enamul, who now trains at the Bangladesh Swimming Club, is one of the three brothers who took training from the clubs in Nikli. Neamul Haque is a swimming coach of Bangladesh Army while Nazmul Haque Himel studied at Beijing University in China and currently works as a physical teacher at the British International School and College in Beijing, according to sources.
"We continue coaching as passion and dedication for the haor children, who are deprived of many facilities that are enjoyed by privileged children elsewhere," Enamul said further.  
"The coaches are involved with the profession at many organisations outside Kishoreganj, so that they can provide service at the clubs [in Nikli] for free," he added.
It's quite unbelievable how Nikli had kept producing the goods amid all the adversities. Rumana, who represents Bangladesh Navy, and Mukti had displayed their talents at the national level by securing gold medals. The coaches also spoke of four Nikli swimmers, including a girl, out of eight who were awarded in 2017 for their outstanding performance at the national level "Talent Hunt", where each had received five lakh takas in cash.
Throughout the country, Nikli products happen to work for around 20 organisations. Furthermore, presently there are around 80 boys and girls studying swimming at BKSP after beginning in Nikli. One of the star-students at BKSP is Towfiq, a boy of class six, who had won five gold medals in age-group swimming at the national level in 2021.
But how long can this place keep on giving of its own accord?
To add to the burden, the historical girls' school pond -- where Nikli's adventure began -- had been filled for development work. Thus, the training had to shift to three ponds belonging to Nikli Upazila Krira Sangstha. However, Nikli upazila chairman, AM Ruhul Quddus Bhuiyan Johny, had some good news.
"A site has already been selected for a swimming complex and academy in Nikli. The work is scheduled to start following this monsoon," said the chairman, while he praised the coaches for their priceless service to society.
Places like Nikli and Amla have continued to spark life into Bangladesh's swimming scenario. Hence it's high time the relevant authorities in the country's sport stop taking the success for granted, at the very least.