ICC CRICKET WORLD CUP 2015
Unloved, underprepared: what did cricket expect?
UAE's players are at the opposite end of the spectrum from India's but underperforming in one game should not be an argument against their presence at the World Cup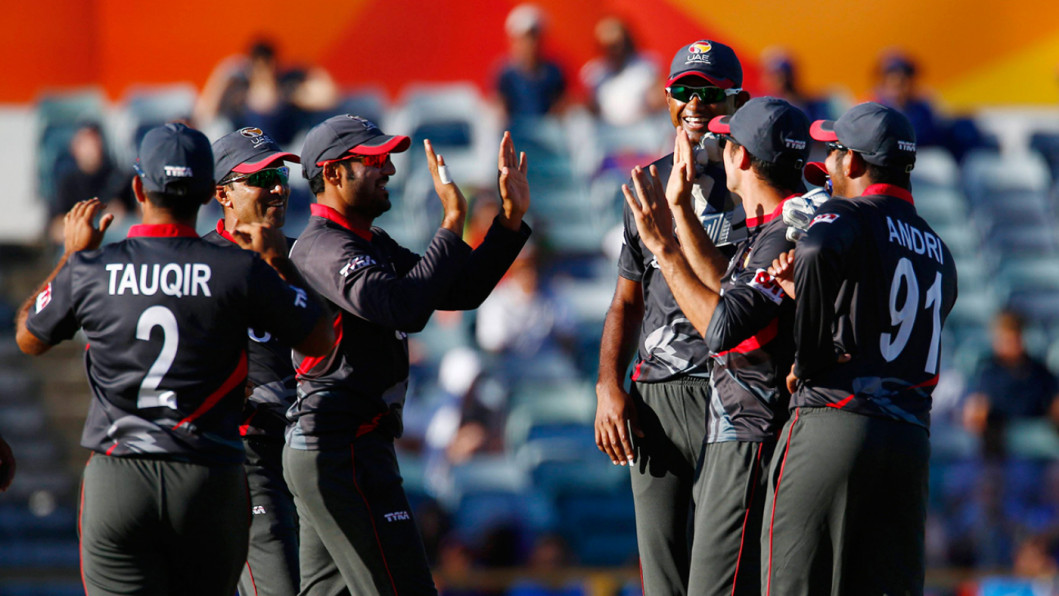 Amjad Javed, Khurram Khan and Krishna Chandran Karate play cricket for the United Arab Emirates. They also work for one of the national airlines of their country, Emirates.
Emirates is one of the major sponsors of the World Cup. Emirates has spent millions putting its banners up around the ground, sponsoring the reviews, playing its theme tune and generally making it known that it is the official airline of the World Cup.
The World Cup is a billion-dollar event. Companies like Emirates spend millions to align their brands with it. But the Emirates employees who are out in the middle, they are doing it as amateurs. When Khurram plays a cut shot so sweet you could taste it, Javed stands over his run-up like an Olympic diver, and Chandran plays and misses at an outswinger by an infinitesimal amount, they are part of the event, part of the vision statement. But they are the freaks.
Virat Kohli has his stats shown on the screen. The UAE players have their day jobs shown.
At best they are company cricket ringers. Brought in to fill a job as a day-wager, or receptionist, or clerk, but they also play for their company's team. Of course, even that can go sour, as Paul Radley pointed out recently in the Cricket Monthly, with the case of Rohan Mustafa: "He almost missed out on making the final World Cup squad due to a work dispute brought about, predictably, by cricket. Without written permission from his employers, he played in a domestic match for another corporation. It infuriated his boss to the extent that he brought a case against Mustafa for absconding from duty. The claim was upheld in court and he was told to leave the country immediately."
After the Emirates Cricket Board intervened, Mustafa received a new visa. Today he took a sensational one-hand catch at backward point and reviewed a decision while he was batting. That was from a ball he at no stage saw. The first time he saw it was on the big screen showing him how far he missed it by, and that he was playing a shot that doesn't actually exist. Had his visa still been revoked, though, the catch would have got it reinstated.
Mustafa is not an Emirati. Most of this squad are expats, even Amjad Javed, who was born and bred in the UAE. Their captain is Mohammad Tauqir, who is Emirati.
After a two-year retirement, and despite the fact he was 43, he was brought back to lead this team.
Against India, he played a sweep shot so poorly he started to fall over before he was bowled. His first over went for 11. Later he said: "We need to do the basics right."
When Australia played Pakistan in the UAE in 2014, they used Saqlain Haider (the back-up UAE keeper), when Brad Haddin couldn't keep. Australia didn't play the UAE. No one does. The ICC's headquarters are in the UAE. Two other teams at this World Cup use it as a base. Everyone flies through it. The IPL was there. Sharjah has hosted more ODIs than most of us have been to. And yet it seems it is almost impossible, with all these tours, flights and training for international teams to actually play the UAE. As if full Test nations are allergic to them. Afghanistan, based in the same region, provide occasional games. Late last year, UAE beat them 3-1 in an ODI series.
Prior to the World Cup, the last time UAE played a full ICC member was seven years ago.
"The whole tournament is a learning experience for us," was how Tauqir talked about the pinnacle of cricket. They are using it to get better. This is their chance at improvement - the rest of the time they have to daydream about what it's like to bowl to Chris Gayle. Here, they will learn, the hard way. Naked and alone in front of everyone at a World Cup. Not in an ODI in Dubai, or Trinidad, years earlier.
How do you improve if you don't play the best teams? Should the UAE players visualise Umesh Yadav in training camps? Have their friends sledge them in Jamaican, South African and Indian slang from outside the nets? Pay tweeters to harass them? Until you have walked out on a ground knowing that the opposition has more analysts than you have players, you can't truly know what top-level international cricket is like.
"The more we play against bigger nations the more we learn" Tauqir said.
But what if they don't want you to learn, they don't care if you learn, or generally care if you exist?
The ICC tries to prepare them. By that, I mean the hard-working professionals who work for the ICC, not the chairmen who sit around counting "their" billion-dollar contracts and shooting off their mouths that the Associate sides are not good enough. The ICC got them Paul Collingwood and Mohammad Nazir to help out. It let them use its facilities. It gave them a small amount of money to keep them afloat
That money doesn't change that the UAE players have to work proper jobs, have had a retired player replace their captain, don't hold passports for the team they represent. It doesn't change the fact that cricket teams ignore them, that the sport itself is trying to get rid of them.
They already know they probably won't be in the next World Cup.
And there they are in Perth. At the WACA. Where professional teams, even the home team, have been humiliated.
The UAE were sent to Australia to acclimatise. They were even sent to Perth. They even played one whole game at the WACA. Before this game they even had one whole day at the WACA to train. They spent the other day travelling from Brisbane.
One game, one day, and then a World Cup match against India. At cricket's most brutal ground. A ground that many teams have never acclimatised to, and all they had to do was play the world champions.
A bunch of amateurs in a billion-dollar tournament against a team of millionaires - what did cricket think would happen?
It happened. All day. Hook shots so late, the ball had already been forgotten. Batsmen handling swing like it had just been invented. Chandran's entire innings was like watching a kitten take on a tank. They were at times beaten by pace, swing, seam, spin, lack of pace, straight balls, carrom balls. Oh, and bounce.
The UAE cricketers know about the WACA. Tauqir called it the "most difficult wicket in the world". They've probably seen illegal videos of Curtly Ambrose destroying Australia, or that wacky one where the pitch cracks almost killed the New South Wales 2nd XI. They knew the bounce would be tough. They tried to hook and pull, and at times, very fleeting micro moments, they handled it beautifully. Mostly, it took their wickets, through pace or spin.
They were playing like a team trying to prove a point; they did prove a point, the opposition's point. Those who want to get rid of teams like UAE will use this match to point out that Associates aren't good enough. They will ignore the fact that West Indies got beaten in just such a lopsided game against South Africa. They will ignore the fact that UAE showed in their first game that cricket is actually stronger than even those who run it believe. They will ignore the schedule. The fact it was at the WACA. Anything. "They are just not good enough."
According to Tauqir they had "two good games and one off day". Associates aren't allowed bad days. Netherlands had two bad days and lost their ODI status. The Full Member teams could have 200 bad days and only lose games.
While Emirates branding is everywhere at the ground, it is oddly not on the UAE team shirt.
Emirates could easily spend 10% of its World Cup sponsorship on the national side. It doesn't. It could easily have done a deal with the ICC where it asked to hold back some of that money and use it to make "their" side professional. It didn't. The UAE players are used to this lack of support.
Their bosses don't always support them. The major cricket teams don't always support them. Cricket doesn't always support them.
Today they didn't support themselves. And while everything else might have led them to this place, it is the fact that they let each other down that will sting the most.
These are men who train every night of the week despite working full time. They are committed to cricket. They are working on their games. They are learning. They are amateurs. They are proud. They are cricketers. They should be angry with themselves.
"The Indian team is more professional," Tauqir mentioned at one stage. "Professional". How he must dream for such a day. The Indians are idolised, pampered and rewarded. His men are unwanted, unpaid, uninvited. And today they underperformed.