'Want to make it memorable'
Coach says ahead of Korea tour and Jakarta campaign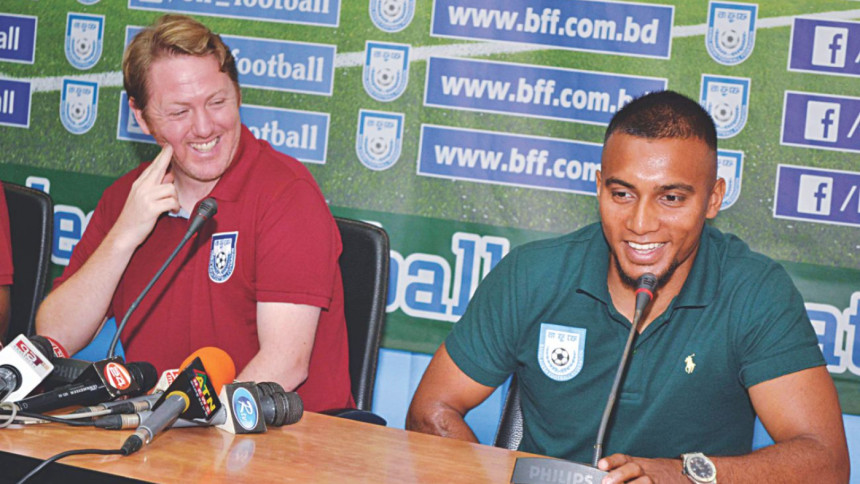 The Bangladesh national football team left for South Korea in the early hours of Saturday as a part of their build-up for next month's Asian Games in Indonesia and September's SAFF Championship at home.
The 27-member team, which will have a conditioning camp and practice sessions in South Korea, will play three practice matches -- against Guangju FC on August 1, Shinhan University on August 3 and another team that is yet to be decided on August 6 -- over the next two weeks before flying off for Indonesia for the Asian Games on August 11.
All 27 players will be in Indonesia even though the squad for the Asian Games will be a 20-man one, with three senior players and 17 under-23 players while the remaining seven players will continue their practice under the national team's coaching staff there.
The three senior players for the Asian Games squad are: defender Topu Barman, midfielder Jamal Bhuiyan and goalkeeper Ashraful Islam Rana, informed the team management during a press conference at the Bangladesh Football Federation House yesterday.
Bangladesh have been pitted in Group B alongside Uzbekistan, Thailand and Qatar, with the three group matches scheduled for August 14, 16 and 20 respectively.
Coach Jamie Day was hopeful that his side could win at least one game in this year's event. "The players improved in training over the last six weeks. We can win at least one of the three games in Indonesia. Whatever the result, we want to make the tournament a memorable one by giving our best performance," the 37-year-old English coach said.
The men in red and green had failed to move out of the group stages in the last edition of the Asian Games, even though they managed to beat South Asian rivals Afghanistan in a decent campaign in Incheon.
Day, however, admitted that there is a lot lacking in the team in terms of physical and mental strength as well as not having a potent striker. "All three teams in our group are tough opponents. If some of the players can't perform on any given day, things will be difficult. We will inspect the players in Korea before picking the 20-member team," Day said.
Jamal Bhuiyan, who was also a part of the team that played in Incheon four years ago, said that the team is better this time around.
"I would keep this team ahead of the one from four years ago. We have had good training and we are playing practice matches. Everyone is committed to doing well in Indonesia," the midfielder said.
They know that a good show in Jakarta will bode well for the team in the SAFF Championship, where Bangladesh were knocked out of the group stages in the last three editions.
SQUAD

Goalkeepers: Ashraful Islam Rana, Anisur Rahman, Mahfuz Hasan Pritom

Defenders: Shushanto Tripura, Tutul Hossain Badsha, Bishwanath Ghosh, Topu Barman, Rahmat Mia, Wali Faisal, Atiqur Rahman Fahad, Nasir Uddin Chowdhury

Midfielders: Jamal Bhuiyan, Mamunul Islam, Faisal Mahmood, Emon Mahmud, Mahbubur Rahman Sufil, Mashuk Mia Johny, Fazle Rabbi, Sohel Rana, Mohammad Abdullah, Biplo Ahmed, Rabiul Hasan, Monjurur Rahman

Forwards: Matin Miah, Saad Uddin, Jafar Iqbal, Shakhawat Hossain Ronny