Southgate not afraid of taking England job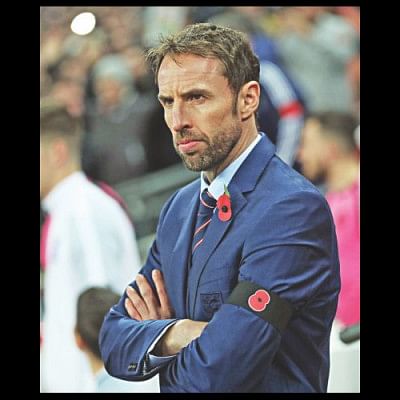 Gareth Southgate has declared he would not be afraid to take on the England manager's job on a permanent basis when his four-game stint as interim head coach ends.
Southgate was installed following Sam Allardyce's abrupt departure in September and Friday's 3-0 win over Scotland in World Cup qualifying left him with two wins and one draw from his first three games.
The England job is one of the most high-profile roles in world football, obliging incumbents to deal with sky-high expectations, a huge degree of personal scrutiny and an impatient press pack.
But when asked if there was any part of him that feared the job, Southgate replied: "No, is the answer.
"I said earlier in the week that it would be easy to look at the negatives, but to work with top players and to work in big matches is what I want to do. From that side, no."
Renowned for his mild-mannered nature, Southgate produced a rare display of emotion after Adam Lallana's second goal against Scotland, dropping to one knee on the touchline and punching the air.
"I enjoy winning," the 46-year-old told reporters after the game at Wembley.
"Obviously the person that I am when I'm in this sort of situation (talking to the media) or outside and meeting people is different to the animal that wants to win football matches.
"I think the players get that now and that's important because I think sometimes there's perhaps a misconception about how much it means for me to win. So it's a special night to be involved in."
England's win over their old rivals preserved their two-point advantage at the top of UEFA qualifying Group F.
While the margin of victory -- thanks to headers from Daniel Sturridge, Lallana and Gary Cahill -- was comfortable, their performance was far from polished.
England's determination to play the ball out from the back gave their supporters several hair-raising moments, with John Stones guilty of playing his team into trouble on more than one occasion.
But although Southgate emphasised the need for "bravery, but not stupidity", he defended Stones and said the Manchester City centre-back will need patience if he is to fulfil his vast potential.
"For years we've talked about not being able to play out from the back," said Southgate, whose side entertain Spain in a friendly on Tuesday.
"If we're to be different, if we're to progress, then we have to encourage players. But he also knows what I think of some of the things he did! What we've got to remember is he's 22. In central defensive terms, it's nothing. If we want to have a [Mats] Hummels, a [Jerome] Boateng, a [Gerard] Pique...
"I can remember managing a team against Pique at 22 when he played for Manchester United and he wasn't the all-round real deal.
"I think he's got the perfect manager to work with (Pep Guardiola) and to hone (his game) and for all of our defenders, that's what we want to encourage."