UEFA Euro 2016, France
Slovakia stun Germany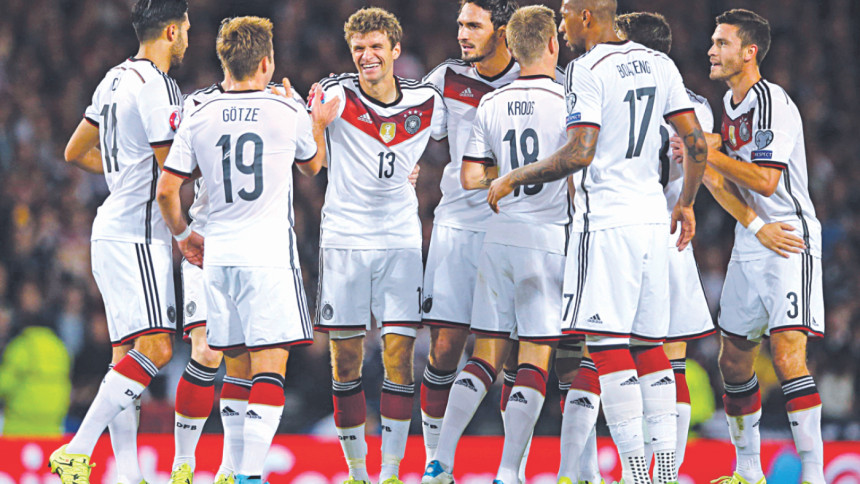 An inexperienced Germany team suffered a self-confidence sapping 3-1 defeat to Slovakia in Sunday's storm-affected friendly as the world champions fielded four new caps ahead of Euro 2016.
Slovakia, who will make their European championships debut in Group B alongside Wales, England and Russia next month, deserved their win in Augsburg as Germany coach Joachim Loew blooded a youthful quartet.
A heavy storm in Bavaria at half-time meant the break was extended to 39 minutes and it was Slovakia who profited from the soggy second-half conditions by adding their third goal.
Loew was more relieved that none of his players picked up injuries rather than bothered by the result.
"I have never experienced such a long half-time break. The pitch wasn't dangerous and, thank god, nothing happened (injury wise)," said Loew.
"Combinations were impossible at the start of the second-half.
"We did well in the first half hour, but we had a few problems in defence.
"You can't expect everything from the young players, but all four have the necessary quality."
Germany took an early lead when Mario Gomez converted a penalty, while goals from Marek Hamsik and Michal Duris just before half-time put Slovakia 2-1 up at the break.
A calamitous error by Germany's replacement goalkeeper Marc-Andre ter Stegen then gifted Slovakia's Juraj Kucka the only goal of the second half.
Centre-back Jerome Boateng, who was at the centre of an off-field political storm after a right-wing politician said most Germans would not want to have him as a neighbour, was the only member of the Germany team who had started the World Cup final two years ago.
Banners reading "Jerome, move in next to us" showed the feelings of most Germany fans.
Loew gave out two new caps in each half to goalkeeper Bernd Leno, 24, and defender Joshua Kimmich, 21, then 20-year-old midfielders Julian Weigl and Julian Brandt.
Schalke's Leroy Sane, also just 20, made only his second appearance in the attacking midfield role behind Gomez.
The hosts took the lead when Mario Goetze was fouled in the area and Gomez banged home the 13th-minute penalty.
Napoli attacking midfielder Hamsik made Slovakia's first clear chance count by drilling home the equaliser on 40 minutes and his long-range shot gave Leno no chance on his debut.
The goal fired up the visitors who went ahead a minute before the break when striker Duris slipped his marker and floated his header past Leno.