The inviolable duopoly within Bangladesh fanbase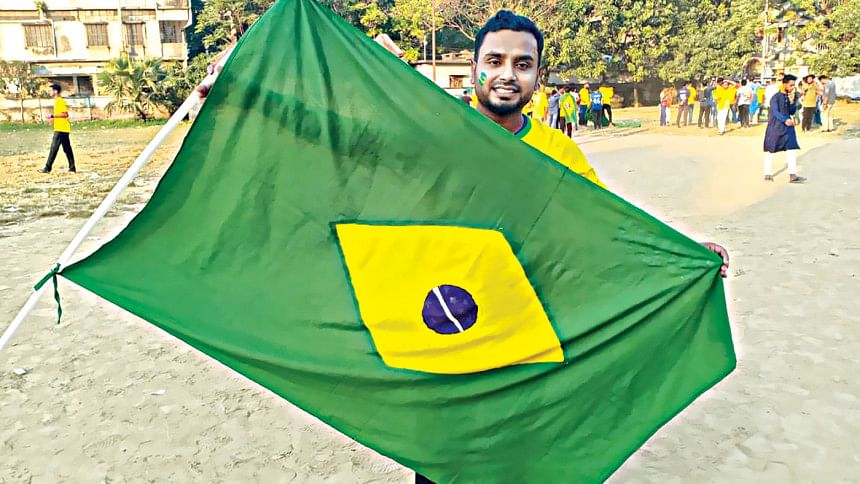 Although the Bangladesh football team never qualified for a FIFA World Cup and remain light years away from featuring in the foreseeable future,the football fever has never failed to get a grip on the massive fan base in the country whenever the greatest show on earth comes along every four years.
The excitement blows out of proportion in Bangladesh every time a World Cup looms, as evident with how the fans of the participating teams in the World Cup -- especially the Argentina and Brazil fans, who make up the majority – spring into action.
Even as the 2022 edition commences today with Ecuador taking on hosts Qatar, the question of whether Brazil have a better chance of progressing further than Argentina, and vice versa, will inevitably dominate over the question of who will ultimately clinch the Qatar World Cup.
It's hard to find neighbourhood fields without footballers wearing Argentina and Brazil jerseys during the World Cup season and, from Teknaf to Tetulia, the intense passion for football in Bangladesh can still be taken for granted to be felt across its 148,460 square-kilometre area.
Thus, it's no wonder that The Washington Post could not help but feature a story on the Argentina-Brazil fan rivalry in Bangladesh, published on Friday. In the meantime, Our Bogura correspondent, Mostafa Shabuj, caught up with two fans from the respective archrivals camp and it was unsurprising to see the deep-rooted emotional attachment for their beloved teams.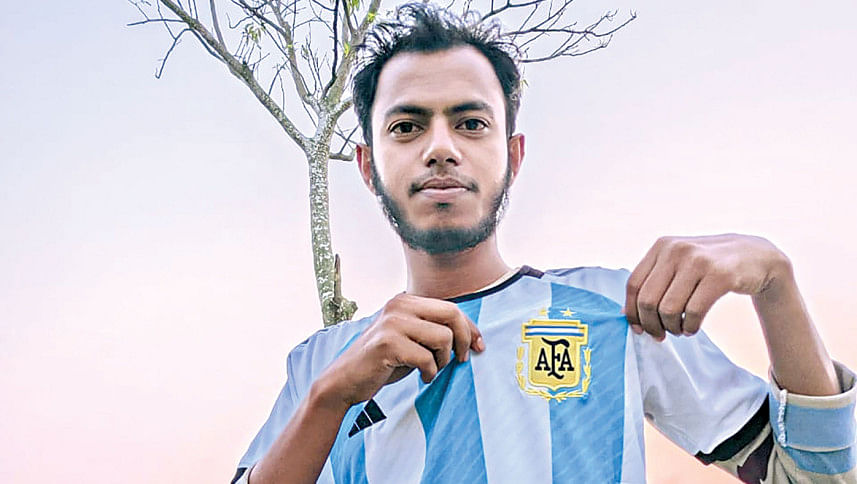 WHY SUPPORT BRAZIL OR ARGENTINA?
Argentina fan, Khalid Bin Sayed, 25, said: 
 "As an eighth grader during the South Africa World Cup in 2010, I watched Argentina play for the first time and they left a lasting impact on my mind. To be honest, I don't think any other team in the world play as artistically as Argentina do. Messi's game, especially, is like magic. To be honest, I like Germany as well but I love Argentina from my heart, like the first love of my teenage years."
Die-hard Brazil fan, Aktaruzzman Sohag, 28, said:
 "When you say the word football, Brazil first pops up in my mind. Of course, there are many good teams in the world but Brazil are my favorite team since childhood.  My main reason is that every player of Brazil plays for victory, and so their win-ratio is higher than the rest in World Cups. While other countries depend on one or two key players, Brazil are filled with players who are best in their position and play as a unit. When you see their game, a sense of calmness fills your mind."
EXPECTATIONS IN QATAR?
"I'm very confident that Brazil will win in Qatar. Brazil have a bunch of new star players to rely on to present a collective performance.  Coach Tite has chosen some quality, in-form players in attack, midfield, and defence in the 26- player squad," said Brazil fan Sohag. 
"We have every reason to be hopeful that Argentina will win this time. Since Argentina are unbeaten in their last 36 matches, they will begin their World Cup campaign as favourites. I have never seen an Argentina team play as aggressively as the current one, with Messi, Di Maria in sublime form," said Argentina fan Sayed.