SAFF U-17 Women's Championship
Russia's presence adds intrigue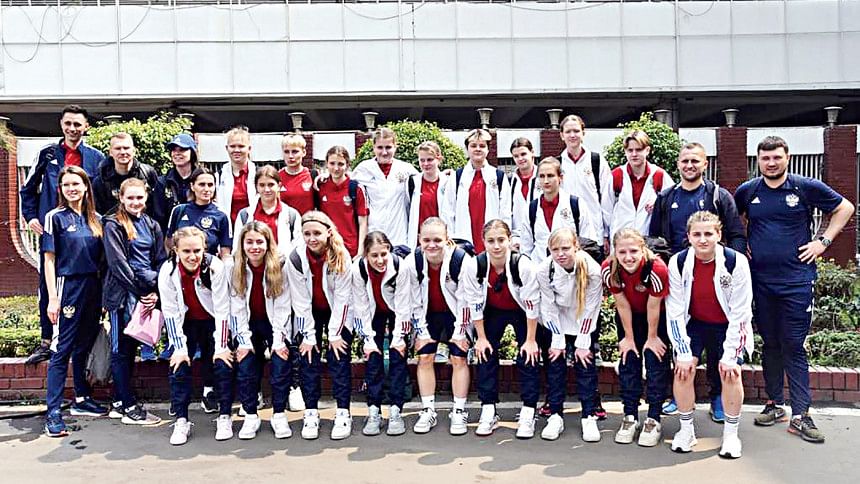 When Nepal kick off their title defence of the SAFF U-17 Women's Championship against India in Dhaka tomorrow, it will not probably be the defending champions neither the hosts that will grab the most attention. Instead, the majority of focus will likely be on an outsider – Russia – who have been invited to participate in the event in a first of its kind initiative in South Asian football.
That the invited team is Russia adds intrigue to the competition since Russia have been suspended from participating in any form of competitive football under the jurisdiction of its parent confederation, UEFA and world football's governing body, FIFA. The irony is, the SAFF U-17 Women's Championship is partially funded by UEFA Assist programme – a project undertaken in 2017 to develop football in the five other confederations.
What's the catch then? It is believed that Russia's participation in this event is part of the process of switching from the UEFA to Asia's 47-nation confederation to allow the Russian teams and clubs continued international competition.
For AFC, under which the SAFF operates, it is an opportunity to expedite the process of wooing a high-profile European member.
Although Russia has not yet said yes to the proposal of joining AFC, Russia men's team have already played three friendlies last year, against Kyrgyzstan, Tajikistan and Uzbekistan. They are scheduled to face Iran and Iraq this month and are also supposed to participate in a tournament hosted by the Central Asian Football Federation in June.
SAFF's general secretary Anwarul Haque Helal, when asked about Russia's participation, said UEFA Assist sent them Russia's name as an entry and SAFF saw no issues in welcoming them. BFF's women's wing chairman and AFC executive member Mahfuza Akter Kiron also welcomed the move.
Meanwhile, the Russian under-17 team arrived in the capital yesterday morning and they will play their first match on Wednesday against hosts Bangladesh, who will, however, play their first match against Bhutan on the opening day tomorrow.
The Bangladesh team's preparations and expectations regarding the five-team tournament were discussed yesterday at a press conference, the focus of which was Russia's presence.
Bangladesh coach Golam Rabbani Choton welcomed SAFF's decision to invite Russia and hoped that this trend will continue in future.
"We play most of our matches against South Asian opponents. So, this is a good move from SAFF that we will get to play against a team like Russia," Choton said.
"Russia will definitely be favourites for the championship and it will be challenging for us but we will get to learn a lot from playing against them. We thank SAFF for this decision and hope that teams from outside the region will be invited in future too," the coach added.
The five teams will play against one another once in round-robin format and the highest point-getters will emerge as champions. The championship will conclude on March 28.