Barcelona president denies any crime in refereeing scandal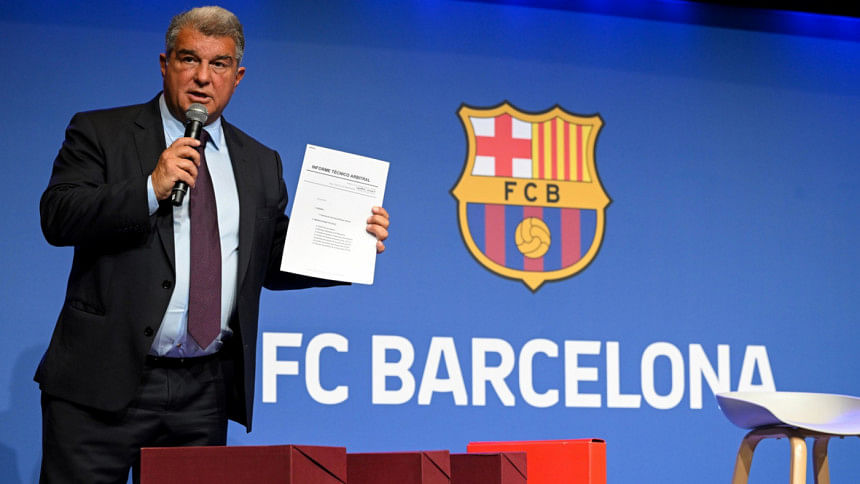 Barcelona have never "done anything" to "obtain some type of sporting advantage," the club's president Joan Laporta said Monday amid investigations into payments made to a former refereeing chief.
Last month Spanish prosecutors charged the Catalan club with corruption after payments of more than 7.3 million euros ($7.8 million) to a company owned by a former refereeing chief were uncovered earlier this year.
Barcelona say they paid Jose Maria Enriquez Negreira, the former referee and ex-vice president of the refereeing committee of the Spanish football federation (CTA) between 1994 and 2018, for reports and advice related to refereeing.
The club "has never done anything with the goal or intention of altering the competition to achieve some type of sporting advantage," Laporta told a news conference called to discuss the affair.
The allegations of wrongdoing are part of a "smear campaign" against the Catalan side who are currently top of La Liga, he added.
As well as the club and Enriquez Negreira, two of the club's former presidents, Josep Maria Bartomeu and Sandro Rosell, are facing the same charge of corruption.
La Liga president Javier Tebas has said Spanish football is enduring its "worst" ever moment because of the refereeing corruption case involving Barcelona.
"The reputation of our football is at stake. I am ashamed. We have no explanation from Barcelona," he added last month.