Hosts gunning for semis
Ctg Abahani face Mohammedan today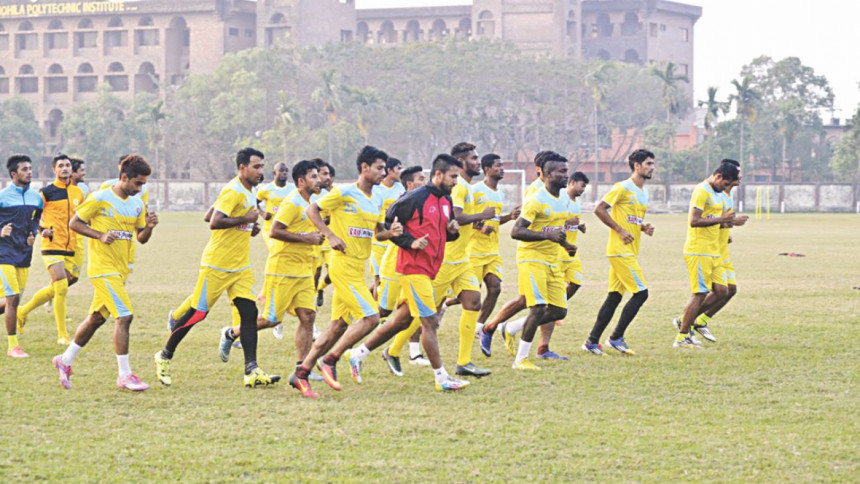 Buoyed by a 3-0 win over Shaheen Asmayee FC, holders Chittagong Abahani will be looking forward to confirming a semifinal berth in the Sheikh Kamal International Club Cup with an outright win over Dhaka Mohammedan SC at the MA Aziz Stadium in Chittagong today.
Chittagong Abahani's players looked cheerful at the Halishahor residential camp yesterday after getting off to a winning start against the Afghani outfit as well as getting a winning bonus from the team management. However, they will need to keep their feet on the ground as today's battle will be against players who are well-versed with the weaknesses and strengths of each of the hosts' players.
While Chittagong Abahani are tipped as favourites considering both teams' performance in their respective matches, it is expected to be a good game as the Black and Whites will be looking to keep their hopes alive with a win.
"We will go there keeping the semifinal berth in mind. There is no reason to consider them a weaker side," said Chittagong Abahani coach Saiful Bari Titu. "It is always challenging to play against known players and it is the players' responsibility to how to deal with the opponents as all of them know each other. However, fitness will matter in the match."
The fitness levels of the Chittagong Abahani players are definitely much better than their Mohammedan counterparts, who looked too tired to move against Nepal's Manang Marshyangdi Club and conceded two goals due to the seemingly unfit backlines
On-song striking pair -- Augustin Walson and Kingsley Chigozi -- will provide a big advantage to Chittagong Abahani, who handed a 4-2 and 1-0 defeats to Mohammedan in the Bangladesh Premier League last season and Titu will definitely rely on Walson and Kingsley -- who shared three goals against Shaheen Asmayee -- during the game. Winger Zahid Hossain, a key architect behind Chittagong Abahani's triumph in the last edition, will likely be back to bolster the squad and may take the place of Mannaf Rabbi.
"Of course, we will rely on them [Walson and Kingsley] again because they have a good understanding and they lifted Brothers Union in the domestic league. They also know that and told me that they want to do better for Chittagong Abahani," said the former national coach.
On the other hand Mohammedan SC, despite suffering a 2-0 defeat to Manang Marshyangdi Club, are also aiming to stay alive in the race by putting up an attacking brand of football against Chittagong Abahani.
"You know we have come here with little preparation, but at the moment we don't have any room to look back. We want to capitalize on this opportunity against Chittagong Abahani, who are tough opponents. We don't want to lose all three points. If we get one point, then we will have a chance in the last match and we don't want to give that away," said Mohammedan coach Abdul Kaiyum Sentu.
In the day's other match, Shaheen Asmayee FC will take on Nepal's Manang Marshyangdi Club.