'There is a growing belief in our pace-bowling department'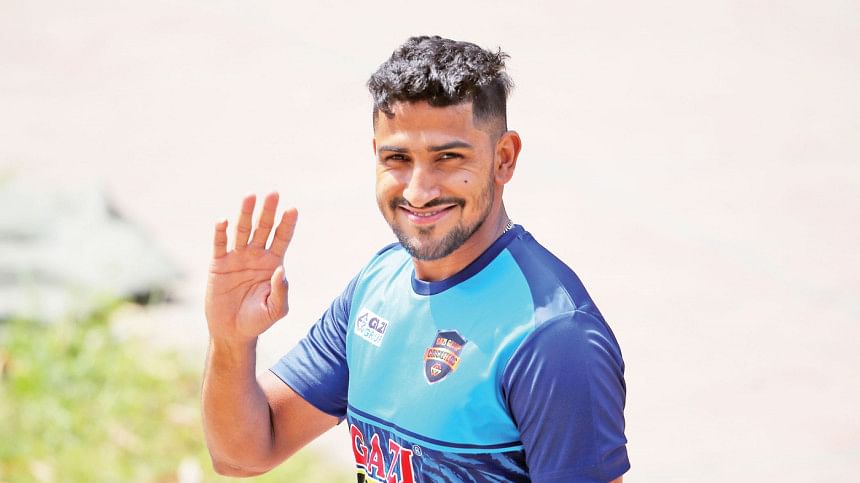 Fast bowler Khaled Ahmed has managed to pull off a staggering comeback despite being out of action for seven long months through an injury, which even forced him to go under the knife. And quite suddenly, the 29-year-old is now considered as a vital component in the Bangladesh pace battery and is expected to play a crucial role in the upcoming two-match Test series against Sri Lanka at home. The cricketer from Sylhet, who idolises English pacer Stuart Broad, spoke to The Daily Star's Mazhar Uddin and gave an insight into his game, and more, during an exclusive interview, the excerpts of which are as follows:
The Daily Star (DS): You did reasonably well in the Test series in South Africa, picking up eight wickets in two Tests.
Khaled Ahmed (KA): To be honest, I don't think I did that well as I wasn't satisfied with my performance. I've the sort of mentality where I'll be satisfied only if I am able to contribute significantly behind my team's victory; much like Ebadot [Hossain] did in New Zealand. Unfortunately, we lost both the Tests in South Africa, which was disappointing for me as a player.
DS: What areas have worked for you in South Africa?
KA: I've spoken with many big bowlers and coaches around the world and also had a good chat with [Khaled Mahmud] Sujon sir and all of them told me that I need to be more passionate and patient as a bowler.
Apart from bowling at a specific area to put pressure on the batters and create chances, I also tried to bowl with a scrambled, wobbly seam. If you had noticed, James Anderson, Pat Cummins and Ben Stokes bowl this with a lot of authority.
When the ball gets old, it's hard to get the movement off the seam. Shaun Pollock told me that batters were finding it difficult to tackle me because I was bowling with a wobbly seam. I realised that they had studied all my moves and deliveries through videos but still, it was hard for the batters to read that one as it creates doubt in batters' mind.
I have been attempting this particular delivery after the Pakistan series last year. Allan Donald also said my bowling action is unique and hard for the batters to read.
DS: How important is it to have a good bowling partnership?
KA: During the first Test in South Africa, we spoke among ourselves, where I told Ebadot and Taskin [Ahmed] that if we can bowl well in tandem, it'll lead us in grabbing wickets. We focused on containing runs from both ends and it was putting pressure on batters.
At times, I may not pick a wicket but Taskin or Ebadot may scalp wickets from the other end because of the pressure created from both ends. So ultimately, it's teamwork, something we are enjoying thoroughly.
DS: As a fast bowler, what challenges will the upcoming Sri Lanka series present, keeping the home conditions in mind?
KA: The main challenge for any fast bowler is to consistently hit a specific area. Otherwise, it becomes difficult for any captain, irrespective of the conditions at play. Another important thing is, even if we are unable to take wickets, we still need to remain passionate and contain runs, and that would assist the spinners to strike.
You probably have noticed, there is a growing belief in our pace-bowling department. So, if we can continue the trend, the perception towards fast bowlers in Bangladesh will definitely transform in the coming days.