Right time to experiment with team combinations: Jadeja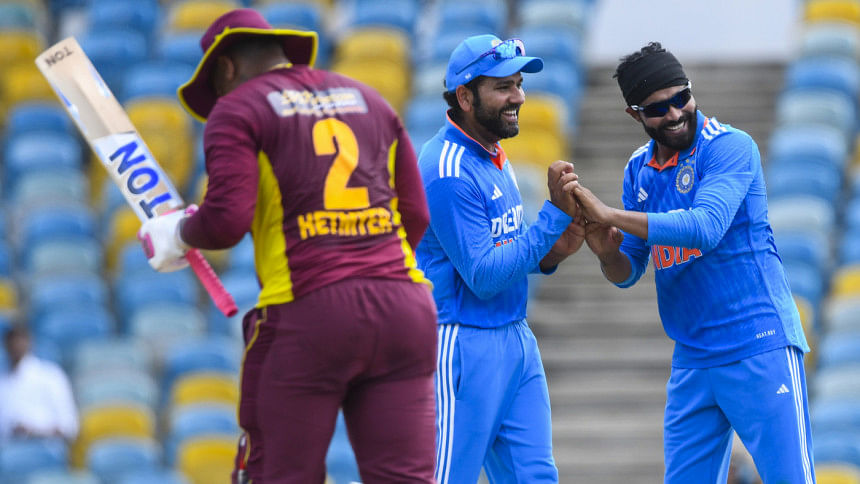 India all-rounder Ravindra Jadeja has shrugged off Saturday's defeat by West Indies in the second one-day international and promised they would give their best to win the decider on Tuesday.
India have treated the three-match ODI series as the buildup for their campaigns in the Asia Cup, beginning later this month, and the home World Cup in October-November.
Skipper Rohit Sharma sacrificed his opening slot and batted at number seven in the opening ODI, which India won by five wickets, while stalwart Virat Kohli did not bat.
The duo skipped the second ODI where Hardik Pandya led the side that went down to the West Indies by six wickets.
"Coming before the Asia Cup and the World Cup, this is the right time to experiment with team combinations and try players at different positions," Jadeja told reporters on Monday.
"It gives you a good idea about what the team balance should be like, and what would be the ideal combination. If we need to do any chop and change, this is the right time."
While India have not disclosed if Rohit and Kohli would return for the decider, Jadeja said they were confident of victory at the Brian Lara Stadium in Trinidad.
"We know we lost a game but if you are trying different things, that can happen," he said.
"But we are confident, and there's nothing to worry. We are going to play our best cricket and give our best to win the series."
The 34-year-old had a long chat with West Indies' Jomel Warrican and Jadeja said he was happy to share his experience with the fellow left-arm spinner.
"He approached me seeking help, and I shared some of my experience. He had some technical doubts, which I tried to clear," he said.
"Hopefully he will work on those areas and get better.
"If your experience helps someone to get better, there cannot be anything better than that."