Bangladesh women beat Zimbabwe by 35 runs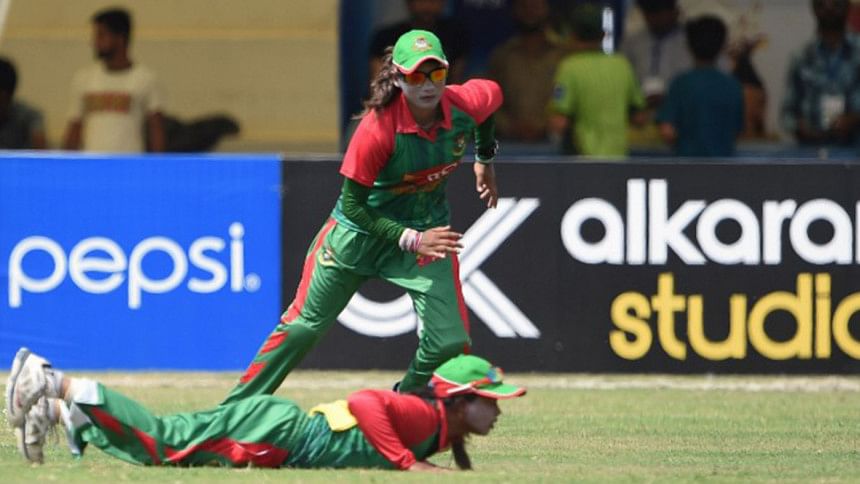 Bangladesh women cricket team came out in front by 35 runs in the 20-over match against Zimbabwe played at Cox's Bazar stadium today.
Zimbabwe captain Chipu Mugeri won the toss and invited her counterpart Jahanara Alam to bat first and put up a total on the board.
Bangladesh openers Ayasha Rahman and Sharmin Akhter made full use of the batting conditions at Cox's Bazar and gave their team a solid start.
Ayasha was adjudged the player-of-the-match for her handsome knock of 50 runs from 54 balls. She struck five boundaries during her stay at the wicket and nearly carried her bat the full 20 overs but was run-out in the second last ball of Bangladesh's innings.
With useful contributions from Sharmin and Fargana Hoque, Ayasha took Bangladesh's total to 125 for the loss of three wickets. Fargana's cameo of 32 from 21 balls with four sweetly timed boundaries gave her team the quick runs in the death overs.
None of the Zimbabwean bowlers managed to capture a wicket, but the fielders responded with three run-outs to stall Bangladesh's progress. Precious Marange was the most economical bowler among her teammates, gave away only 23 runs in four overs.
When Zimbabwe batters came out to chase the challenging total, they found the going extremely tough from the onset as they couldn't time their shots as well as would've liked.
Rumana Ahmed kept it really tight, and was rewarded for her discipline early in her spell. She sent back both the openers inside seven overs with only 23 runs on the scoreboard.
Zimbabwe women were all at sea facing Rumana, and couldn't score freely from the other end as Panna Ghosh, Salma Khatun and Nahida Akter didn't err in line or length too often.
As Zimbabwe lost wickets in regular intervals, the required run-rate climbed up with each over, and victory seemed a bridge too far for the visitors.
Opening the innings this 20-over match, Zimbabwe skipper Mugeri sent the wrong signal by her ultra-defensive approach, played 17 balls for only three runs. Her opening partner Mlilo tried to compensate for the slow-scoring rate with the long handle, scored 19 from 17 balls, but failed to inspire the other batters in the dressing room.
Mugeri's pigheadedness in refusing to play positive cricket set the tone for Zimbabwe's innings, and none of their batters took the attack to the Bangladeshi bowlers.
It was Mary-Anne Musonda who came out and showed the Zimbabwe top-order the intent to score quickly, but her effort was too little too late as far as the match was concerned.
The visiting team limped to 90 runs in 20 overs, and lost eight wickets in the process.
Sharne Mayers was the highest scorer for her team with 29 runs. She played 41 balls and struck a four and six in her watchful knock, but failed to break the shackles when required.
Bangladesh bowlers kept taking wickets at regular intervals, and allowed only two partnerships to reach double-digits in Zimbabwe's innings.
Salma took two, Panna and Shaila one wicket each apart from Rumana's three-for. After the 29-run stand between Mayers and Mujaji was broken, Zimbabwe wickets fell like nine pins.
It was a thoroughly professional display from Bangladesh women in the first match of Zimbabwe's tour, and would like to carry the momentum into the next game on November 19 at Cox's Bazar.
Zimbabwe have to sort out their batting, if they want to make a mark in their short tour of Bangladesh. If they don't bat with a positive frame of mind, they will make the Bangladeshi bowlers look more threatening than they already are!