Tamim lauds Soumya's support during opening stand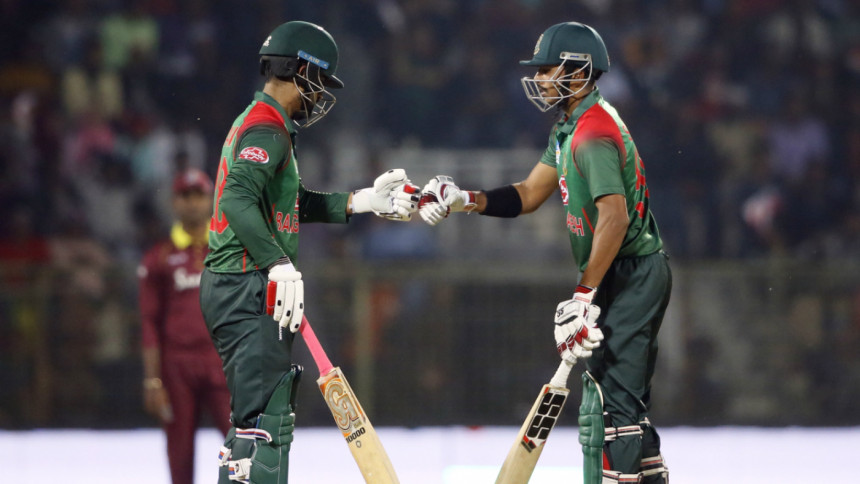 Bangladesh batsman Tamim Iqbal struggled to get going early in his innings during Bangladesh's successful chase of West Indies' 261. As has often been the case, Tamim has the right mindset to see out rough phases while keeping his cool and he reiterated that his batting partner Soumya Sarkar's ability and mindset was more crucial to his innings than anything he himself had done.
"It was very important. If you look at my innings, at one time I was stuck on five for 10 to 15 deliveries. I was playing some beautiful shots but they were going to the fielders. If the batsman at the other end was doing something similar, then either of us would have had to throw our wicket away," Tamim told reporters on Friday.
Tamim and Soumya's 144-run opening stand made the chase easy for Bangladesh but it was Soumya's strokeplay that proved crucial as he helped Tamim see out the rough phase to score a valuable 80 for the Tigers before Shakib Al Hasan and Mushfiqur Rahim took Bangladesh over the ropes. Soumya struck 73 off 68 deliveries with nine fours and a six and basically took the pressure off Tamim to play boundary shots.
"The way he batted took a lot of pressure out of me. The way he batted, he helped me more than I could when I was playing my innings," Tamim added.
Tamim, a brilliant stroke-maker himself, had to curb his instincts as he settled into an anchor role for the Tigers. His target now is to bat for as long as possible while the other batsmen build the innings around him. Tamim credited former coach Jamie Siddons for how he learnt to stay at the crease when struggling.
This is the thing I learned from Jamie Siddons. He always used to say, 'when you are struggling, you only have two options: either you can return to the dressing room and sit with us, or you can fight it out in the middle.'"