'Need to play their best'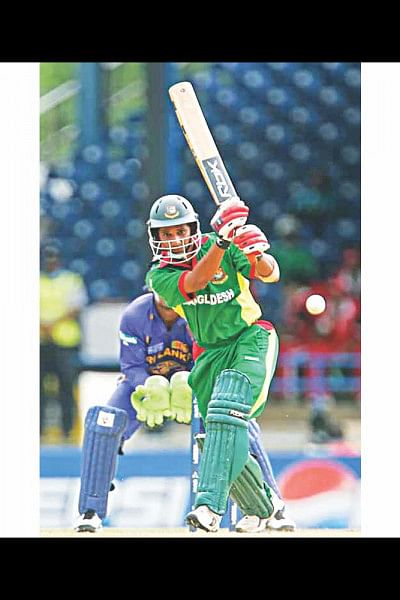 In the lead-up to the 2019 World Cup, we take a look back on World Cups past through the eyes of Bangladesh's former World Cup stars. Habibul Bashar played his first World Cup for Bangladesh in 2003 and later led the team in the 2007 World Cup. Bangladesh's first ever Test triumph came under his stewardship back in 2005 against Zimbabwe. The former Bangladesh skipper, who captained Bangladesh in 18 Tests and 69 ODIs, shared some of his World Cup memories in an interview with The Daily Star's Nabid Yeasin.
The Daily Star (TDS): Tell us something about the 2007 World Cup, where you captained Bangladesh.
Habibul Bashar (HB): Captaincy was nothing new for me at that time, but to lead your country in a World Cup is a very different thing. I would say that playing in a World Cup is a great honour and to be captain of the team is a greater honour in my opinion. The 2007 World Cup is the biggest highlight of my career.
TDS: You've observed the Bangladesh team very closely as a player and now as a national selector. Can you tell us how the team has changed overall over the years?
HB: Back in 1992, when Pakistan won the World Cup, I still remember watching the final of that World Cup at a friend's place with some of my cricketer friends. Even at that time, we never thought we would feature in a World Cup someday. We never even discussed Bangladesh's chances of playing in a World Cup. From never even thinking about it, we actually went on to play our maiden World Cup in 1999. However, at that time for us, participating in a World Cup was a very big thing. And then we participated in the ICC 2000 Championship Trophy, where we played with the likes of India's Rahul Dravid. After that, we dreamt of someday reaching the same level as India -- one of the big names in cricket. Now the reality is that Bangladesh have actually reached that level where they can fearlessly compete with any team in the world. I am very happy that what I once dreamt of has come true and it feels great to see my team in this position while I have been acting as one of the national selectors.
TDS: Would you relate the 2007 World Cup achievements to the emergence of the Big Five -- Tamim Iqbal, Mushfiqur Rahim, Mashrafe Bin Mortaza, Mahmudullah Riyad and Shakib Al Hasan?
HB: Actually Mashrafe [Bin Mortaza] had started playing in 2000 and he has been one of the top bowlers since then. In 2007 World Cup, Shakib [Al Hasan], Tamim [Iqbal] and Mushfiqur [Rahim] were raw and young talents in the team, which was much needed at that time. But the thing is that they did not get a chance in the team just because they were young but also due to their performances. If any group of players play for a long time then they naturally get better and start playing well. If you see the Australia team that played from 2003 to 2007, you can see that almost the same players played for the team in every match during that period with only few changes. And this can only happen if the players perform consistently. So these five players have actually performed well over the years and of course they have a huge impact on taking Bangladesh where they are today in world cricket.
TDS: You played in the 2003 and 2007 World Cups for Bangladesh. What is your best World Cup memory?
HB: The 2003 World Cup was not very good for us. Whenever I think about that World Cup, I can only recall bad memories. However, there are lots of sweet memories of the 2007 World Cup. Starting from defeating New Zealand in a practice match to winning against India and also defeating South Africa in the second round, everything was memorable. I think that, in that World Cup, most of our second round matches were in Barbados. The pitches in Barbados are usually very fast and bouncy and had our fixtures been on any other island, then I think we could have had even more success.
TDS: What do you think will be the biggest challenge for Bangladesh in the upcoming World Cup in England?
HB: In this World Cup, not only Bangladesh but all the teams participating in it will have to play their best cricket according to their ability and every team will have equal opportunities due to the format. Now if you look at all the teams then you will notice that there isn't much difference between the sides. This time, there are at least four to five teams who possess the ability to lift the trophy while the remaining teams are not very far away from these teams in terms of strength or ability. So since there is very less difference between the sides, the competition has intensified this time. Bangladesh need to play very good cricket and all the players need to play their best and only then we can hope for something good.