I could have been banned for five or 10 years: Shakib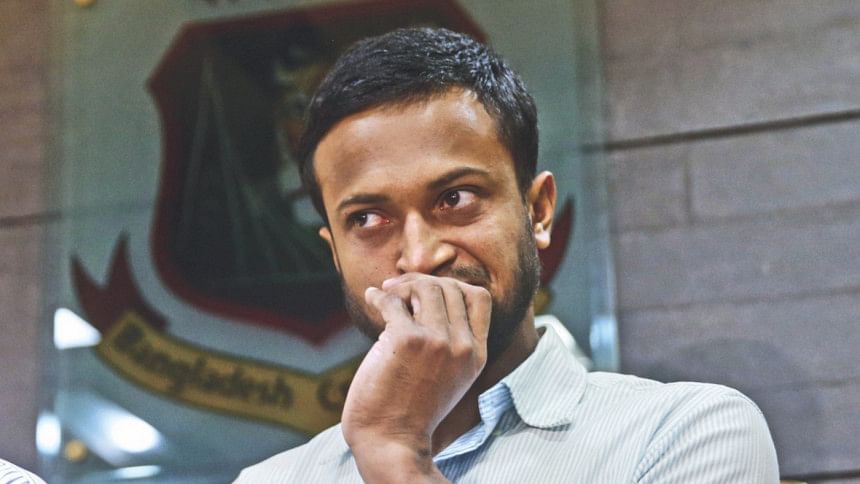 Bangladesh all-rounder Shakib Al Hasan, who was banned by the ICC in October last year for failing to report corrupt approaches from a bookie, said that he made the mistake of taking those approaches 'too casually' and that he could have been banned for five or even 10 years during an interview with Harsha Bhogle on Cricbuzz. 
Bangladesh cricket was rocked to its foundations when the ICC informed that it had banned Shakib from all forms of cricket for two years, with one of those suspended, for not informing the ICC's anti-corruption unit (ACU) of three separate 'approaches or invitations' he received to engage in 'corrupt conduct' by a bookmaker seeking match information.
"I took the approaches too casually. When I met the anti-corruption guy and told them and they knew everything. Gave them all the evidence and they knew everything that happened... To be honest, that's the only reason I was banned for a year, otherwise I'd have been banned for five or 10 years," Shakib told during an interview with prominent cricket analyst Harsha Bhogle on Cricbuzz.
Shakib was approached by a bookie during the home tri-series against Zimbabwe and Sri Lanka last year in January before he was approached a second time during the same series.
The 33-year-old all-rounder admitted that it was a 'silly mistake' on his part given his vast experience as a professional cricketer. 
"But I think that was a silly mistake I made. Because with my experience and the amount of international matches I've played and the amount of ICC's anti-corruption code of conduct classes I took, I shouldn't have made that decision [to not report], to be honest. I regret that. And I think no one should take such messages or calls (from bookies) lightly or leave it away... We must inform the ICC ACSU guy to be on the safe side and that's the lesson I learnt, and I think I learnt a big lesson," Shakib regretted.
Shakib mentioned that arrogance had gotten the better of him at that time and he never realized that he was doing something wrong by not reporting the corrupt approaches. 
"Because you do most things right in your life, you tend to get arrogant with some decisions. You may not realise but you're doing wrong by the books. It never came to my mind that I am doing something wrong [by not reporting the bookie approach immediately], it was just a feeling of 'okay, what's going to happen, leave it' and I continued with my life. But that's the mistake I made. And that happens," Shakib added.