Bangabazar Market manifests govt's irresponsibility: Fakhrul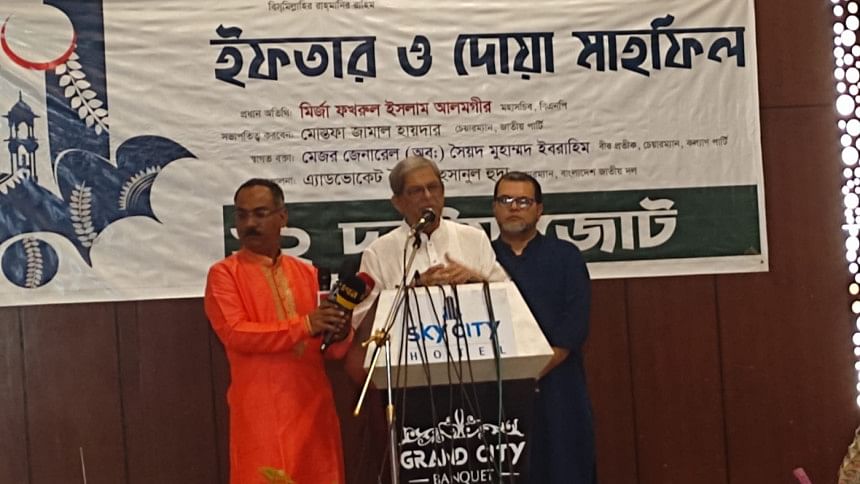 BNP Secretary General Mirza Fakhrul Islam Alamgir today alleged that Bangabazar Market fire has exposed the irresponsibility of the current government and the failure of its different agencies to take prompt steps to douse the blaze.
Speaking at an iftar party, he said several thousand people have been badly affected by the devastating fire at Bangabazar Market and the cries of the victims have overwhelmed the people of the entire country.
"We often say this regime is irresponsible and they can't discharge their duties anywhere. Fire incidents may happen, but the government has no effective steps to promptly douse the flame and check casualties and losses," the BNP leader said
He said that many fire incidents happened recently in the capital, including at Old Dhaka's Siddikbazar, which left nearly two dozen people dead.
"We express our gratitude to Allah that no one died in the Bangabazar fire, but they [shop owners] have been hit hard financially," Fakhrul said.
He said there are many government agencies and offices responsible for ensuring fire safety, identifying the reasons behind the incident and taking appropriate steps to prevent fire incidents, but they have failed to do anything in this regard.
The BNP leader also deplored that the government agencies also cannot come up with a proper investigation report after the deadly fire incidents in the country.
Besides, the BNP leader said many people are losing lives every day in road accidents across the country for the lack of effective preventative measures.
The 12-parry alliance, which has been carrying out simultaneous movement with the BNP, organised the iftar party at a hotel in the city's Malibagh area.
A massive fire broke out at the Bangabazar Shopping Complex in Dhaka on yesterday morning and spread to some other nearby markets, burning about 5,000 shops, mainly readymade garment and footwear stores, to ashes.
Fakhrul said the current regime is least bothered about the safety of people and their suffering as its main intention is to hang onto power by any means.
Fakhrul alleged that the government has been indulging in unlawful activities to cement its power by sacrificing all ethics and principles, violating the constitution and snatching people's rights.
He said their party had an iftar programme in Cumilla on Tuesday where police swopped on without any reason and arrested 20-25 opposition leaders and activists.
Besides, police and ruling party 'cadres' attacked a meeting of Mymensingh district unit BNP on Wednesday, leaving many people injured.
He said similar attacks have also been made recently in some other areas of the country, including in Khulna and Natore.
"I would like to say there is no point in making statements and giving speeches. We have to stand up and put up a strong resistance now against the current regime" the BNP leader observed.