5 Top Stories to Know Today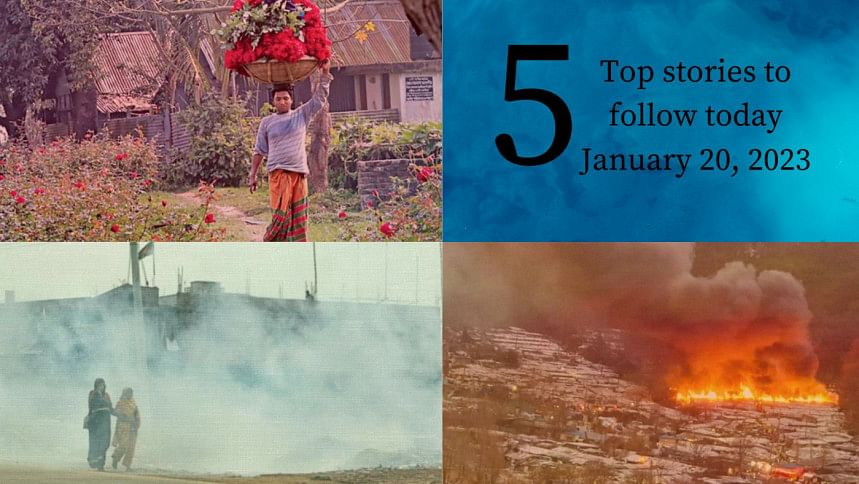 Dear readers, here is a quick round-up of the top stories to look out for today.
With an air quality index (AQI) score of 317 at 8:00am today, Dhaka ranked first in the list of cities with worst air. India's Kolkata and Mumbai occupied the second and third spots in the list, with AQI scores of 196 and 189, respectively.
An AQI between 151 and 200 is said to be 'unhealthy' while 201 and 300 is considered 'very unhealthy', and 301 to 400 is considered 'hazardous', posing serious health risks to residents.
The long-cherished Padma bridge is set to cost more after the bridges division sought more funds and time to complete the structure even though it is open to the public since June last year.
At the time of inauguration on June 25 last year, some works, especially river training, a major component of the project, were incomplete. Now, the bridges division has sought Tk 2,682.13 crore more and an additional year, according to the revision proposal sent to the Planning Commission for approval.
A three-day flower festival is going on at Gadkhali of Jashore, also popular as the flower capital of the country.
Flower producers, flower traders and flower-related organisations are participating in this festival. The event includes flower shows, a cultural evening, courtyard meeting with female florists on the development philosophy of the government and a children's drawing competition, group-based training workshop led by women with yard meeting, farmer felicitation and closing ceremony.
About 500 people were evacuated after fire broke out in a shanty town in the South Korean capital, Seoul, burning down some 60 houses, fire authorities said.
Roughly 60 homes in the 2,700-square-meter (29,000-square-foot) area have been destroyed, fire officials said, with about 600 firefighters, police officers and troops as well as 10 helicopters dispatched to contain the blaze. No casualties have been reported so far.
"Made in Bangladesh" Hyundai motor vehicles will hit the streets next week as Fair Technology commenced production at the country's first manufacturing facility for cars designed by the South Korean automobile brand.
Set up on two industrial plots at the Bangabandhu Hi-Tech Park in Kaliakoir of Gazipur, the factory has already produced 100 units of Hyundai Creta, a highly popular subcompact crossover SUV. Each Hyundai Creta was manufactured using more than 1,000 parts imported from nine different countries, according to company officials.