Madhyabartini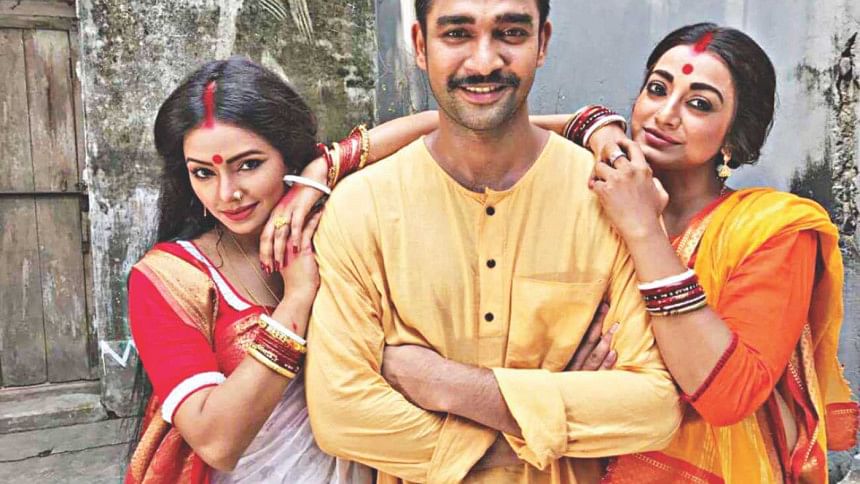 Channel: ATN Bangla 

Written by: Shafiqur Rahman Shantanu 

Directed by: B. U. Shuvo 

Cast: S. N. Joney, Nazia Haque Orsha, Orin
Anyone familiar with the short stories of the legendary Rabindranath Tagore will know Madhyabartini as a story of love, choices and despair. The story revolves around Nibaran, a successful office worker, expressing to his wife Horshundori the intention of having children, something that was impossible due to Horshundori's long-time sickness. To please her husband's desire, the over-imposing Horshundori forces Nibaran to marry another woman, Shoilobala, and does everything in her power to ensure that the two of them stay together to produce a child. Amidst the development, Nibaran's preference towards Shoilobala grows and Horshundori finds that her husband is spoiling his second wife, turning Shoilobala into an ignorant and immature child who refuses to hand over her jewelry even when Nibaran falls in dire debt. Eventually, Nibaran loses all his wealth and the family of three finds shelter in a run-down house, in which Shoilobala gets pregnant, critically ill, and further refuses to be treated with cheap medicine and food. Shoilobala eventually meets her end, creating an eternal gap between Nibaran and Horshundori which haunts them for the rest of their lives.
On occasion of the Nobel Laureate Rabindranath Tagore's 156th birthday, ATN Bangla aired a TV drama adaptation of this immortal tale. However, as far as adaptations are concerned, this particular one was not very effective. The first 20 minutes or so go along assuming the audience is already familiar with the story, as no sort of explanation or background is given to describe the characters or even state what their names are. The time limit, in fact, is the worst aspect of this adaptation, as it skims through quite a lot of important scenes and blatantly ignores some other. Horshundori's sickness, Shoilobala's development as a spoiled wife, and the struggles of living without wealth; were important aspects of the original plot which aren't emphasized upon in this adaptation. Instead, a narration appears at random times to explain the story that happens in between scenes, with very little on-screen development of the plot itself.
What this adaptation of Madhyabartini does manage to do well is show the relationship between Nibaran and Shoilobala, and how it clashed with the relationship of Nibaran and Horshundori. In other words, it shows how Horshundori acts as the titular 'Madhyabartini' by being an 'in-between' existence for her husband and her husband's other wife. This adaptation also shows how Horshundori struggles to find a balance in her own ideology: she aims to control her husband's life with his best interest in mind, but never realizes the consequences of her actions. Shoilobala too, acts as a 'Madhyabartini' by getting in the 'middle' of the peaceful married life of Nibaran and Horshundori, permanently disrupting it in the process. While the adaptation does overlook crucial aspects of the short story, it does leave behind thought-provoking questions, something Rabindranath himself possibly intended to do with the original Madhyabartini.
Recommend the writer something to review at [email protected]