A HOUSE CALLED SHAHANA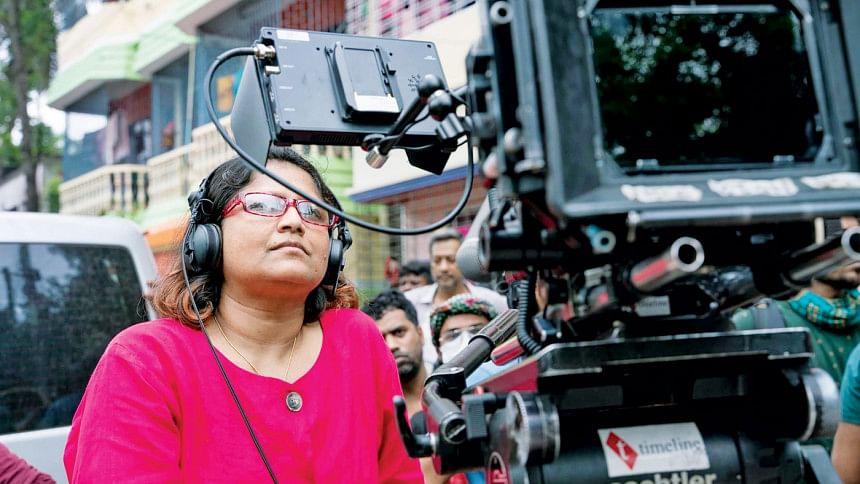 'Barir Naam Shahana' is director Leesa Gazi's debut feature film produced under the banner of Komola Collective. The film encapsulates the journey of a woman who goes through several obstacles posed by her family and society to take a stand for herself. In this special discussion, the five ladies of Shahana Bari, Mugdhota Morshed Wriddhi, Aanon Siddiqua, Naila Azad Nupur, Kazi Ruma, and Kamrunnahar Munni share their experiences working on this project.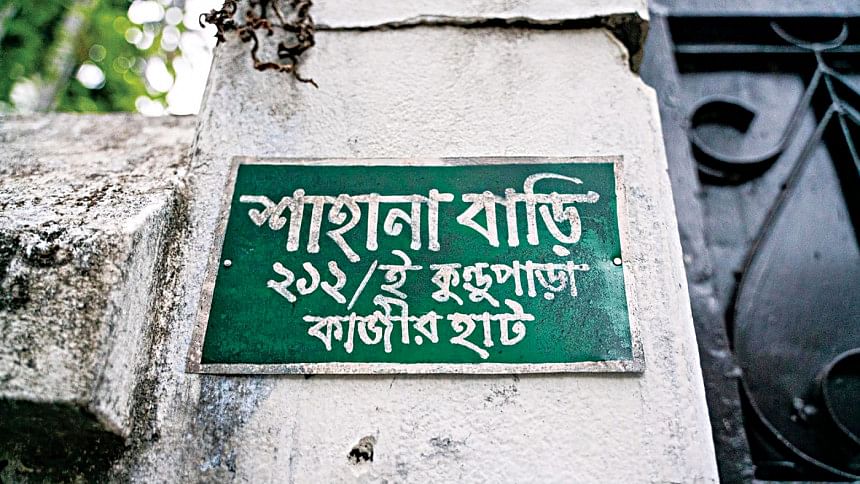 LEESA GAZI
"The story Barir Naam Shahana revolves around the lead character, Deepa, and as the film follows her journey, other characters blend in to complete the narrative. I wrote this story in 2011, and Aanon and I wrote the screenplay for the film together. I feel that working with Aanon on this was one of the advantages for me. I think it is one of my successes that everyone in this discussion is commending my directorial approach. When an actor is preparing themselves, it is essential to let them use their creative freedom to understand, envision and embody their roles. It is an achievement for me that they felt comfortable and confident after working on this project. Apart from the five ladies present here, team Barir Naam Shahana cast includes Amirul Haque Chowdhury, Lutfur Rahman George, Iresh Zaker, Joyanto Chattopadhyay, among others. And every member of the cast and crew gave their one hundred per cent effort. As a director, I am grateful to all of them.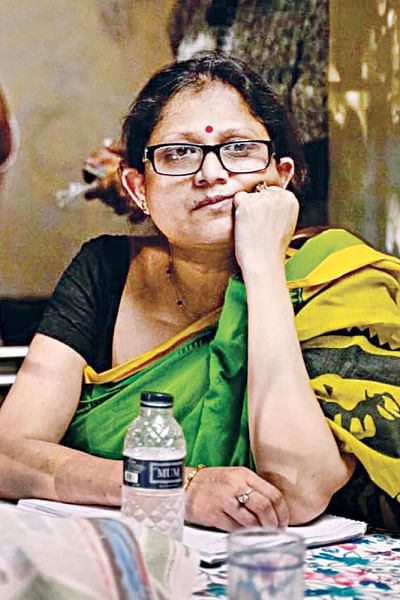 I also consider myself a fortunate director to have such a dedicated and hardworking team. We all worked together for nineteen days, with seventeen days for shooting and two days break. We shot in extreme heat and got stuck in storms. We all went through intense shooting, but nobody backed out. Their persevering approach kept me motivated. Someone once told me, when crew members discuss their scenes and characters with each other. It shows that they have connected with the story by heart. The team started relating the roles of the film with women from their neighbourhood or surroundings. They started reflecting the attributes of those women in the storyline. And this inspired me. As a director, I wanted this story to connect with everyone, and I feel the team as a whole echoed my vision through their outstanding work. We just started the journey with this project, and we still have thirty per cent of the shooting left to complete in London. So, we hope to release the film by the end of 2022 or the beginning of 2023."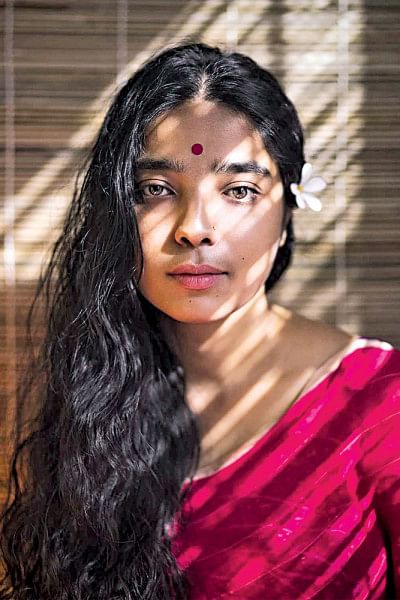 KAMRUNNAHAR MUNNI
"The first day I went for the live audition after the online audition, I was given the script for some scenes. In my writings, I try to talk about women's struggles in society and how they deal with them. So, when I went through the script, I thought that it tells a wonderful story about how these four female characters came together to help establish the character of Deepa. As such, I believed that I was perfect for the role of Zulekha. I was confident with my audition because I thought that I got everything about my character right, from their emotional aspects to their mannerism. During my third audition, when I visited the set, I met the other actors, and the fact that I was working with someone who wrote such an amazing story made me quite nervous. Over time, however, I got very familiar with everyone and the characters as well, since we owned our roles. Indeed, I had become a part of Shahana Bari. I am so grateful to Leesa apa for granting me this opportunity. As Aanon mentioned, it is especially tough for women. I have also seen that even when some women in the industry do have the opportunity to tell their story, they only tell it from their point of view and do not consider other women. They should consider the women in their audience as well. Nowadays, several people deal with personal crises. I believe we must be compassionate during these times. People do not often want to talk about their struggles. It is important to recognize when they need help and try our best to be with them. I feel that even the methods of portraying social settings may change in the future because of the pandemic as people are getting used to our new way of living, and consider it the norm."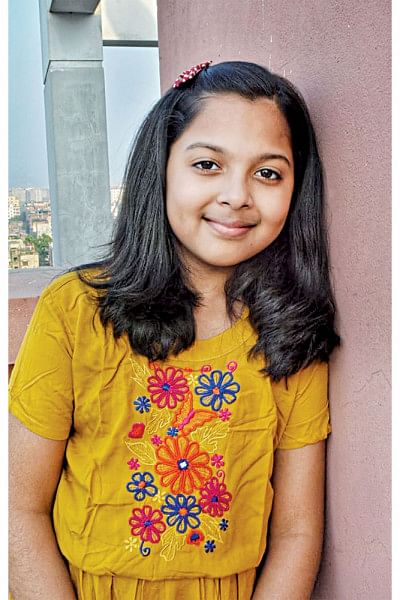 MUGDHOTA MORSHED WRIDDHI
"I loved working with everyone on this film. During the shoots, Leesa aunty would guide me through the scenes. Everyone was like a big family. We had an off-day, so we all went for a picnic and enjoyed ourselves a lot. Overall, my experience was wonderful, and I loved being part of this project. On a different note, this pandemic situation has made things difficult for many of us, but I am hopeful for a better future. I hope to meet my friends again, spent time at school studying and also playing with them. Even though I have online classes and exams, but I miss the feeling of going to school. I miss going outside."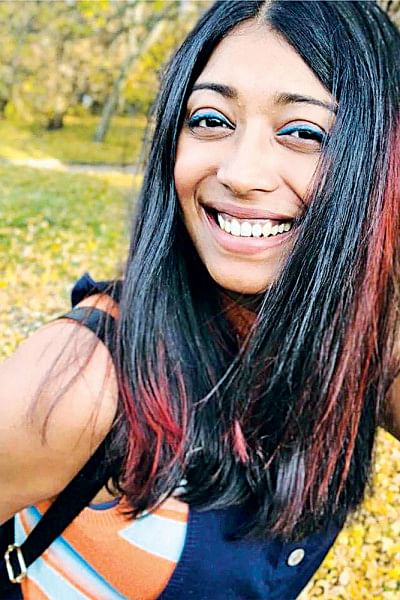 AANON SIDDIQUA
"It is the very first time I am working on a screenplay. Leesa is an award-winning, published writer but I, on the other hand, have never even published or submitted my work anywhere before. When she was discussing the original story with us, I was sharing my thoughts in the script. Later, we realized that by the end of it, we had already written five scenes. Then, by the end of the day, when we noticed the progress we had made, Leesa asked me to work with her. I told her that I was not a screenwriter, but she insisted, convincing me that we had indeed come very far working together already. If she had not encouraged me, I do not think I would ever take up such a big project. I am very grateful for this project. I feel out of all the creative collaborations I have worked on before it is the first time I have felt so engaged with the characters, and the story resonated within me so much. It is also pleasant to see a film with the main characters and the creator being women. Not just in the film industry, but I think generally, we see a lack of women in prominent positions. We see this especially in Southeast Asian societies, where women have to put in even more effort to stand out and earn respect in their respective industries. In the film industry, for example, screenwriters, including women, are often not given enough freedom or financial incentives to portray their characters the way they want. That makes it even harder for us to achieve recognition. The films are also often created in ways to cater to the male gaze, while female characters are written by men.  These portrayals become so deeply ingrained in both men and women that they make their way into screenplays unintentionally, and it limits the number of roles a woman can play in films."
KAZI RUMA
"It is not my first work with Leesa. I think two to three years back, I worked for one of her short films. However, she was not present at that time to provide direction. I did not get the opportunity to work under her directorial approach or meet her in person. So, when Leesa called me and told me that she wants me to be part of Barir Naam Shahana, I said yes to her. As I have worked with her before, I was happy to agree on this project. Later, when I read the script, I was astonished. I was honestly shocked because I have not worked for a while, and Leesa decided to cast me for a role like this. We often talk about feminism, and this story depicts women rights or feminism in a different dimension. It is narrated in a sophisticated and polite manner. The film introduces five women, and each of the characters delivers the message of feminism from different angles. The philosophy of this film is diverse, and this is what I loved about the project. When I went for the shooting, I was anxious because I was working with such great personalities. So, after rehearsing and preparing myself, I headed for the shoots. I got a very different and positive vibe while working on this project. I overcame my uneasiness and grew confident as the direction was amazing, and the entire team was like a family. I brought back many learnings and experiences from this film. I am grateful to Leesa for this opportunity, and I feel I am confident to work on more projects now."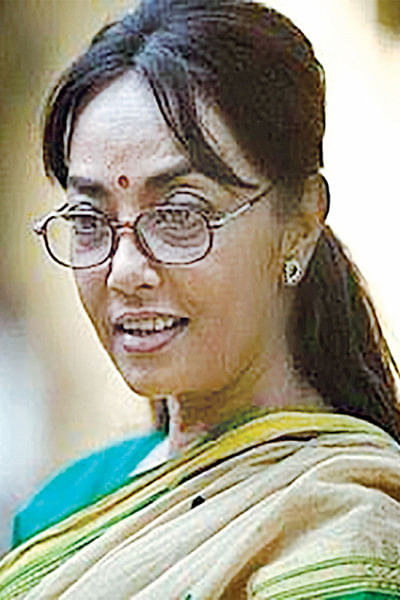 NAILA AZAD NUPUR
"The way everything was organized for the shooting, I could tell everyone in the team was eagerly waiting to start working. Every single person regardless of how they were contributing to the film was on the same page. As Munni said, I think everybody owned the project and had a wonderful experience. I would say it was a necessary experience considering the individualistic mindset we often see in the film industry. I think this mindset that we see is also destructive to the industry itself. Nowadays, advertisement agencies are taking over the production of films, and I think that is a product of this individualism. Fortunately, we see none of that here. During the production, all of us communicated and added to each other's ideas. We all knew one another personally as well. Everyone was so engaged with their work that it felt like we had all become one. It was a fantastic example of an ensemble. Since the team was fully engaged, they gave it their one hundred per cent. As for myself, the whole experience was very comfortable, and I thoroughly enjoyed the sets and the shootings. Nevertheless, it was still a bit challenging to play my character since I do not speak in their regional dialect. But since my role was relatively small, I think I handled it well. I applaud everybody who has worked on the film, but I would like to give a special shoutout to Aanon. The amount of effort she has put in is truly commendable. The women working in this film are indeed very inspirational. The Bangladeshi film industry, in particular, is unique, and the struggles women face here will be different from any other country. I believe more focus must be put on our country and society specifically."