A star-studded gala
THE DAILY STAR'S 24TH ANNIVERSARY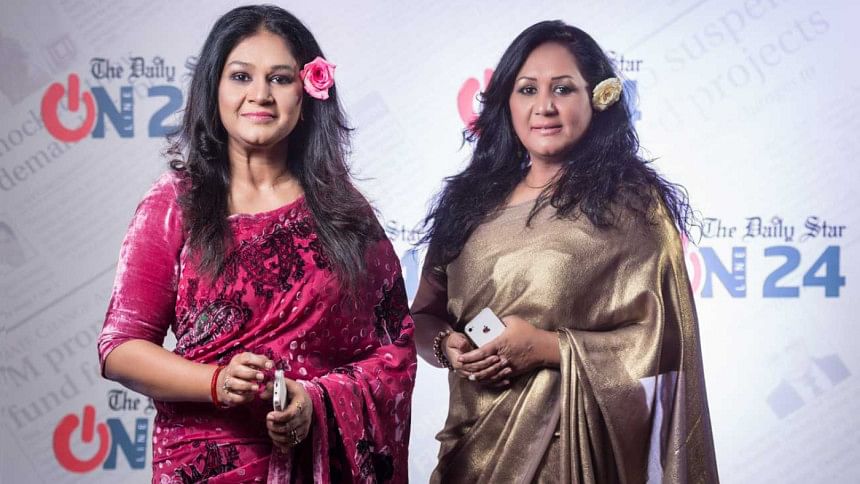 The days and times of our lives have been rather agonising, given the political tension our country is currently going through. Nevertheless, we do not forget to cheer in union, for anything wonderful that happens, like the victories the tigers have made this World Cup. Similarly, amidst all the turmoil, we, The Daily Star, have celebrated our 24th anniversary, with a call to uphold impartial journalism to move forward and build a prosperous Bangladesh. A reception was held on Friday 13 March, 2015 at Bangabandhu International Conference Centre, where various stakeholders, well-wishers and patrons were invited. Now, from StarShowbiz's viewpoint, the event was a glamorous one. The guest list contained the who's who from all sectors of the country. It was one of those few instances when trendsetters, heroes, inspiring personalities and leaders from diverse fields have been brought together under one roof.
If you think that celebrities only comprise of people in the entertainment industry, think again! Top business magnates, powerful politicians, high profile journalists, important diplomats, notable lawyers and barristers, enlightened academics and highly acclaimed art luminaries, etc-- all, by every right, have their share of fame and glory. And why not? They are as famous (or sometimes even more!) than many actors, models, singers et al. 
But of course, there were stars from the entertainment world too. The list is rather long, encompassing singers, actors, directors, models and so on. A lengthy list would be rather time-consuming to jot down and quite boring to read! 
In a nutshell, it seemed that the stars from the heavens had fallen onto the ground. From legends to veterans to the seasoned to the young and established -- many had walked over the red carpet of the anniversary programme. Well-dressed, gorgeous, beautiful, elegant and charismatic -- stardom occupied the convention centre that evening. 
Therefore, this week's Star Showbiz reflects upon the star-studded gala that was the 24th anniversary of The Daily Star -- through its lens of fashion, fame, glamour and glory. 
JEWEL AICH
The Prestige: A magician made an appearance in the ceremony. Yes, we're talking about none other than Jewel Aich, a household name in Bangladesh, holding the fascination of millions. With his infamous tricks and illusions and his classic antics and charms, Jewel Aich was one of the most loved faces on the red carpet. 
AREFIN SHUVO
Ripped!: Arefin Shuvo joined the party, flaunting his gorgeous physique over a causal pair of jeans and a simple black V-neck tee shirt. The model and actor easily raised the mercury on the thermometer by a couple of degrees. His television dramas and movies made him no stranger in the event. 
FARZANA MUNNI
How beautiful: Que Bella actually means 'that beautiful' or 'how beautiful'. Farzana Munni, the beauty expert from the renowned salon 'Que Bella', had stood true to its name. With her stunning beauty, she was one of the shining stars of the gala night, displaying those very skills of a beautician and stylist, through herself. 
TARIQ ANAM
The Last Thakur: There is something captivating about this charismatic actor and eminent theatre personality that demands respect from everyone. Perhaps it is because of his talent and achievements. With his greyish black beard and a slight, courteous smile, the superstar posed for the Showbiz camera. 
SHAMPA REZA
Poised in elegance: Shampa Reza graced the 24th anniversary celebration with her charming presence. We spotted the gifted singer and actor - an aspiring face for many - clad in a traditional sari, with her face (as always) radiating a timeless beauty that many of us only dream to have. 
SWEETY
Charmed!: Sweety has always been an icon for the fashionistas. Wrapped in a gorgeous and graceful sari, the renowned model and actor carried herself with all the beauty and charm at her feet. Very warm and friendly, and with a good natured smile on her face, she was a gem on our guest-list.
TAHSAN, MITHILA, ARMEEN MUSA AND IRESH ZAKER
Star power: They are all youth icons by their own rights. Tahsan, Mithila, Armeen Musa and Iresh Zaker need no introduction. All dressed chic and suave and been jolly and witty for the occasion, they added immensely to the glamour of the gala. Star Showbiz captured them in one frame. That's too much star power for one picture!
FARZANA SHAKIL
Eternal beauty: Her name has become synonymous with beauty and style. Everybody knows her by her famed and highly celebrated beauty salon. Farzana Shakil was kind enough to squeeze some time out of her busy schedule to attend the programme, looking as elegant and stylish as she always does. 
NIMA RAHMAN
Portraying brilliance: Nima Rahman is a powerful stage and TV actor. And over the years, she has become a popular face among the people. Her brilliant roles have captivated audiences for many generations. So when we came across the icon in the function, we quickly opened the shutter for a few clicks. 
FAHMIDA AND SAMINA
Dazzled by the duo: We were delighted to play hosts of the talented musicians, Fahmida Nabi and Samina Chowdhury. Dressed suitably and in style for the joyous occasion - with perfectly gorgeous saris and flowers tucked on their hair -- the two sisters looked dazzling, to say the least. 
MARCIA STEPHENS BLOOM BERNICAT
Welcome, Ambassador: She has very recently taken up the role of the US Ambassador to Bangladesh. We are thankful to Marcia Stephens Bloom Bernicat for taking part in and sharing in our happiness, that she took time out of her busy schedule to attend the event. As for her outfit, she decided to go with a shalwar kameez. With an attire that's very popular and common in our country, she looked just like one of us.