The Story of Teen Tekka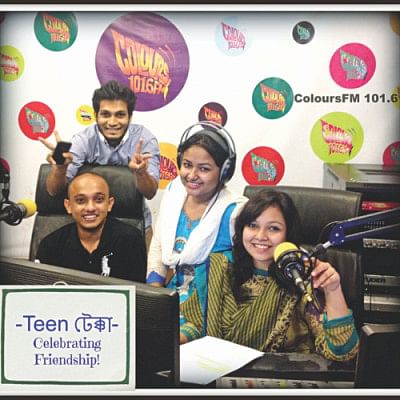 Teen Tekka is a radio show on Colours FM101.6 for the teenagers of Bangladesh. It is the first of its kind and airs every Tuesday night at 11 PM.
Nazim Farhan Chowdhury, CEO of Colours FM, had long wanted to air a show for teenagers. He contacted Osama Bin Noor, who went on to become one of the hosts of Teen Tekka, and they decided to turn the idea into a reality. Soon, three others were recruited - Abdullah Al Wasif, Kazi Samira and Prama Pratim. Under the supervision of producer of the show and seasoned RJ Tasnim Noorin Brotee, the four hosts started practising, and finally went on air with Teen Tekka on April 21, 2015. 
"Teenagers are scared to express their feelings," Samira said. "So it is high time we give our young ones a comfort zone where they can share their ideas, problems and feelings."
The motive of Teen Tekka is to show teenagers that they are not alone. Whenever a listener is going through a personal issue that they cannot tackle, they are encouraged to write to the show and share it with others. The four hosts then discuss how each of them would handle the aforementioned problem based on their own experiences. Not only that, they encourage fellow listeners to share their opinions, thus providing a number of solutions to one particular problem. 
"The pilot episode was a huge success. The response we got exceeded our own expectations. Messages started flooding in from our teenage listeners," said Osama. "That showed how badly the teenagers needed a guideline, and we tried to provide just that."
"We want to give teenagers a positive vibe with a positive approach rather than giving them sage advice," Wasif said. "We tell them what we'd do in their shoes, proving to the troubled teenagers that their worries can in fact be overcome."
Crediting to its popularity amongst teenagers, Teen Tekka opened a Facebook community to interact with the listeners throughout the week. The community gives the hosts an insight on what the teenagers of our country want to talk about. The page also gives an opportunity for teenagers to seek advice from the hosts through private messaging without revealing their problems to the entire world.
Every episode of Teen Tekka is based on an issue that usually bothers teenagers. Discussions are held alongside the experience sharing. So far, the team of Teen Tekka has covered some serious topics such as cyber bullying, exam results, abuse, etc. But the subjects aren't restricted to serious topics, and includes light-hearted themes like teenage crush. 
Growing up is not easy, and teenagers have to learn it the hard way. Stuck somewhere between childhood and adulthood, teenagers face a hundred different problems. Teen Tekka helps these youngsters understand that they aren't alone in this, and that they shouldn't get frustrated with life. In the poetic words of Prama, "Life is perfect in all its imperfect ways. Stay positive."
For more info on Teen Tekka, check out their Facebook community at facebook.com/TeenTekka101.6
Arman R. Khan is a caffeine addict, a dreamer and a culture enthusiast who takes life one day at a time. Correspond with him at fb.com/arman.r.khan or tweet @ArmanRK