Amrai Anbo Bijoy: The War Begins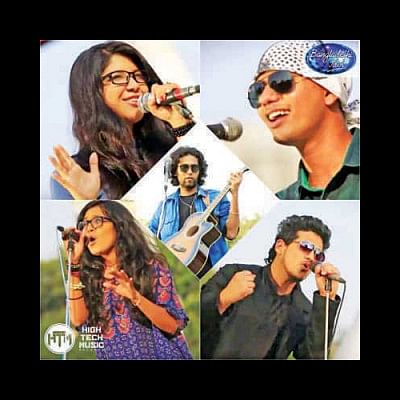 With the ICC Cricket World Cup going on, a group of young musicians have come up with a cricket-themed song, titled "Amrai Anbo Bijoy: The War Begins". The song has been written and composed by Shaikh Shaikat, a prominent jingle artist and performed by Bangladeshi Idol contestants Samy, Talha, Shourin and Amid.
The lyrics of the song, in one word, are inspirational. It talks about how we are always supporting our boys on the field, through thick and thin. The power of the youth of this nation is highlighted throughout the song, and how we will bring glory. The tune and the lyrics complement each other, thus making a song that's worth a listen. In fact, the track can even be motivational without cricket in context. I personally loved the use of flute that goes well with the upbeat song. The bridge is catchy, so is the chorus, and listeners may have the tune stuck in their heads for a while. To be honest, the chorus reminded me of 5 Seconds of Summer's "Wherever You Are", but the similarity might just be a coincidence.
The song was released via Facebook and on the radio on February 17, and due to the massive positive response to the song, a music video has been made. It will be broadcasted on local TV channels by Jingle Jungle Entertainment, while HTM Record Label will distribute it online.
Music and cricket are intimately related in our country. Think about Cryptic Fate's "Cholo Bangladesh", or Shunno's "Shoto Asha", and you'll know what I mean. Time and again, our music industry has made songs that have inspired our cricketers to strive harder. "Amrai Anbo Bijoy" surfaces at a crucial time, when the Bangladesh national team is fighting tooth and nail to secure a spot in the quarter finals of ICC Cricket World Cup (at the time of writing). Give this song a listen, everyone; and whether you like the song or not, keep cheering for the Tigers!