The Office Tour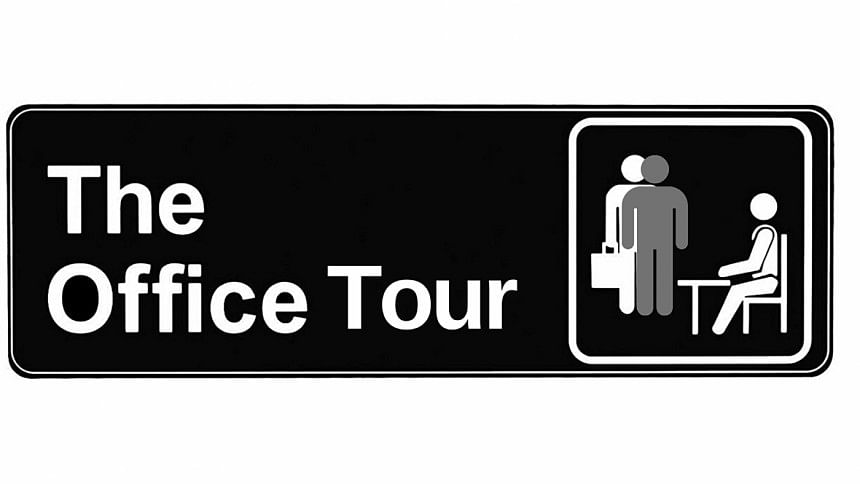 Hi guys this is Rezwan and I am going to give you a tour of our 700 square feet office of our recently launched digital communications agency. Come on in.
So right now you are standing at the entry. The idea of an entry intially came from one of my co-founders. They said "Rezwan, you know what is an absolute must in our office? An entry where people can walk into the office." And that idea just completely shaped our whole design.
This square room where we walked into is our workspace. We also eat and sometimes sleep in here. Over there high up on the wall you can see an opening. That is our only source of ventilation. One of our interns tried to escape when he was given too much work so now we've partially sealed it. Makes breathing a little hard in the office but hey there's always a trade off.
We've decided that we're minimalists when it comes to design so our office is barely furnished. If you look around, beyond the chairs and tables we've got our wifi router over there. And that in the corner is a plant. You may think we've really splurged there but the truth is when it rains the ceiling leaks and that plant is very strategically placed.
If you look up we have a nice ceiling. And if you look down a solid floor. That's pretty much it. What's really crazy about this office is that we have, drumroll, a second room!
If you walk through here we will arrive at our second room. Oh look, our new intern's sleeping again. 
What I love about this room is that it's a different room from before. So when you're working at elbow length space with everyone all day, everyday sometimes you have a crazy idea to just go into a different room and this room allows just that. If we really need to go to the bathroom there's a nice burger joint down the road. We have an understanding with them.
And that's the tour! The truth is we mostly go over to our clients' offices to meet with them saying its for their convenience but really we just don't think they'd stick around if they saw our office.
Mrittika Anan Rahman is a daydreamer trying hard not to run into things while walking. Find her at [email protected]