New app "DuiLingo" helps students talk to professors without offending them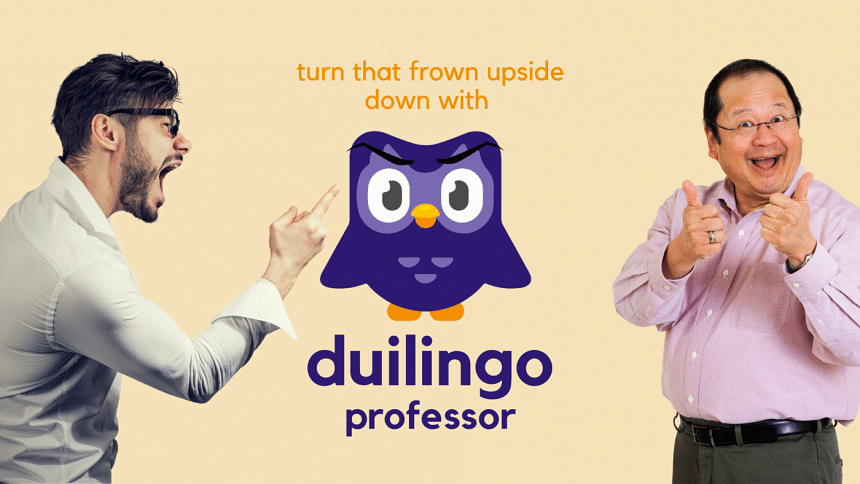 Apart from choosing what YouTube clip to watch while having dinner, arguably the greatest crisis amongst our youth is the struggle they face while communicating with their university's faculty members without offending them. A sentence like 'What did I do wrong here?', which sounds awfully simple in your potato brain might translate into something equivalent to a slur to the delicate butterfly that is your professor. The language barrier between university students and faculty members is built upon superiority complex, and that's where our translator app DuiLingo steps in.
Previously, DuiLingo had helped its users learn new languages and communicate with people from all over the world. But with our new DuiLingo: Professor, we want to build a safe campus environment where no faculty members feel offended and revolted in the presence of the students they're supposed to educate. 
Our extensive studies had concluded that faculty members like being treated the way cruel dictators were treated by their subordinates – in absolute fear and subservience. The user simply has to type in the unfiltered sentence they plan on saying to their professors, and our advanced AI will tone it down and make it humble enough so that the recipient's ego does not get hurt.
For example, if you type in something as simple as "I think there's been a mistake", our AI will tone it down and translate it to "Sir, my insignificant intellect is unable to comprehend the mistake committed by me owing to my unforgivable incompetence. If you, the supreme leader, would be kind enough to guide me with your wisdom, this poor soul would remain forever indebted."
Or if you're to ask for a deadline extension on your assignment, a blatant, "Please extend our submission deadline", followed by a valid reason, might be acceptable by anyone reasonable, but not your professor. DuiLingo would instead suggest saying, "Sir, with a heavy heart, I must inform you that I have been diagnosed with impending death. I am currently in the ICU and a one-day extension on the 100-page assignment would be received with everlasting gratitude." DuiLingo's AI is aware of the fact that you have overused the death of your fictional grandmother and self-diagnosed terminal disease might be the only valid excuse left. 
Upgrading to DuiLingo Pro by paying a monthly fee of Tk.2000 unlocks a new feature which allows you to talk to your university officials without hurting their ego, which tend to be way more vulnerable than your lecturer. University officials are to be dealt with more carefully because they might feel disrespected by the slightest misstep and do their worst: go out for lunch at 11:00 am, not return for the rest of the day, and make sure you never get your work done in time. DuiLingo Pro helps you understand their language and teaches you how to treat them the way you'd treat a teenage child. 
DuiLingo's sophisticated features, intended to protect fragile egos, can also be used by newly-wed brides to make sure their in-laws' egos don't get hurt. In a self-fixated egomaniac male-dominated society like ours, DuiLingo is an app you need on your phone to survive. 
Remind Ifti to be quieter at [email protected]