A Long Awaited Trip through Dune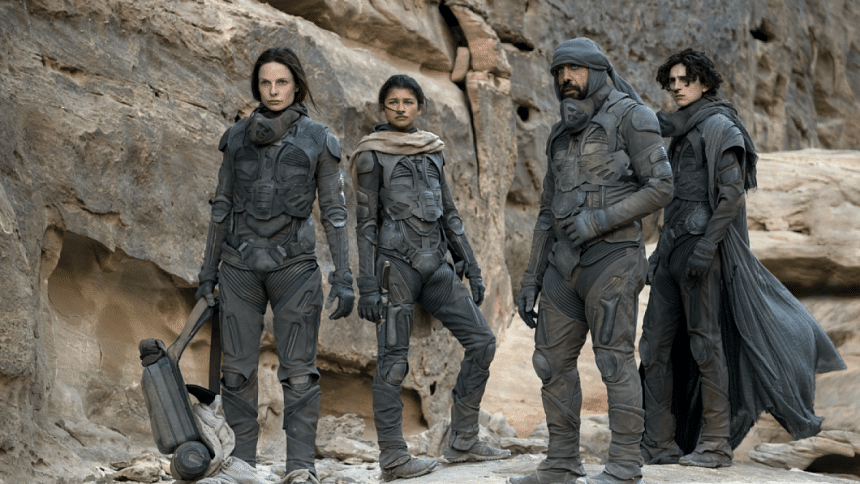 It has been a little over two years since I last went to the movies. After that, well, we know what happened. 
Now, as theatres are starting to fill up again, I chose to end this long streak with Denis Villeneuve, undoubtedly one of the best directors in Hollywood today. My rekindled infatuation with Timothée Chalamet also had a part to play in my decision.
For my first movie theatre experience in quite a while, Dune did not disappoint. 
The film is partially adapted from Frank Herbert's 1965 novel of the same name, which is considered to be one of the most influential science fiction works of all time and paved the way for future sci-fi franchises like Star Wars. 
Yet, for such an important book series, Dune has not enjoyed the mainstream acclaim of its derivative successors. The book maintained a niche fan following since its publication due to the dense plot and richness of detail. Dune, however, is infamous for being immensely difficult to translate on screen. David Lynch tried once, only for his 1984 attempt to bomb at the box office. 
Needless to say, Denis Villeneuve had a gigantic challenge at hand, much like Peter Jackson's attempt at adapting The Lord of the Rings trilogy. For someone who has read none of these books, I believe Villeneuve succeeded in making the universe of Dune sufficiently accessible for novice viewers. 
The story follows Paul Atreides, played by Chalamet, who is thrust at the center of the multi-planetary version of a geopolitical conflict. House Atreides, where Paul belongs, is set up against House Harkonnen in the fight over Arrakis, a desert planet much coveted for its "spice," an important resource that fuels space and time travel. Meanwhile, both of the rival houses must deal with the native people of Arrakis, the Fremen, whose warriors strive to defend their planet from the imperial encroachers. 
Does the plot sound like an allegory of colonialism and environmental damage due to fossil fuel extraction? Yes, it does. Being something of a postcolonial theory geek, I enjoyed picking up on these themes.
There are plenty of other things to enjoy about Dune. The dynamic between Paul and his warrior-priestess mother, Lady Jessica (Rebecca Ferguson), was well-crafted and different from most heroic arcs. Without giving too much away, Paul takes more after his mother than his father, Duke Leto Atreides (Oscar Isaac), which is unlike the common narrative of the son following in his father's footsteps. 
Both Chalamet and Ferguson shine in their performances. Honourable mention goes to Sharon Duncan-Brewster, who plays Dr. Liet-Kynes, an ecologist who helps the Atreides to navigate Arrakis. Zendaya, who plays the Fremen warrior Chani, has much less of a screen presence than I expected, but her role is hinted to be more significant in the second part of the movie, if it (hopefully) gets made. 
Last but not the least, the sound design and the Hans Zimmer score were top-notch, which definitely enhanced my theatre experience.
Viewers who have not read the books might struggle to understand some of the plot elements. In addition, Dune is not as action-heavy as a typical sci-fi film, so you might be disappointed if you expect a bombardment of explosions and fight sequences, not that I'm complaining. That being said, Villeneuve did his best in translating the book to film as effectively as possible, and thus, in my opinion, Dune is a real treat to the eyes and ears.
Adhora Ahmed has become obsessed with Timothée Chalamet again after coming back from the theatre. Send help at [email protected]