How Messi's Next Move Will Change the Future of European Football
The unthinkable occurs. Lionel Messi, who looked set to extend his iconic career at Barcelona, has officially left the club. The last 18 hours have been filled with a whirlwind of news and a mixture of sadness and shock never seen before. 
Now, as the dust finally settles after these incredible few hours, the question arises: what next for the GOAT? His next move would not only shape the future of his own team, whichever it is, it would also have lasting impacts all over European football. 
Even in the midst of a pandemic-affected world, there is no shortage of clubs which can afford Messi's huge wages. It is well within Chelsea and Manchester United's reach to financially sanction a 3 or 4 year 50 million pounds per season contract for Messi. But neither club has shown any interest in signing him, with both preferring younger players in more pressing positions. 
Manchester City and PSG showed huge interest when Messi wanted to leave last year and they represent his most realistic destination. These two clubs, backed by the money coming in from Abu Dhabi and Qatar respectively, can not only afford Messi's wages, they also have a tailor-made team for him to come and succeed. A move to either of these clubs would have huge ramifications on the futures of a host of players and European football. 
Messi has previously spoken a lot about how grateful he is for the mentoring of Pep Guardiola during his early years at Barcelona. A reunion with him in the blue end of Manchester might appeal to Messi. Man City already has perhaps the strongest starting XI in the Premier League with an enviable depth. Messi is perfect for Pep's style of play, and him in that City team would usher in a new era of absolute dominance at home and Europe for the Cityzens. 
A prospective Messi to Man City move would also have a big role in the complicated strikers' market. Harry Kane, agitating for a move to City from Spurs all summer, would see his hopes distinguished if City signs Messi. Kane, who is adamant he will leave Spurs this summer to win trophies, might well have to stay back due to his hefty 150 million pound price-tag and the three years left in his contract. 
The Kane situation, if it drags into next year, would have knock-on effects on the future of Norwegian hotshot Erling Haaland. He has a 75 million euro release clause inserted into his contract which will be active in 2022. Kane will be 29 next year, and it could be his last shot at a big move.
Haaland would most certainly get his big move thanks to his paltry release clause. If Man United, Real Madrid and Liverpool are in the market for a striker, things would be interesting; with two world class strikers like them available. Barcelona, stung and heartbroken by losing their icon, might also make a move for either one of them, complicating an already complex situation regarding strikers.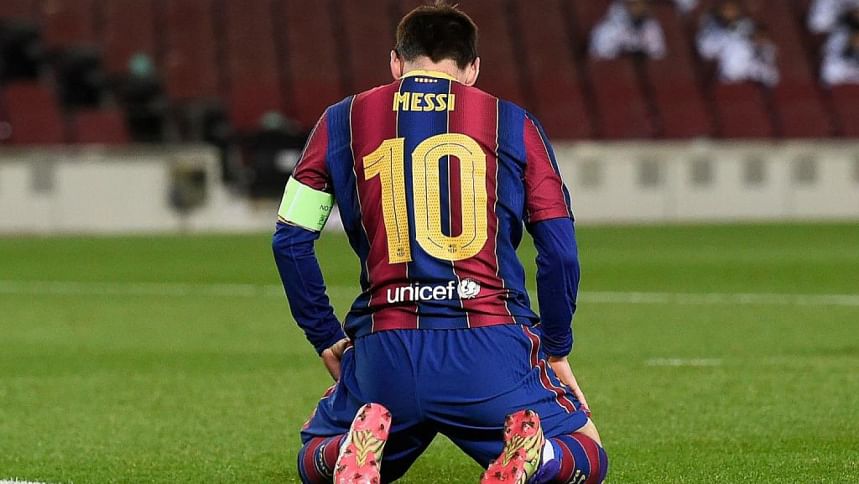 Man City, despite having a strong interest in Messi, haven't initiated contacts with his agents or made any move to sign him so far. They have also, just as of yesterday, signed English superstar Jack Grealish for a record fee. PSG are reportedly progressing talks with Messi's agents. City meanwhile, are reported to miss the chance to sign Messi and instead press for Harry Kane. This has made PSG slight favourites ahead of City for the signature of Messi. 
PSG president Nasser Al-Khelaifi would love to have an icon like Lionel Messi at his club when his country hosts the World Cup next year. Having Messi would not only boost the image of Qatar on the global stage, it would also strengthen an incredible team containing the likes of Achraf Hakimi, Sergio Ramos, Marco Veratti among others to an extent that they would become the single most dominant force in European football for the next few seasons. 
This transfer would also have impacts on the futures of a few players around Europe. PSG are reluctant to let Kylian Mbappe leave for Real Madrid because Khelaifi wants his club to have a talent of his calibre during the World Cup to boost the image. Mbappe, meanwhile, remains intent on signing for Real and has no interest to renew his PSG contract, expiring in 2022. Signing Messi would negate the need for PSG to keep a player who is not committed to their club and they would be more open to sell him for a fee. 
Messi to PSG would also have a big role in the future of Paul Pogba. He has repeatedly stated his desire to leave Manchester United since joining the club in 2016. With one year left on his contract, the only club he was seriously linked with is PSG. 
But this move would become nigh-on impossible if PSG sign Messi, with the reasons being the astronomical costs of getting him plus the fact that PSG are well-stacked in midfield, with their options being Veratti, Wijnaldum, Danilo Pereira, Ander Hererra and others. Pogba has given no indication to extend his Man United contract, so in a year's time, he can handpick his next club, which promises to be an intriguing case. 
Whichever club Messi signs for, it is certain that the clubs' domestic league would receive a financial boost and a stark improvement in quality. If Messi were to sign for City, the gap between PL and the rest of Europe would only increase. Their already astronomical commercial revenues would reach new heights. This would attract the brightest of talents to play in the most competitive league to earn more money, increasing its quality. 
If Messi signed for PSG, financially struggling Ligue 1 would receive a huge boost thanks to lucrative TV rights. It would help them recover soon and become competitive, which is essential in the wake of their previous TV deal collapse. It might also attract some top up-and-coming talents to come to Ligue 1, improving its quality on the field too. 
La Liga will suffer a lot due to the departure of Messi from La Liga. His endorsements and sponsorships amounted for 10 percent of La Liga's total revenues, so they would take a big hit by this departure. Moreover, La Liga's quality on the field was already declining, and the departure of Messi might prove to be the final nail in the coffin for the league. 
Lionel Andres Messi is a larger-than-life personality. His aura, charisma and latent talent as a footballer lead Barcelona to many titles and gave football fans many memorable moments to cherish over the years. An iconic and career-defining chapter of his career has come to an end and even at 34, his charm remains. 
As fans, all we can do now is wait and watch as things unfold. 
Inqiad Bin Ali thinks Lionel Messi's next move will be defining for European Football. Ask him why he thinks so at [email protected]