SATIRE
CEO Conducts Seminar on Internship Circulars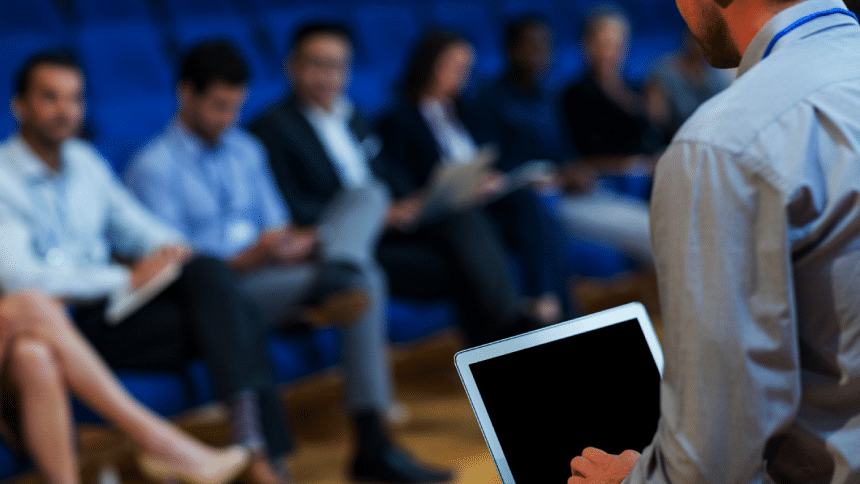 "For long enough, we may have misguided interns into joining our auspicious organisation. But no more! Today, I'm going to unleash the truth," starts Arman Shadid, CEO of Hyperactive Youths.
Hyperactive Youths, a non-profit youth leadership startup, is facing social media tirades for hiring unpaid interns for virtually zero benefits. However, one fine afternoon, their Facebook page declares that Arman wants to conduct a seminar explaining why his job circulars are perfect.
"I'm sick of hearing about our internship being an unpaid one," says Arman. "We regularly invest to reward our interns. Our performer of the month gets a glorious treat at a luxurious coffee shop of our choice."
"The reward is always up for grabs," adds Arman. "You just have to prove yourself in this competitive environment."
"For the last few weeks, social media has run rampant against our male-only recruitments. Do you think we don't care for our mothers and sisters?" Arman gives a despondent look. "We just don't want them to undergo adversities and misbehaviours on our premises. We can't let raging misogyny win, especially when we don't want to deal with these issues at our office premises. Besides, our HR department has more important tasks at hand than listening to such complaints. After all, who else will monitor the hourly attendance sheets for the interns?"
Arman then compassionately looks at his interns in the front row and says, "We never limited our interns with working hours or specific skills. So, what's your excuse to not dedicate yourself to us? Hyperactive Youths believes in #MillionaireMindset, and our interns are ever-ready to #Grind. We only select passionate, workaholic interns. Can you imagine the performance of someone working for money? We surely can't!" The interns nod in appreciation.
"When you're at Hyperactive Youths, you're part of the family," continues Arman. "Remember, family always comes first. Plus, if you weren't fortunate enough to encounter brown parenting, join us, and we'll show you the care and treatment you missed out on in life."
Some inquisitive eyes at the back look on, and Arman addresses it. "Opportunities don't knock twice. But our internship opportunities stand at your doorstep all year long. We know how much you crave the growth we offer."
"We couldn't have made it easier. Like our Facebook page, share the pinned post mentioning five friends and text 'Done' to the page. Remember to send us Tk 300 and attach the screenshots too. 300 bucks and some hyper-productive hours, and you're set for some life-changing experiences."
Arman pauses and hears smartphones unlocking in the distance. It's music to his ears.
"After your three-month internship, you'll get exclusive certificates in JPG format. Ignore what our ungrateful former interns say; the certificates have not been downloaded from Google Images. Appreciate the expertise of your graphic designer colleagues. This certificate.jpg will elevate the appeal of your LinkedIn profiles. You might as well frame it in your room and make your ancestors proud."
A massive round of applause breaks out from his employees in the front row. Arman Shadid checks his tears. "It works every time," he says to himself, realising the unexpected publicity he's getting. He can't wait to hire some smart, laser-focused interns next week.
Shadman Muhtadi got stuck in the '80s with a faulty time machine. Send him reality checks, book suggestions, playlists, and escape routes at [email protected]