Japanese Artists Put Bangladeshi Heritage on a Kimono for Tokyo Olympics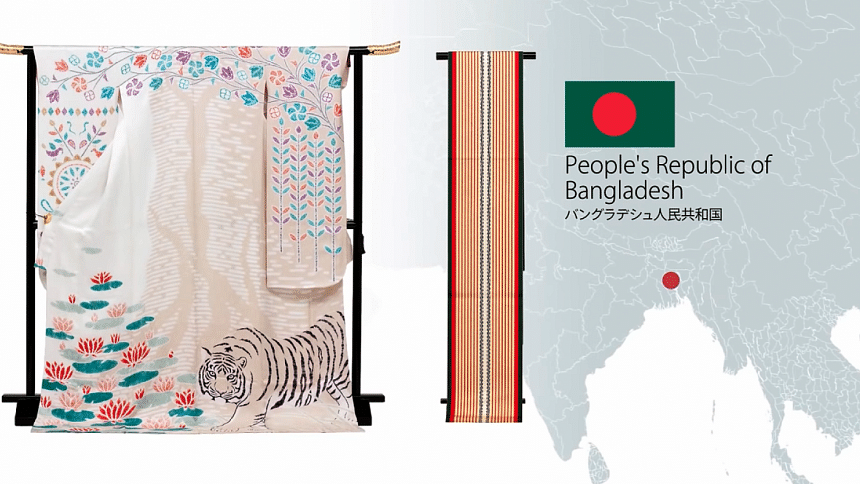 Japanese artists Takeshi Fukumura from Kyoto prefecture and Kaoru Sei from Fukuoka prefecture designed a kimono, a traditional Japanese robe, to honour and reflect Bangladesh's culture and heritage.
The design is part of "The Kimono Project" initiative by Imagine One World Organization, in honour of the 2020 Tokyo Olympics.
The main theme is centered around the idea of "Golden Bengal." Dyed lotus flowers on a golden background with stunning ethnic embroidery, along with cotton and jute flowers, are visible in a nakshi kantha design. One can also spot a Royal Bengal Tiger printed on the lower-half of the kimono. 
The obi – a broad sash worn around the waist of the kimono – is inspired by the traditional Hakata weave, and is fully hand-woven bearing the colours of the Bangladeshi flag.
Fukumura designed the kimono while Sei crafted the obi.
The Kimono Project was initiated in 2014 by Yoshimasa Takakura, president of Fukuoka-based kimono shop Choya Co. The main objective of this project was to promote the beauty and craftsmanship of kimono, and to unite the different cultures around the world.
All countries participating in the Tokyo Olympic Games have their own uniquely designed kimono. The one for Bangladesh was released in March of 2017, and was unveiled at an event in June of 2018. It is estimated that the production cost for each kimono is around 1 million yen (7.70 lakh taka), all of which will be covered from crowdsourcing donation campaigns, and corporate sponsorship. The kimono for Bangladesh was sponsored by the Junior Chamber International (JCI), RUMOI/Nishikido.
Initially, the idea was that athletes from the participating nations would attend the march at the opening ceremony in the kimonos. That, however, did not happen given the overall situation with the Covid-19 pandemic.
While most of the kimonos were designed and made by Japanese designers, there are a few exceptions, like the obi for the Palestinian kimono, which was created by refugees.
As of writing this article, there is no word on whether or not the kimonos will be available for sale commercially. They are on exhibition at the 2020 Olympic Games, and will be displayed later at the Osaka-Kansai Expo in 2025.
See more here: http://kimono.piow.jp/nation/031.html