Is Bangladesh the new YouTube destination?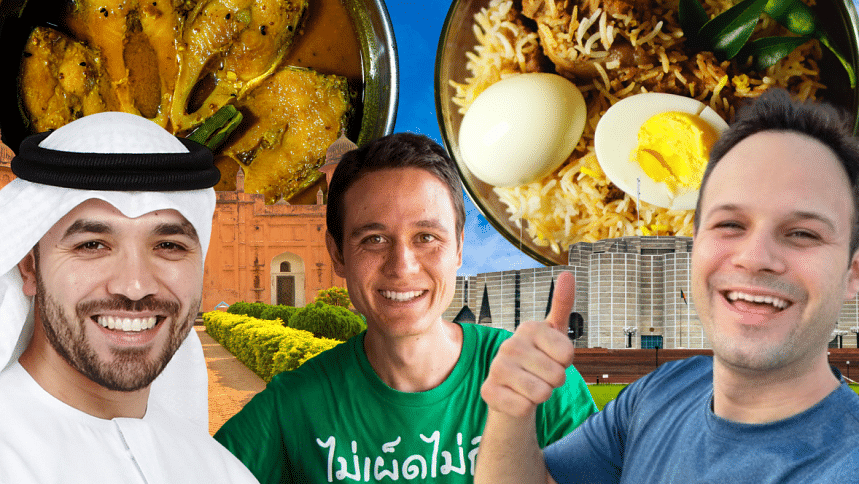 With vlogging content on YouTube seeing continuous growth, vloggers all over the world are visiting more places. The chance to see the beauty and culture of places never seen before makes it a very popular form of entertainment.
As a result, many vloggers are exploring new places, and some are coming to Bangladesh. The number of vloggers coming to Bangladesh to experience the country and also to let their viewers see is increasing.
Over the years, the global media has focused on the downsides of our country and have rarely shown the natural beauty and cultures of Bangladesh. As content creators keep visiting, Bangladesh has managed to impress them, and it is very likely that more will be visiting in the future, for multiple reasons.
An underrated and influential factor is people's hospitality. There have been instances where a vlogger decided to not visit a country or have discouraged their viewers because of bad experiences with the locals or local authorities.
However, this has not been the case for Bangladesh. Vloggers who came here have praised the hospitality of the Bangladeshi people and have had a good experience with the locals. Khalid Al Ameri, a popular YouTube personality from UAE recently mentioned how much he loved the energy of the young people he met on his visit.
Another reason is the diverse cuisines of Bangladesh. Many vloggers who come here are food vloggers. The cuisines in the Indian subcontinent have always impressed food vloggers, and Bangladesh is no different. From Haji'r Biryani in old Dhaka to Chattogram's mezbani gorur mangsho, there is a wide variety of food here.
From renowned YouTubers like Mark Wiens, William Sonbuchner (Best Ever Food Review Show) to celebrities from West Bengal like Mir Afsar Ali of Mirakkel fame, many have travelled to cover Bangladeshi cuisine on their channels and said great things to say about their experience.
Still, Bangladeshi cuisine remains relatively unexplored compared to other cuisines. This creates an opportunity for the food vloggers to experience a new cuisine and create unique content for their viewers.
One of the more obvious reasons is the natural beauty of Bangladesh. Although it is not a top tourist destination yet, we still have a lot to offer. From historical sites in the capital like Lalbagh Fort and Ahsan Manzil to landscapes of scenic beauty like Cox's Bazar, the Sundarbans and the Chittagong Hill Tracts, there are many places to visit and create content on.
While many travel and food vloggers have recently visited here, I personally wish YouTubers like Johnny Harris visit and make a documentary about Bangladesh. A renowned and trusted journalist like him covering our country will help the world to know us better.
As the country is largely untouched by tourism, many places, traditions and cuisines remain unseen to the outsiders. This can change with the arrivals of travel and food vloggers.
If we can ensure a good experience for content creators who visit Bangladesh, this can help in creating a better image of Bangladesh to the world. 
Tamjidul Hoque likes to talk about football and checks his emails from time to time, you can contact him at [email protected]